markets
KKR's Gardner Denver Rises After Raising $826 Million in IPO
By and
6,000 employees to get equity grants totalling $100 million

KKR keeps voting control of firm it acquired for $3.7 billion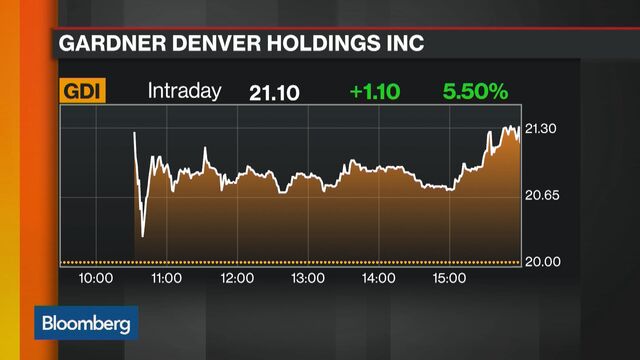 KKR & Co.-backed Gardner Denver Holdings Inc. climbed in its trading debut after pricing its initial public offering below the marketed share price range.
Gardner Denver rose almost 4 percent to $20.80 at 2:35 p.m. in New York, after climbing as much as 6.5 percent. The company raised $826 million in its IPO, the third-biggest corporate deal in the U.S. this year.
The industrial machinery maker sold 41.3 million shares for $20 apiece, according to a statement Thursday, pricing the shares below the marketed range. Gardner Denver had offered the stock for $23 to $26 apiece.
KKR spent $3.7 billion to acquire the company in 2013, paying $76 a share. Friday's trading gives Gardner Denver a market value of about $3.9 billion. The funds will go toward paying down debt, which will free the company to make acquisitions, said Pete Stavros, Chairman and head of KKR's industrials private equity team.
"There are a couple of companies already on our radar screens and this will give us the capacity to do those and go after those opportunities," Stavros said in an interview at the New York Stock Exchange.
Founded in 1859, Gardner Denver makes compressors, pumps, blowers and other products for industries including energy and manufacturing.
In a rare move for an industrial company, Gardner Denver awarded about 6,000 employees equity grants valued at a combined total of $100 million. Every employee who wasn't already included in the company's equity-based compensation program, including hourly workers, will receive shares of stock equal to 40 percent of the worker's annual salary.
Employee Buy-In
It's the fourth time KKR has employed such a strategy at an industrial company, Stavros said.
"Explaining to people how lean transformations at a factory correspond to what happens to our cost of goods sold and our earnings and our stock price, that's kind of the change in thinking you want to get people bought into," he said.
Gardner Denver's listing trails only Snap Inc.'s $3.9 billion offering and Antero Midstream GP LP's $875 million share sale this year, according to data compiled by Bloomberg that includes real estate investment trusts, special purpose vehicles and funds.
Milwaukee-based Gardner Denver posted a net loss of $31.3 million in 2016 on revenue of $1.9 billion, according to a regulatory filing. That compares with a net loss of $352 million on revenue of $2.1 billion a year earlier.
"We have a good financial profile with great opportunity to improve on the top line as well as the earnings potential," Gardner Denver's Chief Executive Officer Vicente Reynal said in an interview.
The company's stock listed on the New York Stock Exchange under the ticker GDI. KKR, which isn't selling shares in the IPO, is maintaining voting control of the common stock after the offering, the prospectus shows.
(
Updates with acquisition plan in fourth paragraph.
)
Before it's here, it's on the Bloomberg Terminal.
LEARN MORE