Evans Says Risks to Fed Inflation Outlook Still on Downside
By , , and
Chicago Fed chief says could support two more hikes this year

Just one more hike may be appropriate if outlook worsens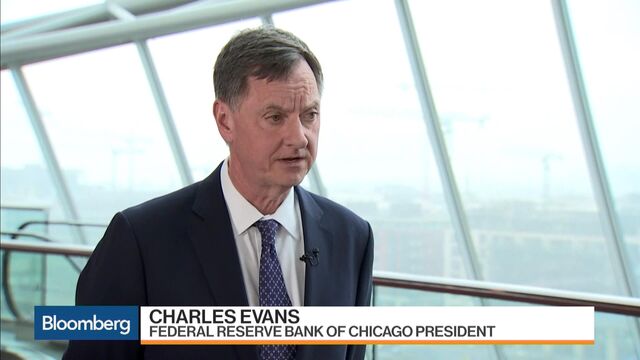 Downside risks to inflation continue to cloud the outlook for interest rates despite an otherwise healthy U.S. economy, Federal Reserve Bank of Chicago President Charles Evans said.
"The one lingering difficulty, I would say, and it's an important one, is that inflation pressures are still under-running our 2 percent objective in the U.S.," Evans said Friday during a moderated discussion at an event in Dublin. "At the moment, I think the downside risks still predominate."
Evans, who in recent years has been one of the central bank's biggest advocates for maintaining accommodative policy, told reporters following the event that he could be fine with two more rate increases this year, putting him in line with most of his colleagues.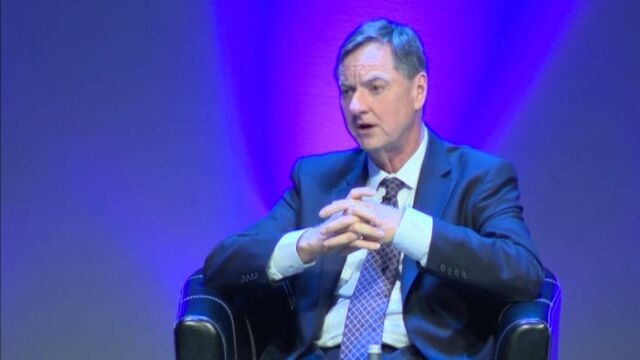 But he added that given the downside risks to inflation, it may be more appropriate to raise rates just once more if the outlook deteriorates. Evans has a vote on the rate-setting Federal Open Market Committee this year.
The Chicago Fed chief spoke following the release of a Labor Department report that showed a key measure of U.S. inflation slowed for a third straight month in April. Consumer prices excluding food and energy increased 1.9 percent on a year-over-year basis, marking the lowest rate of so-called core inflation since mid-2015.
Sound Fundamentals
In an interview on Bloomberg Television following the event, Evans said "the U.S. economy has sound fundamentals right now, so it's difficult to come up with many downside risks there," and called the global economic environment "much more sound now" than before.
When asked about investor expectations for Fed interest-rate increases, which are lower than what Fed officials themselves are projecting, Evans said "our path is more likely to be the one that we actually follow."
"I think we're very close to full employment, if not at full employment," he said. And he said while it was unclear whether or not an additional decline in the unemployment rate would spur higher inflation, he added that "we do have to be mindful that undershooting too much can come with additional costs."
Patrick Harker, president of the Philadelphia Fed, also sounded upbeat as he repeated his view that two more rate hikes would be appropriate this year, after which it made sense to begin shrinking the central bank's bloated balance sheet.
"I would like to get a little further north, away from the zero lower bound," he told reporters after a speech in Philadelphia. "So two, to me, would be preferable to one, but I could see going with one."
Before it's here, it's on the Bloomberg Terminal.
LEARN MORE