White House Refuses to Say Whether Trump Tapes Conversations
By and
President suggests he has 'tapes' on dinner with Comey

Russia probe stays in public eye, Trump remains on defensive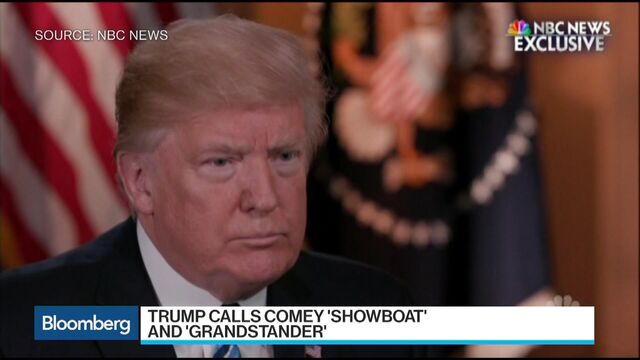 The White House repeatedly refused to say whether President Donald Trump secretly records his official conversations, after Trump suggested in a tweet that he had "tapes" of discussions with former FBI director James Comey.
Trump began his day on Friday with a series of inflammatory Twitter posts, including a barely veiled threat against Comey, an assertion that it's "not possible" for his spokesmen to accurately represent him, and a suggestion he may end the White House's practice of briefing reporters on most weekdays. The missives raised new questions about Trump's May 9 dismissal of Comey, and re-focused attention on the government's investigations of Russian meddling in the U.S. presidential election.
"James Comey better hope that there are no 'tapes' of our conversations before he starts leaking to the press!" Trump wrote in one of six tweets that began at 7:15 a.m. 
The first question to White House spokesman Sean Spicer at his briefing on Friday: Did Trump record his conversations with Comey?
"I've talked to the president. The president has nothing further to add on that," Spicer said.
The reporter asked whether there are "recording devices" in the Oval Office or the White House residence. "There is nothing further to add on that," Spicer repeated.
Trump, in a Fox News interview that will air on Saturday night said he "can't talk about" the idea that there might be tape recordings. "I won't talk about that," Trump will say on "Justice with Judge Jeanine," according to a transcript released by the network.
Not Aware
Later, Spicer said he was "not aware" of a recording of a Jan. 27 dinner between Trump and Comey at which, the president said in an interview with NBC News on Thursday, Comey pleaded to keep his job and first assured Trump that he wasn't a target of the FBI's Russia investigation.
Then, asked to answer a yes or no question about whether Trump records his official conversations, Spicer again refused to say.
"The point I made with respect to the tweet is the president has no further comment on that," he said. As he ended the briefing, Spicer ignored a shouted question about whether he had asked the president if White House conversations were recorded.
The search for Comey's successor will begin in earnest on Saturday, when Attorney General Jeff Sessions and Deputy Attorney General Rod Rosenstein plan to interview four candidates for a nominee that Trump will send to the Senate. The initial contenders they will see are acting FBI Director Andrew McCabe, Texas Republican Senator John Cornyn, former Justice Department official Alice Fisher and Michael Garcia, a former U.S. Attorney in Manhattan, according to a person familiar with the matter. 
Comey, meanwhile, has declined to testify in private next Tuesday to the Senate Intelligence Committee, said Becca Watkins, a spokeswoman for the panel's chairman, Richard Burr of North Carolina. Burr and Mark Warner of Virginia, the committee's senior Democrat, had invited Comey to talk to the panel after he was fired. The committee is investigating Russian meddling in the 2016 election.
'This is Normal'
Among White House staff and close allies, the day's events were no more unusual than countless past controversies -- on the trail and as president -- that Trump has sparked and then enthusiastically fueled, often through the use of his @realDonaldTrump twitter account, now followed by 29 million people.
"This is normal from the point of view of the Trump campaign, the Trump White House," said former New York City Mayor Rudy Giuliani, a close Trump adviser. "They don't overreact; everyone knows the president puts out his own messages. I don't think there's any feeling that there's any major problem."
One senior White House official conceded that his staff could have better communicated the Comey decision and Trump's reasoning behind it. There's frustration that the Russia investigation continues to dog the administration, the person said. Trump's tweets on Friday resulted from his instinct to counter-punch against attacks in the media, the person said.
Many of Comey's colleagues hope there are, in fact, tapes of his conversations with the president, believing they would only bolster Comey's position, according to an associate who has spoken with him since his dismissal this week and would only speak on condition of anonymity.
Secret audio tapes were central to the downfall of former President Richard Nixon, who resigned rather than face certain impeachment in 1974. One of the recordings released after a fight with Congress and the courts revealed the president's involvement in attempts to stymie an investigation into an attempt to wiretap the Democratic National Committee.
Overshadowed Message
Trump's tweets, including two in which he dismissed questions about whether any of his associates colluded in Russia's interference in last year's presidential campaign, again drowned out the White House message on economic and security issues. 
As the Comey firing and the Russia probe consumed cable news networks and the internet, the administration announced an agreement with China to promote market access for U.S. natural gas, financial services and beef, and Saudi Arabia readied a plan to invest as much as $40 billion of its sovereign wealth in U.S. infrastructure projects.
Trump and his aides frequently express frustration with continued coverage of the investigation into Russian election meddling and the firing of Comey. But it's the president who keeps raising the issue.
In addition to the Friday morning tweet barrage, Trump called Comey a "showboat" and "grandstander" in the NBC interview, and contradicted the timeline of the firing outlined by his aides and Vice President Michael Pence.
The twists and turns of the Trump-Russia probe.
Trump's tweet about tapes referred to three conversations he said he'd had with Comey. In the NBC interview, Trump said Comey had assured him he wasn't personally being investigated in connection with any collusion between his associates and Russian agents. One of those conversations was over dinner.  "He wanted to have dinner because he wanted to stay on" as FBI director, Trump said of Comey.
Former Director of National Intelligence James Clapper raised questions about that account, saying on MSNBC Friday that Comey told him at the time that he was "uneasy" about having dinner with Trump because it might conflict with the FBI's independence. Comey was less than four years into a 10-year term as head of the FBI.
Clapper also found himself a subject of Trump's tweets on Friday, when the president mis-characterized his testimony at a May 8 congressional hearing.
"When James Clapper himself, and virtually everyone else with knowledge of the witch hunt, says there is no collusion, when does it end?" Trump tweeted.
Clapper said on MSNBC that he doesn't know if the FBI has any evidence of collusion between people in Trump's campaign and Russian agents. He said that if the investigation gets short-circuited there will continue to be a "dark cloud" over the administration.
Lawyer Letter
The White House on Friday also released a one-page letter from Trump's tax lawyers that said a review of the last 10 years of his tax returns showed that -- with the exception of income from a Miss Universe pageant in Moscow, the sale of an estate in Florida, and some possible third party transactions -- there was no "income of any type from Russian sources."
The letter didn't include any documentation and Trump, breaking with decades of presidential precedent, has refused to release any tax returns for public scrutiny. The letter was produced in response to a request from Republican Senator Lindsey Graham of South Carolina, who leads one of the congressional panels conducting a probe of election interference, for any information on financial ties Trump may have to Russia.
Ari Fleischer, White House press secretary under President George W. Bush, said he didn't make much of Trump's tweets about taping Comey. "He is stirring the pot, as he has a habit of doing," Fleischer said in an interview Friday.
By that measure, Trump succeeded. As he tries to put the Russia probe and the Comey firing in the background, his actions have stoked even more congressional scrutiny.
Meetings Requested
Senate Judiciary Chairman Chuck Grassley and the panel's top Democrat, Senator Dianne Feinstein, on Friday requested follow-up briefings from Rosenstein and McCabe about the investigation of Russian election meddling.
Rosenstein wrote the memorandum -- faulting Comey's handling of a probe of Democrat Hillary Clinton's emails -- that the White House released on May 9 to justify Comey's firing. McCabe has temporarily taken over leadership of the FBI, and at a congressional hearing Thursday he made clear that he liked and respected Comey, and had no intention of briefing Trump on the investigation.
Separately, Representative Adam Schiff of California, the ranking Democrat on the House Intelligence Committee, said Trump's tweets had two purposes: to "threaten the FBI director he just fired in the middle of the Russia investigation -- and who may now be a witness," and to justify conflicting stories that have come out of the White House.
"The President should immediately provide any such recordings to Congress or admit, once
again, to have made a deliberately misleading -- and in this case threatening -- statement," Schiff said in an emailed release.
— With assistance by Terrence Dopp, Steven T. Dennis, and Margaret Talev
Before it's here, it's on the Bloomberg Terminal.
LEARN MORE