Another Record in Reach of Tech Stocks as Big 5 Add $500 Billion
By
Their value approaches $3 trillion, or 17 percent of U.S. GDP

Only half the time since 2000 the entire Nasdaq 100 worth more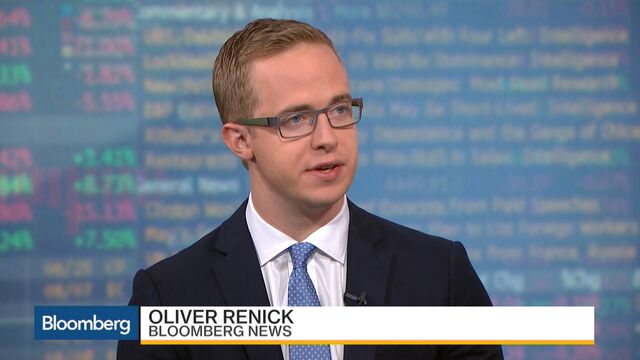 The rally in mega-cap tech stocks is poised to close a final chapter in the history of the dot-com bubble.
Namely, after a 17-year hiatus, it's put the S&P 500 Information Technology Index within spitting distance of a record, making it one of the last of the benchmark's 11 major industry groups to complete the circuit. The computer and software gauge has soared 17 percent in 2017, leaving it less than 5 percent from its level on March 27, 2000.

It's testament to the excesses of the Internet era that it hasn't happened yet, at a time when technology stocks are in such ascendance. The five biggest U.S. companies by equity market value, Apple Inc., Alphabet Inc., Microsoft Corp., Amazon.com Inc. and Facebook Inc., are up an average 24 percent in 2017, adding $500 billion to their share capitalization.
At just under $3 trillion, their combined value is 17 percent of U.S. gross domestic product -- a greater share than ever happened during the first Internet age.
"It's almost like you're seeing a buying stampede," Michael Ball, president and lead portfolio manager of Colorado-based Weatherstone Capital Management Inc., said by phone.
"Not many investors are around who remember the 1970s and the stories about the Nifty Fifty and how they were always going to be good. The same type of feeling seems to be percolating around the big tech names."
How big are they? If they were a nation defined by market value, it would rank as the world's fifth-biggest economy. Only half the time since 2000 has the entire Nasdaq 100 Index been worth more than its five biggest constituents are now.
The sheer size reflects technology's increased role in society as it has evolved from a source of raw computing power decades ago to a defining force behind everything from shopping to entertainment and communication today. Instead of a hurdle to growth, the companies' vastness is a platform that allows them to introduce new products and expand faster than others.
According to analyst forecasts, the five companies are likely to increase earnings by an average 22 percent this year, almost double the pace in the S&P 500.
"As you think about where they are going, these companies are penetrating more industries,"' Daniel Flax, an analyst with Neuberger Berman in New York, said by phone. "More and more of the so called old economy is being impacted perhaps more so than what's apparent in 2000."
Quotes from this Article
Before it's here, it's on the Bloomberg Terminal.
LEARN MORE