technology
Verizon Wrests Straight Path From AT&T With $3.1 Billion Bid
By
Carrier prevails in bidding war that pushed up shares

Deal gives carrier access to airwaves for 5G networks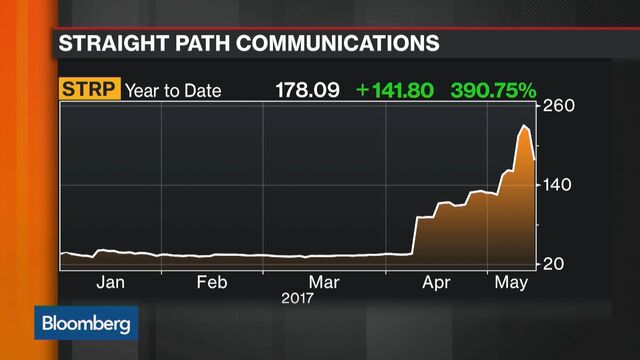 Verizon Communications Inc. is leaving nothing to chance to remain America's wireless king.
The largest U.S. carrier won a protracted bidding war with AT&T Inc. for Straight Path Communications Inc., a tiny company that controls a vast swath of airwaves considered vital for the fifth generation of wireless services, or 5G.
With a victorious bid of $3.1 billion after weeks of offers and counteroffers, Verizon will shore up the assets necessary to build the nation's premier 5G network and stay No. 1, just as it did for the last generation of wireless services, 4G.
For years, Verizon has been able charge a premium price because it bills itself as the premium network in the U.S., a claim reinforced by the top rank in overall performance for the last 3 1/2 years in RootMetrics studies. Verizon, in outbidding AT&T for Straight Path, is doubling down on that strategy to be the fastest, most reliable and most robust wireless network for 5G -- a technology that promises to connect millions more devices at blazing speeds.
While previous generations of mobile phone systems have focused on increasing the speed and capacity of mobile data delivery to phones, the ambitions for the fifth generation are much greater. The aim is to bring in devices that have previously existed without wireless connections and provide the backbone for revolutions in other industries such as self-driving cars and remote medicine. It would enable speedy downloads of ultra high-definition movies and remote maintenance of machinery in the field, along with long-distance surgery and more widespread use of autonomous vehicles.
The biggest obstacles to 5G's development are the development of common standards and the availability of spectrum. Verizon has checked one of those boxes.

Combined, Verizon and Straight Path will create the largest owner of 28 gigahertz and 39 gigahertz spectrum in the country, with greater nationwide reach.
Blow to AT&T
For Verizon, paying a premium price for Straight Path also keeps coveted spectrum out of the hands of its closest rival, AT&T.
With the recent acquisition of FiberTower Corp., AT&T would have been the largest holder of 39 gigahertz spectrum in the U.S. had the company won the bidding for Straight Path. Now AT&T falls even farther behind Verizon among 5G spectrum-license holders. A representative for the Dallas-based carrier declined to comment Thursday.
"AT&T now needs to reassess its 5G spectrum strategy and, with no auctions of these licenses on the near-term horizon, may need to look at different frequencies," said Bloomberg Intelligence analyst Matthew Kanterman.
Straight Path had a big incentive to sell following a settlement earlier this year with the U.S. Federal Communications Commission. After finding the company had misrepresented the progress of putting its spectrum to use, the commission imposed a $15 million fine and ordered Straight Path to transfer its 28 GHz and 39 GHz spectrum licenses by January 2018 and pay 20 percent of the proceeds from the sales.
Verizon's $184-a-share bid represents a premium of 486 percent to Straight Path's closing price of $31.41 on Jan. 11, the day before Straight Path announced the FCC settlement. Shares of Straight Path fell as much as 20 percent to $178.05 in New York Thursday. AT&T and Verizon were little changed.
— With assistance by Paul Barbagallo, Siddharth Vikram Philip, and Scott Moritz
(
Updates with shares trading, analyst's comment, AT&T declining comment.
)
Before it's here, it's on the Bloomberg Terminal.
LEARN MORE