Two Republican Senators Oppose Trump's Trade Pick, Cite Nafta Concerns
By and
McCain, Sasse say they'll vote against Lighthizer nomination

Pence vote would break tie if no other GOP senators jump ship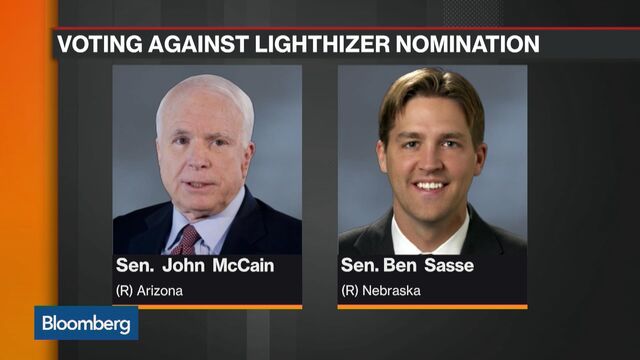 Republican senators John McCain and Ben Sasse said they plan to vote against President Donald Trump's pick for trade secretary, citing concerns about the nominee's protectionist rhetoric and the renegotiation of the North American Free Trade Agreement.
Opposition from just one more Republican senator and all Democrats would be enough to block the confirmation of Robert Lighthizer as the top trade negotiator for the U.S., even if Vice President Mike Pence casts a vote in his favor. McCain and Sasse said in a letter they aren't convinced the 69-year-old veteran lawyer understands the "positive economic benefits" of Nafta.

"Mexico and Canada are two of our largest export markets and the free movement of goods is essential to the growth of our national economy," the letter said. "The Trump Administration's incoherent and inconsistent trade posture to date makes it impossible for us to overlook our concerns with your nomination."
Defeating Trump's trade pick would be a huge blow to one of the president's central campaign pledges -- to dismantle the trade agreement he described as a "disaster" and said was responsible for killing American manufacturing jobs. This statement from members of Trump's own party also comes as some Republicans question the timing of the president's decision to fire the FBI director and as Democrats call for a special prosecutor to investigate the administration's ties to Russia.
Defending Arizona
McCain previously voiced concerns over how protectionist trade policies and animosity with Mexico would affect the economy of his home state of Arizona, which depends heavily on cross-border trade. Sasse, of Nebraska, also said last month that pulling out of Nafta would hurt American consumers and producers and risk a trade war with the country's neighbors.
The senators said Wednesday the renegotiation of Nafta should "build on its successes," and take into account the impact any changes would have on businesses, farmers and ranchers in the U.S. Their letter describes "disjointed positions" from different officials in the Trump administration on trade, and they requested a timeline for Nafta negotiations and clear objectives for future trade agreements.

Trump announced Jan. 3 that he would pick Lighthizer, but his confirmation was delayed by questions over lobbying he did decades ago for foreign governments.
Lighthizer worked for decades as a trade lawyer, representing clients that included U.S. Steel Corp. He also served as a deputy U.S. Trade Representative under President Ronald Reagan, earning a reputation as a hard-nosed negotiator, and he has political experience from working as a senior aide to Senate Finance Committee Chairman Bob Dole.
Before it's here, it's on the Bloomberg Terminal.
LEARN MORE