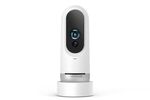 Form and function
Lighthouse looks a bit like an Amazon Echo but has a video camera and a 3D sensor, allowing it to identify people and objects in your home. A companion app alerts users to intruders, though it won't sound the alarm for, say, spouses or kids.
Innovators
Alex Teichman and Hendrik Dahlkamp
Ages 31 and 38
Co-founders of startup Lighthouse in Palo Alto
1. Detection
The device emits near-infrared light waves to make sure movement it picks up was created by a person, not by shadows cast by the headlights on a passing car. Facial recognition software allows users to tag family and permitted visitors.
2. Recognition
The app can be set up to ping you in case of an unrecognized entrant or if the dog walker doesn't arrive on time. Eventually it will work with other smart home gadgets—turning down the heat on your smart thermostat when no one's home.

Origin
Teichman and Dahlkamp studied robotics and artificial intelligence at Stanford under the founder of Google Inc.'s self-driving car project.
Funding
The startup has raised about $17 million, some of it from Playground, the venture firm and development studio created by former Google executive Andy Rubin.
Competition
Home security services like ADT's start at about $30 a month, and internet-connected cameras such as the NestCam cost about $200. Amazon.com Inc. recently said it would sell camera-equipped Echos.
Cost
Lighthouse is charging $399 for the device, including a year of service, which costs $10 a month after that.
Next Steps
Teichman, Lighthouse's chief executive officer, acknowledges that the technology may creep some people out, but he says his company won't have access to customer data and uses advanced encryption. Lighthouse will start taking orders on May 11 and plans to ship the first units in September.
Before it's here, it's on the Bloomberg Terminal.
LEARN MORE