The Economist Who Helped Write Trump's Tax Plan in Five Days
Shahira Knight knows her way around Congress.
By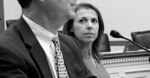 Special assistant to the president for tax and retirement policy
On April 21, President Trump surprised his top advisers when he told the Associated Press that a tax plan would be coming in five days. Among the White House and Treasury Department staffers responsible for quickly putting together the one-page, bullet-point outline released on April 26 was Shahira Knight, special assistant to Trump for tax and retirement policy.



An economist, Knight, 46, works at the National Economic Council, where she's one of the few senior people with a tax background. A former House Ways and Means Committee staffer, she also knows her way around Congress. That experience could come in handy as the administration tries to push through an ambitious tax overhaul.

If the House and Senate can't agree on how to pay for lower corporate and individual rates, they may pass a temporary measure similar to the Bush-era tax cuts Knight worked on while at Ways and Means. By the time she left in 2006, she was the committee chairman's most senior counselor. "She has front-line experience of the legislative process and with tax policy itself," says Alex Brill, a research fellow at the American Enterprise Institute who overlapped with Knight at Ways and Means. Brill remembers that Knight kept a pit bull named Bosley.
Before it's here, it's on the Bloomberg Terminal.
LEARN MORE