Russia Determined to Keep Hacking Elections, U.S. Intelligence Director Says
By and
Annual global threat assessment highlights North Korea, China

Acting FBI director makes first appearance since Comey firing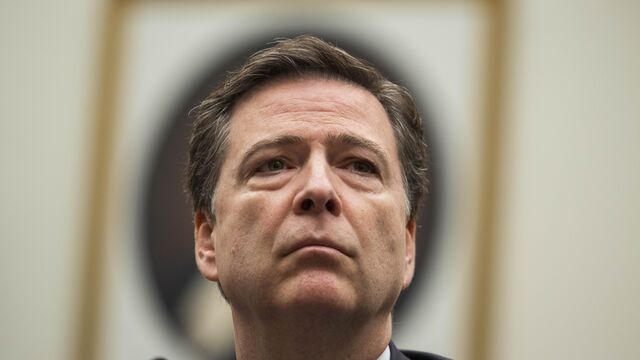 State-led Russian hackers remain a "major threat" to the U.S. government and will keep up their attacks after seeking to influence the 2016 presidential vote, Director of National Intelligence Dan Coats said in an annual "Worldwide Threat Assessment."
Coats, in a statement prepared for a Senate Intelligence Committee hearing on Thursday, stood by past intelligence community assertions that only Russian officials at the highest level could have orchestrated the 2016 operation. Such "influence operations" will continue in the U.S., Europe and elsewhere, he said.

"In 2017, Russia is likely to be more assertive in global affairs, more unpredictable in its approach to the United States, and more authoritarian in its approach to domestic politics," Coats said in the statement summarizing the yearly joint report to Congress by the nation's intelligence agencies.
Coats appeared before the committee along with other intelligence agency leaders, including Central Intelligence Agency Director Mike Pompeo and National Security Agency Director Mike Rogers. But much of the attention turned to Acting FBI Director Andrew McCabe, making his first public appearance in that role since President Donald Trump fired James Comey on May 9.
Asked if he promised to inform the Intelligence Committee of any efforts to interfere in the Federal Bureau of Investigation's probe into the Russian meddling and whether anyone close to Trump colluded in it, McCabe said simply, "I absolutely do."
Read more about the acting FBI chief's appearance at the Senate hearing
Coats's 26-page statement offered an overview of myriad challenges facing the U.S., from high-profile concerns such as the actions of Russia, China and North Korea, to more amorphous threats like those posed by slowing global economic growth, the rise of artificial intelligence and the possibility of U.S. adversaries exploiting genome-editing.
North Korea
In findings that echoed previous assessments, Coats said North Korea's nuclear-weapons and ballistic-missile programs pose an "increasingly grave national security threat to the United States and its interests," while Iran is stepping up its role as a regional actor, backing Syrian President Bashar al-Assad's regime and Houthi rebels in Yemen.
China continues construction on islands and other geographic features in the South China Sea, according to the statement, and will have its first long-range, sea-based nuclear capability when it finishes developing its JL-2 submarine-launched ballistic missile.
On North Korea, the statement says Kim Jong Un's regime is "poised to conduct its first" flight test of an intercontinental ballistic missile this year, "which would serve as a milestone toward a more reliable threat to the U.S. mainland." While the administration has said it will talk with Kim's regime if it shows a willingness to abandon its nuclear and ballistic-missile programs, the report signaled that any such move is unlikely. Pyongyang's actions show "Kim does not intend to negotiate" an end to his weapons program "at any price."
Troop Plan
The report also offered assessments devoid of traditional diplomatic obfuscation or niceties.
On Afghanistan, Coats said the situation "will very likely continue to deteriorate, even if international support is sustained." He said Afghan forces will remain dependent on foreign military help to keep from collapsing, and the Taliban will continue to make gains.
The Trump administration is considering sending 3,000 to 5,000 additional troops to Afghanistan to help train Afghan security forces. Coats said Afghan troops suffer from "combat casualties, desertions, poor logistical support and weak leadership."
"Kabul's political dysfunction and ineffectiveness will almost certainly be the greatest vulnerability to stability in 2017," he wrote.
Other findings cited in Coats's testimony:
Sunni extremists remain the primary terrorist threat to the U.S., with home-grown actors posing the biggest concern. The Islamic State will retain the ability to sustain its insurgency and carry out terrorist attacks globally even as it loses ground in Syria and Iraq.
Iraq will face "serious" challenges to its stability and political viability even if Islamic State is driven out of the city of Mosul. The country is split along ethnic lines, as Shiites, Sunnis and Kurds "increasingly view themselves as having diverging futures."
Backed by Russia, Syria's Assad will maintain momentum in a civil war that has torn the country apart, and a political settlement is unlikely this year.
Challenges of slow economic growth, security threats and "irregular migration" will confront European leaders, and Brexit will prove a distraction.
In the Philippines, the government's push to forge stronger partnerships with other countries have "increased uncertainty" about the future of U.S.-Philippines security ties. President Rodrigo Duterte will press ahead with a war on drugs and crime that critics say fosters "a permissive environment for extrajudicial killings."
Before it's here, it's on the Bloomberg Terminal.
LEARN MORE