Moon Seeks to Mend China Ties Over Thaad in Call With Xi
By
Leaders of China, South Korea last talked eight months ago

Agrees to cooperate with Japan on North Korea in call with Abe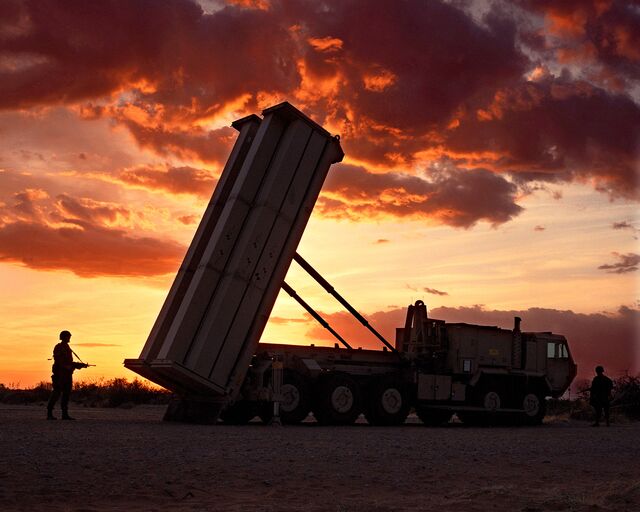 President Moon Jae-in told his Chinese counterpart Xi Jinping that he's aware of Beijing's concerns over a U.S. missile shield installed on South Korean territory and will work to resolve the problem.
In their first phone conversation since his election victory this week, Moon told Xi that it may become easier to settle differences over the Terminal High Altitude Area Defense system if North Korea stops its provocations, Yoon Young-chan, Moon's senior secretary for public relations, said Thursday. The South Korean leader said he plans to send a special envoy to China to discuss Thaad and North Korea.
Moon also asked Xi to address the "restraints and restrictions" on South Korean companies doing business in China because they're experiencing "difficulties" over the deployment, according to Yoon.
The 40-minute conversation was the first in eight months between the heads of the two nations as relations suffered after Moon's predecessor allowed the U.S. to install Thaad. Moon also spoke with Japanese Prime Minister Shinzo Abe on Thursday, with the two agreeing to cooperate closely on the North Korea issue.
U.S. President Donald Trump has sought the help of China, South Korea and Japan in pressuring North Korean leader Kim Jong Un to halt testing of nuclear weapons and ballistic missiles. The impeachment and ouster of Park Geun-hye left a vacuum in South Korea's leadership at a time when tensions on the peninsula rose to the highest in years.
Thaad Review
Moon has long said the next South Korean government should review the Thaad deployment and decide to allow it only after seeking China's understanding. In his inaugural address, he promised to "negotiate sincerely" with the U.S. and China to resolve the issue. He also wants China to play a greater role to convince Kim to give up his quest to develop a nuclear weapon that can reach the American mainland.
Explaining Thaad, and Why It So Bothers China: QuickTake Q&A
Moon said Pyongyang's nuclear issue should be addressed "comprehensively and gradually," not only with pressure but also through talks, because current international sanctions are also aimed at guiding Kim's regime to return to dialogue, Yoon said.
South Korea says it needs Thaad to defend itself from North Korea, but China believes its radars threaten regional security. China retaliated against the decision to allow the system by suspending Korean retail giant Lotte Mart's stores in its territory, banning package tours and imposing stricter rules for sales of Korean cosmetics products.
Abe Call
In his conversation with Abe, Moon pointed out that most South Koreans don't accept an agreement Japan made with the Park administration in December 2015 to compensate women who were forced to work in military brothels during World War II. Still, Moon stressed that the matter shouldn't remain a sticking point for the two nations to pursue "future-oriented relations," Yoon said in a separate briefing.
"We should overcome the issue in a wise way, while making efforts to address the North's nuclear issue and advance bilateral relations separately," Moon was quoted as saying.
Abe said it was important to fulfill the terms of the agreement, Deputy Chief Cabinet Secretary Koichi Hagiuda told reporters in Tokyo. At the time, the deal was supposed to be an "irreversible" solution to the so-called comfort women issue that has dogged relations between the countries for decades.
Abe and Moon agreed to meet soon, and Xi invited the South Korean leader to Beijing.
— With assistance by Maiko Takahashi, and Isabel Reynolds
Before it's here, it's on the Bloomberg Terminal.
LEARN MORE