markets
Mobius Casts Aside North Korea Risks to Cheer Moon's Victory
By , , and
South's new president will accelerate chaebol reform, he says

Templeton's small-cap funds are weighted toward South Korea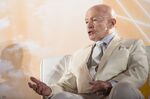 Count emerging-market maven Mark Mobius as having learned to stop worrying about North Korean bombs, and love chaebol reform.
That's his take on South Korean stocks, after Moon Jae-in swept into office as the country's president this week on a platform of overhauling a conglomerate-dominated economy and improving ties with the Communist dictatorship to the north. Even if relations with nuclear-armed North Korea don't improve, he won't be losing any sleep.
"We ignore it," the executive chairman of Templeton Emerging Markets Group said about how he manages the risk of a nuclear conflict on the peninsula. "There's nothing you can do about it. If something breaks out, we're all finished anyway."
The 80-year-old fund manager prefers to focus on the positives. He says Moon will be tougher on the family-run chaebol that control business sectors from manufacturing to retailing, creating opportunities for smaller firms. That's why Templeton's small-cap funds have such a large weighting in South Korean companies, he says.
"With a more left-leaning government, you're going to see much bigger pushes for chaebol reform," Mobius said during a visit to Tokyo. "This means that the so-called Korea discount narrows, and you have bigger opportunities for investing."

Moon officially took office this week, promising to end the close ties between politicians and the chaebol that played a part in the downfall of impeached predecessor Park Geun-hye. For Mobius, the possible market impact of that initiative would outweigh any hit to economic growth from corporate tax hikes under Moon. Expectations for reform explain why stocks have surged, he says. The benchmark Kospi index rose to a record earlier this month, though it still trades only slightly above book value.
"It's really exciting times in Korea," Mobius said. "I'm quite positive" on Moon's election, he said.
Moon also pledged to push for peace with North Korea, and to visit the country under the right conditions. In a speech this week, he said he would "sincerely" discuss the issue of deploying a controversial American missile shield called Thaad that's angered China.
Read: South Korea's Moon Brings Shift on North Korea: QuickTake Q&A
"Korea has to pay attention to China," Mobius said. "Korea has to learn just how to say 'no' to the U.S.," he said. And Moon is "going to have to reach some accommodation with North Korea," something that could be helped thanks to his background, with his parents hailing from the north, he said.
Even failure by Moon to defuse tensions on the peninsula wouldn't unsettle Mobius unduly. Ultimately, he says, any nuclear conflict would affect everyone, regardless of how you allocate assets. So there's little point worrying about it, he says.
"It's one of these existential threats that you can't put a number on," he said. "You can't escape it," he said. "It's not just going to be here; it's going to be everywhere."
Before it's here, it's on the Bloomberg Terminal.
LEARN MORE