May and Corbyn Serve Helpings of Populism for U.K. Election
By and
Labour's leaked manifesto put renationalization on the menu

Conservatives attack corporate greed, seek to cap energy bills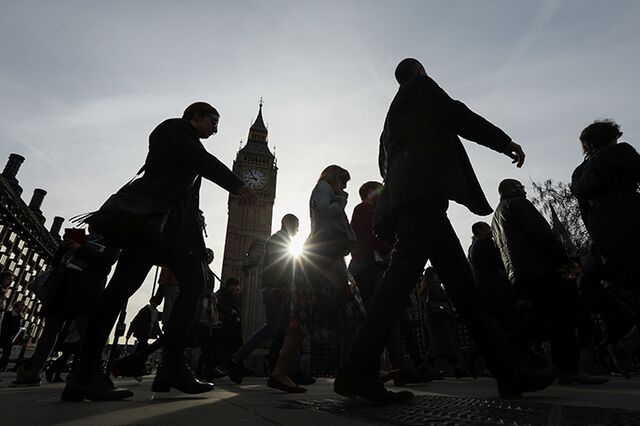 Whoever wins Britain's June 8 general election, free-market capitalism is going to be a bit less free-market.
For almost four decades Conservative and Labour governments have trusted competition and deregulation to deliver better lives for voters. Now both sides are hitting the brakes.
"Too many people are in insecure and low-paid work and cannot make ends meet," reads the leaked draft of Labour's manifesto, dismissed by Tory-supporting newspapers as a return to the 1970s. Yet Theresa May made the same point on becoming prime minister: "If you're from an ordinary working-class family, life is much harder than many people in Westminster realize."
Populism is coursing through the veins of British politics less than a year after the shock referendum that put the U.K. on the path of breaking up with the European Union. Two mainstream parties that were once diametrically opposed are instead competing for who speaks most for the average struggling Briton with similar proposals to cap energy bills, stop employers bringing in cheap foreign workers, and prevent asset-stripping corporate takeovers.
On Friday, May will make a fresh grab for Labour territory on a campaign to northeast England, a traditional heartland for the opposition party, where past lawmakers include former Prime Minister Tony Blair. She'll accuse Labour leader Jeremy Corbyn of deserting "proud and patriotic working class people," and pledge that she'll "bring about real improvements in their lives."
"We have begun to set out the policies to do it," May will say. "Capping people's energy bills so that working people get to keep more of the money they earn. Protecting people's pensions from unscrupulous bosses. Tackling the burning injustice of poor mental health provision. Investing in our armed forces to keep our country safe."
Read a primer on the history and philosophy behind the populist movements
"A lot of the things she has said are straight out of Labour's playbook, in terms of an economy for the many rather than the few, in talking about inequality and making sure that everybody pays their fair share," Julian Jessop, chief economist at the Institute of Economic Affairs in London, said in an interview. "When it comes to the detail she's got far more in common with Labour than with, for example, George Osborne or David Cameron."
Shades of Gray

The reason for the echoes can in part be attributed to how both May and Corbyn broke away from their predecessors. May's regular references to "the privileged few" are in part a rebuke to Cameron and the team around him. Corbyn's popularity within his party is in large part the result of his repudiation of Tony Blair.
As Cameron pitched himself as the heir to Blair, people rejecting the old consensus are likely to end up in similar places.
The differences are in the degree and style of populism. May might have the business community worried about a touted crackdown on corporate greed, yet her platform is nowhere near as radical as that of her rival.
Under his leadership, Labour wants to increase the power and role of labor unions and is explicit that taxes will go up for businesses and the highest-paid 5 percent of earners. The party is making a series of expensive promises, on funding the National Health Service, increasing the state pension and making university tuition free. It proposes state-run energy companies to compete with private firms and to take trains back into government ownership.
Very Expensive
These commitments add up to a lot of extra spending. Speaking to the Guardian on Thursday, Paul Johnson, director of the Institute for Fiscal Studies, said the college pledge alone would cost around 10 billion pounds ($13 billion) a year. 
"This is not just about tax and spending," he said. "This is about the state getting deeply involved in much more of the private sector than it has been, certainly since the 1970s, and perhaps since the 1940s, with respect to, say, telling banks which branches they can't close; setting minimum wages for a quarter of private sector workers and about 60 percent of young people, and dramatically improving labour regulation."
According to Colin Talbot, professor of politics at Manchester University, Labour's platform could be much more radical than it first appears. "It's very difficult to tell the difference between a social democrat manifesto and a socialist manifesto from what's written down," he said. "It's what they leave out."
But attitudes to investors, Labour and May seem to be in agreement.
"Transient shareholders –- who are mostly companies investing other people's money -- are not the only people with an interest when firms are sold or close," May said last year. "Workers have a stake, local communities have a stake, and often the whole country has a stake."
The Labour document takes up the tune. "At present directors owe a duty to promote the company for the benefit of the shareholders," it reads, before promising to change the law so that directors "owe a duty directly" to "employees, suppliers, the environment etc."
Again, the question is whether the rhetoric will translate into action.
May has talked about making foreign takeovers of British companies harder, but the industrial strategy her government published in January offered no signs of that. Just after she took office, Softbank Corp.'s bid for ARM Holdings Plc won her stamp of approval.
Before it's here, it's on the Bloomberg Terminal.
LEARN MORE