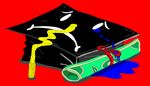 In January, Rodrigo Paolucci sold his 50-person video distribution startup in São Paulo, planning to go to business school overseas. Although he'd long dreamed of getting an MBA in Silicon Valley or New York, he applied only to the Rotman School of Management at the University of Toronto. The reason: The Trump administration's anti-immigration rhetoric "makes it harder for foreigners," says Paolucci, who got a scholarship from Rotman that covers 40 percent of tuition. Just as important, his wife will be able to work as soon as they move to Toronto this summer, and they'll be able to stick around for three years after he graduates. "Of course you want to be at Stanford or Columbia, but you have to place your bets," says Paolucci, 31. "Top talent is going to go where it's welcome."
The Graduate Management Admission Council, which administers business school entrance exams, says about two-fifths of 547 foreign applicants it surveyed in March were less likely to pursue a graduate management degree in America as a result of the 2016 election. And two-thirds of 86 U.S. MBA programs queried this spring have received fewer international applications this year than last, the GMAC says. Tim Mescon, a vice president at AACSB International, a B-school accrediting group, attributes it to the "Trump effect." With increasing concern over the president's travel ban, anti-immigration rhetoric, and proposals to tighten visa rules, "students and their families begin to look for alternatives," he says. "This is a very dangerous scenario for higher education in the U.S."
The most prestigious of the 700-plus American B-schools are unlikely to be significantly affected, but lower-ranked institutions could suffer, says Chioma Isiadinso, a former admissions officer at Harvard Business School, who runs an MBA admissions consulting company called Expartus. Many lesser-known schools are highly dependent on tuition from international students, she says, and the prospect of a decline in their numbers "is keeping deans and admissions directors up at night."
What's bad for U.S. programs is good for their rivals abroad, which are likely to see increases in international enrollment, says Eric Cornuel, chief executive officer of EFMD, a group in Brussels that accredits B-schools. Although relatively few of the 200,000 foreign business students in the U.S. are from countries affected by the administration's travel ban, "perception matters," he says. "Students in Europe and Asia don't understand Trump's immigration policies," but they feel the U.S. is becoming "less inclusive and less diverse." At Rotman in Toronto, MBA applications have increased about 30 percent this year, driven largely by students from China, India, and Brazil. Enrollment numbers aren't final, but the rate for international students is up, says admissions officer Jamie Young. "Candidates are not afraid to tell us that they're no longer considering the U.S.," he says.
A longer-term concern is what happens after B-school. Many foreign MBA grads end up working in the U.S., contributing to growth in sectors such as technology and health care, says Marcelo Barros, a consultant in Washington, D.C., who helps international students find employment. Foreigners frequently see an MBA as "a springboard toward the holy grail of a job in the U.S.," Barros says. With the Trump administration mulling tighter rules for the work visas often issued to international B-school grads, "what we have is a climate of fear and uncertainty."
Viktor Bunin, a Kazakhstan-born consultant for EY in New York, says he'd urge anyone who's reluctant to study in the U.S. to reconsider. "One bad president" won't affect the quality of the education, says Bunin, 25, who has dual U.S.-Russian citizenship and is planning to apply to B-schools in the U.S. and Spain. Foreign students "aren't going to be ostracized," he says. "We're not, at heart, a nation that does that. Or at least I'd like to think so."
The bottom line: Concerned that anti-immigration policies will lessen their job prospects, foreign applicants are staying away from U.S. B-schools.
Before it's here, it's on the Bloomberg Terminal.
LEARN MORE