How a Mogul's Billions Are Riling Czech Politics: QuickTake Q&A
By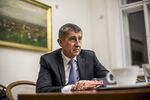 The Czech Republic, which has watched nine governments come and go in the past 15 years, is once again in political turmoil, caught in a fight between the leaders of its two dominant political forces. Bohuslav Sobotka, the current premier and the head of the Social Democrats, is trying to dismiss Finance Minister Andrej Babis, a billionaire whose ANO party is the favorite in opinion polls before elections slated for October. As Sobotka tries to oust his rival and arrest a slide in popularity, he has endangered his own future, and the infighting has paralyzed the coalition government.
1. What's the fight about?

Sobotka, prime minister since 2014, says Babis hasn't adequately answered allegations that he engaged in tax evasion and financial "tricks" while building his empire of 250 companies spanning 18 countries and employing 34,000 people. Babis, a former Communist-era trade official who founded Agrofert AS, controls assets in the chemical and food industries -- including La Paloma, a Michelin-rated restaurant in the French Riviera -- as well as the Czech Republic's largest mainstream newspaper. Forbes puts his net worth at more than $3 billion. Babis says he did nothing illegal and that his finances are transparent.
2. Why hasn't Sobotka been able to dismiss Babis?
The prime minister first tried shaming Babis into quitting. Then he said he would submit the entire cabinet's resignation, an offer he withdrew after the president, Milos Zeman, suggested he might keep everyone but Sobotka. Most recently, Sobotka submitted a request for Zeman to dismiss only Babis and said the president is obliged under the constitution to comply.
3. Will Zeman get rid of Babis?
That's not clear. Zeman called the premier's proposal invalid and signaled he may reject it. He's clashed with governments before over the powers of the mostly ceremonial presidency. In 2013, he bypassed parliament and named an interim government when a previous coalition collapsed. He's expected to make a decision after he returns from a trip to China on May 18.
4. What does this mean for the Czech Republic?
It's hard to believe now, but the coalition government of Sobotka and Babis, along with the Christian Democrats, has been the longest-lasting and one of the most successful during the past 15 years. It helped restart economic growth after the longest recession on record, produced the Czech Republic's biggest-ever budget surplus in 2016 and has overseen a drop in public borrowing costs to a record low.
5. So what happened?
In a word, politics. With an election near, Babis's pro-business party is riding high in opinion polls and portraying the premier's Social Democrats and other traditional parties as corrupt and inept managers. Sobotka, in an unusual alliance with the center-right opposition, struck back by accusing Babis of using media outlets from his empire against his political opponents.
6. What's the election outlook?
All three ruling-coalition parties have said they prefer to remain in power until the vote, set for Oct. 20-21. That's also Zeman's preferred option. Technically, the parties in parliament could vote to dissolve the assembly and move the vote forward. That would require a three-fifths majority, and while it's got the backing of some opposition parties, that doesn't look likely for now. The next government could comprise the same three parties, possibly with Babis as prime minister.
7. What does this mean for the economy and markets?
The Czech economy is largely resilient to turbulent politics. Export-oriented and based mainly on manufacturing industries, GDP more than doubled to $185 billion since 2002, when the last full-term government left office. While encountering periods of increased swings, the koruna is traditionally one of the least volatile currencies in the world. It has gained more than 20 percent to the euro since the Czech Republic entered the European Union in 2004.
The Reference Shelf

Before it's here, it's on the Bloomberg Terminal.
LEARN MORE