business
Emirates Profit Down 70% on Oil-Hit Economies, Terror Impact
By
Long-haul giant suffers first earnings decline since 2012

Strong dollar and Trump's laptop ban present further challenge
Emirates Group, the biggest long-haul airline, posted its first decline in annual profit for five years as the low oil price weighed on Persian Gulf economies and terrorist attacks discouraged people from traveling.
The Dubai-based company will halt dividend payments to its government shareholder for the first time in at least a decade while stepping up savings efforts after net income tumbled 70 percent to 2.5 billion dirhams ($680 million) in the 12 months ended March 31.

The earnings slump comes as Emirates grapples with some of the toughest operating conditions in a 30-year history that's seen it become an industry heavyweight by exploiting the position of the Gulf at a natural crossroads for inter-continental flights. Adding to the carrier's woes are a stronger dollar, concerns about the Brexit vote and Europe's immigration crisis, and President Donald Trump's laptops ban on U.S.-bound trips from airports including Dubai.
Emirates's revenue fell 0.4 percent on routes to Europe, its biggest market, with a 4 percent decline on once fast-growing African services. Americas sales expanded most -- highlighting the potential impact of the curbs on carrying electronic devices, which were announced March 21.
The scale of the profit squeeze underscores the challenge facing Emirates as President Tim Clark, one of the architects of the mega-hub model that has made the leading Mideast carriers such a force, evaluates his future after running the company since 2003. Clark, 67, has warned that Emirates faces a "gathering storm" from long-haul discount operators that could begin to chip away at its market share, just as it has done with older network rivals.
Emirates Chairman Sheikh Ahmed bin Saeed Al Maktoum said in a statement that he expects the year ahead to remain challenging, with "hyper-competition" squeezing yields, a measure of fares, and "volatility in many markets impacting travel flows and demand."
The failure to pay a dividend also comes as a blow for the airline, which is central to the United Arab Emirates's bid to diversify away from an oil-based economy and appeared to have become a reliable income source.
Oil Pressure
Other Gulf operators are also suffering, with Etihad Aviation Group reviewing its policy of investing in smaller carriers worldwide amid mounting losses at Air Berlin Plc and a bankruptcy filing at Italy's Alitalia SpA, in which it owns minority stakes. CEO James Hogan will leave on July 1, with an interim chief already taking over his duties.
While the low price of crude has been a boon for most airlines, it represents a negative for Emirates and its Gulf peers, crimping demand for premium travel in a region at the center of world oil and gas production. Terrorist attacks ranging from France to Turkey and North Africa have also put some people off traveling, with a significant slump in visits to Europe by Asian tourists.
Trump's moves to limit U.S. access from countries including the U.A.E., combined with the bar on laptops, has seen planes that usually fly more than 80 percent full suffer a drop in occupancy, Emirates said last month. That's prompting it to eliminate 25 weekly flights to the U.S. and redeploy aircraft to destinations in Malaysia, Oceania and Africa, according to Clark.
The carrier has also suffered from the strengthening of the U.S. dollar, which has reduced the value of receipts booked in a host of weaker currencies because of the dirham's peg to the greenback. The dollar reduced airline revenue by 2.1 billion dirhams in the 12 months and weakened the bottom line.
Fares, Occupancy Fall
While Emirates's passenger count rose 8 percent to 56 million as it added destinations including Fort Lauderdale, Florida, Yangon in Burma and Hanoi in Vietnam and took delivery of 19 Airbus SE A380s and 16 Boeing Co. 777s, the average load factor declined to 75.1 percent.
Earnings at the group's airline operations plunged 82 percent to 1.3 billion dirhams, with sales little changed at 85 billion dirhams. Yields were pressured by competition and overcapacity, dropping 7.2 percent on average, and the fuel bill rose 6 percent due to the larger fleet.
John Strickland, an aviation analyst and director of JLS Consulting in London, said that while the Emirates strategy remains robust, it may need to keep a tighter rein on capacity and review everything from on-board service to the aircraft it operates. The carrier has the world's biggest wide-body fleet, including more than 140 A380 superjumbos in service or on order.
"It may face headwinds now but should prosper in the years ahead," he said.
Watch Next: Is the Laptop Ban About Terrorism or Protectionism?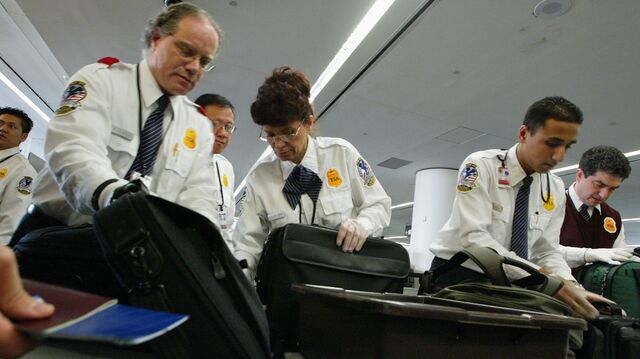 — With assistance by Richard Weiss
Before it's here, it's on the Bloomberg Terminal.
LEARN MORE