markets
Dudley Says Fed May Begin Paring Balance Sheet This Year or Next
By and
'We are pretty close to full employment' in U.S., he says

New York Fed chief says wants balance sheet to be minor event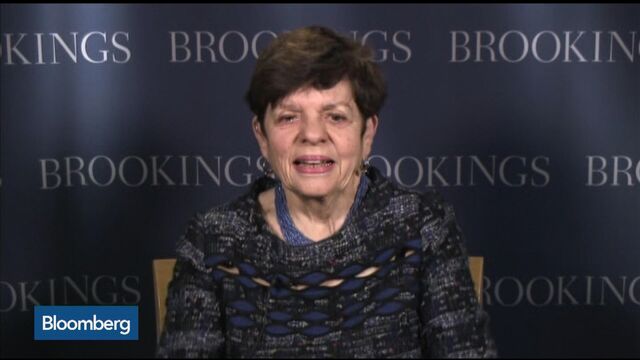 The Federal Reserve is on track to begin unwinding its balance sheet this year or next, although U.S. central bankers are not in a rush to tighten and will take care to ensure their actions don't trigger disruptions that harm the global economy, Federal Reserve Bank of New York President William Dudley said.
"We are pretty close to full employment," Dudley said Thursday while answering questions after a speech in Mumbai. "Inflation is just a little bit below our target of 2 percent if you look at the underlying inflation trend, so clearly if the economy continues to grow above trend we are going to want to gradually remove monetary policy accommodation."
Dudley and his colleagues on the U.S. central bank's rate-setting Federal Open Market Committee are on track to raise interest rates twice more in 2017 following a hike in March, marking a significant acceleration in the pace of tightening from the previous two years, as they prepare to start trimming their bloated balance sheet.
"I think if the economy continues to evolve in line with our expectations, sometime later this year or next year we will begin to gradually decide to normalize our balance sheet," he said.
A statement published following the FOMC's meeting last week showed policy makers were looking through weak first-quarter data on economic growth, which they suspect may reflect statistical quirks to a greater degree than underlying fundamentals.
Dudley said the "U.S. economic recovery continues apace."
June Hike
Investors put the chances of a rate increase in June at about 80 percent, and are giving the Fed better-than-even odds of getting in another hike after that before the year is out, according to the prices of federal funds futures contracts.
That would allow officials to begin unwinding the $4.5 trillion balance sheet, which they amassed under emergency measures to put downward pressure on long-term borrowing costs after the 2008 financial crisis slammed the U.S. economy.
Dudley, who as president of the New York Fed is also the vice chairman of the FOMC, said the unwind would be done "in a very careful way, in a way that's very much well-communicated to markets."
"We want this very much to run in the background, to be a very modest, minor event rather than a major event, so I think that you'll see us pursue this with great care and caution in the months ahead," he said.
Speaking at the Bombay Stock Exchange on the topic of globalization, Dudley warned in his speech that if governments took steps to limit free trade, they risked setting off a trade war and creating a drag on productivity.
Protectionism
"Such measures often backfire, resulting in harm to workers and diminished growth," he said. "From a U.S. standpoint, we should work to reduce remaining foreign trade restrictions that impair our ability to capitalize on our comparative advantages."
On the monetary policy front, Dudley said the rest of the world shouldn't expect a big change from U.S. policy makers.
"We expect to gradually raise short-term interest rates and over time perhaps that will allow us to gradually normalize the balance sheet, but with the economy growing just a little bit above trend, and inflation in the U.S. a bit below our 2 percent objective, there's no great urgency for us to have to tighten monetary policy aggressively," Dudley said in answer to an audience question. "So, I'm not anticipating us generating big shocks to the rest of the global economy."
Before it's here, it's on the Bloomberg Terminal.
LEARN MORE