Deutsche Telekom CEO Eyeing Up Merger Partners for T-Mobile US
By
T-Mobile US wireless unit drives sales and profit growth

German carrier writes down BT stake by 700 million euros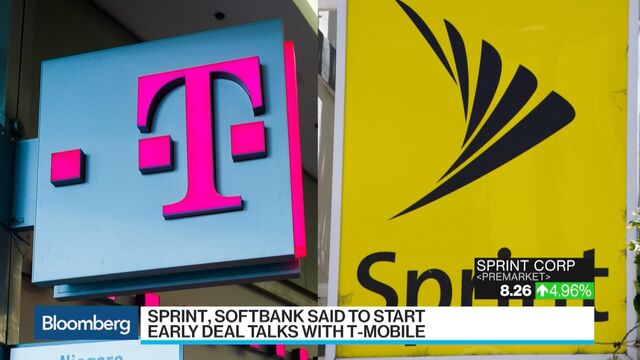 Deutsche Telekom AG Chief Executive Officer Tim Hoettges is eyeing up potential merger partners for T-Mobile US Inc. as he prepares for consolidation in the industry following the completion of the country's spectrum auction.
"It is not only permitted and possible, but now very likely that discussions will get under way concerning various potential strategic combinations of businesses in our industry," Hoettges said in prepared remarks to reporters on Thursday. "That includes our company, T-Mobile US."

T-Mobile US, owned 65 percent by Deutsche Telekom, has been transformed from a unit Hoettges once aimed to unload to what he calls his "kingmaker asset." SoftBank Group Corp. Chairman Masayoshi Son on Wednesday said he wants to restart merger talks between his Sprint Corp. and T-Mobile US, sending shares up as investors bet a deal may finally happen under the looser regulatory climate of the Trump administration.
"We can see several advantages to consolidation and convergence," Hoettges said in the remarks. "Both options open up a range of potential synergies and economies of scale."
Deutsche Telekom on Thursday reported that first-quarter adjusted earnings before interest, taxes, depreciation and amortization climbed 7.5 percent to 5.55 billion euros ($6.04 billion), aided by T-Mobile US, which raised its subscriber forecast for the year in April. While German sales were largely flat, T-Mobile US is increasingly pressuring larger rivals Verizon Communications Inc. and AT&T Inc. The company confirmed its full-year forecast and said first-quarter revenue grew 5.8 percent to 18.7 billion euros.
Underscoring the importance of the U.S. business, Deutsche Telekom's other foreign investments are performing poorly. Deutsche Telekom wrote down the value of its BT Group Plc stake by another 700 million euros after lowering it by 2.2 billion euros earlier this year due to the continued decline in BT's shares. That contributed to a drop in first-quarter net income to 747 million euros from 3.13 billion euros a year earlier, when the carrier benefited from the sale of wireless carrier EE to BT.
T-Mobile US CEO John Legere is in a comfortable seat for potential merger talks with Sprint and others including Dish Corp. because of the company's free cash-flow that's forecast to grow to more than $4.5 billion in 2019, from $1.4 billion last year, Saeed Baradar, an analyst at Louis Capital Markets, said in an emailed note on Wednesday.
T-Mobile's growth trajectory and Deutsche Telekom's past investments in the carrier set the bar "extremely high for pursuing any strategic alternative to this independent course," Hoettges said. Even if T-Mobile would take part in merger talks, it would be "impossible to say" if such talks succeed, he said.
Quotes from this Article
Before it's here, it's on the Bloomberg Terminal.
LEARN MORE