Interview
Coke's New CEO Must Win Over a New Generation That Shuns Sugar
James Quincey on energy drinks, stay-at-home consumers, and the eternal quest for a better sweetener.
By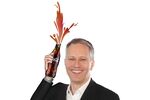 James Quincey stepped in as chief executive officer at Coca-Cola Co. on May 1, succeeding Muhtar Kent after his eight-year run. The London native inherits the challenge of winning over sugar-shunning consumers who increasingly shop online. Bloomberg News's Jennifer Kaplan spoke with him after his first week in charge of the world's biggest beverage maker.
 
Jennifer Kaplan: One change that took place immediately as you became CEO was the creation of the role of chief innovation officer. Tell me about that decision.
 
James Quincey: The R&D department has always been within the technical department. So the first thing I've done is to bring it out into the full light of day reporting to the chief executive. And then to not limit it to just being research and development, which in a way sounds a little passive. Virtually all the big brands we own we either created ourselves or invested in something small and then helped grow it. We're the leader in the beverage industry. You'd like to think we know something about it and that we should be able to come up with some brands. But we don't want to be close-minded or arrogant to think we're going to come up with all the ideas. All of it needs to be viewed with the optic of starting not with 'What can I invent?' but with 'What do consumers want?'
 
So what do they want?
 
Consumers want to be in lots of different places. The simplest way of saying it is, people spend most of their day trying to come up and most of the evening trying to come down. In other words, they're drinking anything with a stimulant most mornings, then anything that's not a stimulant. Things like premium water are on trend; sensitive products—whether it's ready-to-drink coffee, whether it's infusions and teas, whether it's more exotic infusions or plant drinks out in Asia. Energy drinks are fast-growing, too. There's $100 billion of value that's going to be created there by 2020. The biggest single source of dollars, although not the fastest-growing, is still sparkling beverages.
 
Regarding sugar and health, what sort of changes are on the table?
 
For me it's three things. It's reformulation, so just replacing some of the sugar with an appropriate sweetener; new products that are inherently less sweet; and bringing out smaller packages. In the end, one of the easiest ways is to have a smaller can or bottle. If people are going to drink everything that's in front of them, well, when they've got a smaller package, they'll have less. That's the sort of thing moms like for kids.
 
How much effort will you put into finding the holy grail of a better sweetener?
 
You gave me an out, which is it's exactly like looking for the holy grail, because even if I were to find, or someone else were to find, a sweetener tomorrow that had no calories, everyone would attack it for all sorts of reasons. If it was new to the world, first of all, it would take decades to get approved. We want to help people consume whatever they're going to consume, including our beverages and sugar through our beverages in moderation, so that we can be part of the WHO [World Health Organization] guidelines. But we also recognize that there is no holy grail. People have perceptions. Just because governments study something endlessly and keep saying it's safe, apparently that doesn't work for everyone.
 
You've talked about having taken some of the sugar out of major brands without even advertising it. How did that work out?
 
In Australia, we took—I think it's 15 percent, I'd have to check—of the sugar out [of Sprite] and put in Stevia as a replacement. Obviously you put it on the label from a legal point of view. So we took some of the calories out of Sprite. And consumers like Sprite now as much as they did before. Then in Europe we took 30 percent of the calories out of Fanta to see what would happen. Again, sales seem to be continuing fine.
 
You've announced job cuts and other changes. What triggered them?
 
Unfortunately we're making some reductions in jobs. We'll make sure that's done in the Coke way, with dignity and humanely. The reasons are, one, technology and, two, refranchising. We've sold a lot of the bottling businesses to our bottling partners, so we're going from running an enterprise of 150,000 people to 40,000 people.
 
On the tech front, is the rise of online shopping having an impact on Coke?
 
There's a big part of drinks that is impulse-driven. If people are going to buy all their clothes online, and they're not going to go to the mall, then all those vending machines in the malls are not going to get bought from. Our China business had a whole load of problems in the first half of last year, one of which was our restaurant business. They were down double digits. Obviously the team went, solved the problem. I happened to be out there in China with them, and we walked out on one of the streets, and the restaurants were all half empty. But piled everywhere in the restaurants are all these polystyrene boxes, because there are plenty of these places where online delivery has gone to over 30 percent of their business. So you've got students in university dorms ordering noodles, but we were in a strategy of selling glass bottles or larger bottles in restaurants because it's a premium experience. Well, neither of those fits very well in a scooter for delivery. Consumers had changed their habits, and we hadn't adapted our beverage size and format fast enough.
(
Corrects the range of people affected by job reductions in the 13th paragraph.
)
Before it's here, it's on the Bloomberg Terminal.
LEARN MORE