business
BT Cuts 4,000 Jobs, CEO's Pay After Italy Accounting Scandal
By
The carrier lowered its free cash flow and dividend outlook

BT to take 300 million pound restructuring charge after review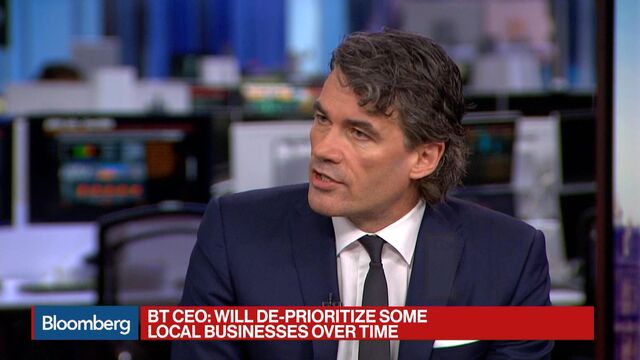 BT Group Plc is clawing back management pay and eliminating 4,000 jobs as it seeks to rebuild investor confidence and overhaul the division involved in an accounting scandal in Italy.
The cuts involve scrapping bonuses for Chief Executive Officer Gavin Patterson and former Chief Financial Officer Tony Chanmugam for the 2017 fiscal year, BT said Thursday as it released fourth-quarter results that narrowly beat analysts' estimates. The company also reduced its outlook for 2018 normalized free cash flow and dividend growth.
Shareholders have been pushing the former British phone monopoly to adjust executive pay after it revealed in January that accounting irregularities in its Italian business were worse than expected, leading to a larger writedown and contributing to a reduced profit outlook. The scandal added to investor concerns over regulatory, investment and competitive pressures for BT, making it one of the worst-performing stocks in the FTSE 100 this year.
"I felt it was inappropriate to take a bonus," Patterson said in a Bloomberg TV interview Thursday immediately after the results. Shareholders have been supportive in a challenging year, he said.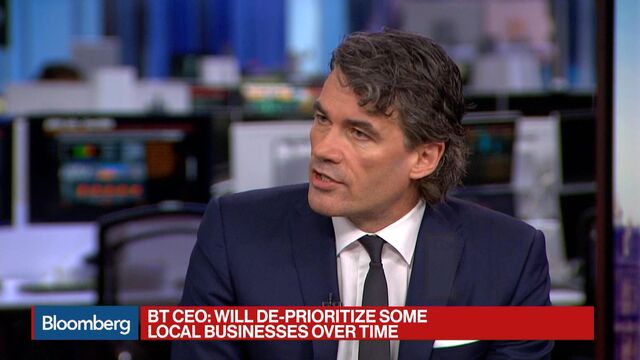 Patterson would have had the opportunity to earn a bonus of as much as 240 percent of his salary of 993,000 pounds ($1.28 million) in fiscal 2017. A reduction in deferred bonus plan share awards for the two executives totals more than 500,000 pounds.
The stock was down 3.2 percent as of 10:20 a.m. in London, at 301.90 pence. The shares, which had 13 buy, nine hold and two sell recommendations from analysts before the results, are down 17 percent this year, with only Centrica Plc performing worse on the FTSE 100 Index.
The company said it will revamp the global services division that includes the Italy unit following a review. Changes include replacing the division's CEO, Luis Alvarez, with Bas Burger. The carrier will make the business more digital and less focused on owning local network assets around the world, which Patterson said could mean disposing of one or two units outside the U.K.
The 4,000 job cuts will come from global services and BT's technology, service and operations unit and the company will face a restructuring charge of about 300 million pounds over the next two years, BT said. The carrier has more than 100,000 employees.
Weaker Outlook
The weaker financial outlook included a 10 percent reduction in the estimate for normalized free cash flow in the 2018 fiscal year, to 2.7 billion pounds to 2.9 billion pounds. Underlying sales will be broadly flat. Adjusted earnings before interest, taxes, depreciation and amortization will be slightly lower, at a range of 7.5 billion pounds to 7.6 billion pounds. Dividend growth is now forecast to be lower than the 10 percent or more previously expected.
BT didn't provide guidance for the fiscal year after this one, as it historically has, given uncertainty about the cost of proposals by communications regulator Ofcom to reduce wholesale broadband prices at BT's network unit, Openreach. BT could also spend more on rolling out fiber directly to buildings in its network, Patterson said. Openreach said Thursday it would consult with other communications providers on more investment in full-fiber connections.
"There are a couple of things that we need better visibility on before we can guide beyond the next 12 months," Patterson told reporters. Additional fiber investment "could be a significant number" and would have a long payback period, he said.
The decision not to give a mid-term outlook may draw attention to free-cash-flow headwinds coming in fiscal 2019, Jerry Dellis, an analyst at Jefferies, wrote in a note. Those include regulatory proposals from Ofcom, unresolved capital spending plans at Openreach, higher costs for UEFA Champions League soccer rights and structural pressures in BT's public sector business, Dellis said.
Revenue in the three months ended March 31 increased 10 percent to 6.12 billion pounds, beating the 6.03 billion-pound average of five analysts' estimates compiled by Bloomberg. Adjusted Ebitda rose 2 percent to 2.07 billion pounds, above the 2.03 billion pound average estimates.
(
A previous version of the story corrected mispelling of former CFO's name.
)
Before it's here, it's on the Bloomberg Terminal.
LEARN MORE