BOE's Smooth Brexit Assumption Doesn't Convince Market Skeptics
by and
Central bank's new growth forecasts based on orderly divorce

Pound slumps as economists and traders say that's 'optimistic'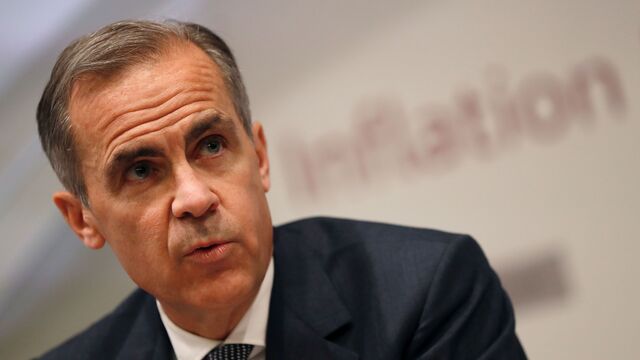 The Bank of England is taking it for granted that we'll see an orderly Brexit. Investors aren't as confident.
While Governor Mark Carney said the U.K. central bank may have to raise rates sooner than markets are expecting, he also said that's based on new forecasts that presume a "smooth" adjustment to the new relationship with the European Union. Traders questioned the likelihood of such an outlook, and sent the pound down.
"The BOE has made some fairly optimistic assumptions," said Alix Stewart, a fixed income fund manager at Schroder Investment Management Ltd. "We remain cautious on how rosy the picture looking ahead really is."

Carney's relatively upbeat forecasts contrast to last year, when his prediction that growth would take a hit if Britain voted to leave the EU didn't pan out. He came under fire from pro-Brexit campaigners for his pessimism. As a rule, the BOE incorporates government policy into its forecasts as it's stated, and didn't model the possibility of a disorderly Brexit.
Still, the BOE's assumption is at odds with reports last month that European Commission President Jean-Claude Juncker had left a dinner with Prime Minister Theresa May last month "10 times more skeptical" about reaching a mutually acceptable Brexit deal. May later accused EU officials of seeking to influence next month's U.K. election, underscoring the discord and suspicion between the two sides.
Meanwhile, British lawmakers have questioned May's statements on the consequences of Britain walking away without a deal, suggesting they are unsubstantiated and failure to reach an agreement would damage both sides.
That skepticism was echoed Thursday by John Wraith, head of U.K. macro rates and strategy at UBS in London.
"The BOE are basing their forecasts on a smooth Brexit process," he said. "If that happens, their optimistic view on growth might prove accurate and they will indeed need to tighten faster than the curve implies. The problem here is we don't think at all that Brexit will be so smooth."
Britain will avoid the so-called cliff edge in which it leaves the EU without a trade deal or transitional period, according to the BOE's assumption. John Kerr, a former U.K. ambassador to the EU, sees a 45 percent chance of talks collapsing without a deal while the Eurasia Group pegs the probability at 20 percent. The pound traded down 0.5 percent at $1.2878 as of 3:59 p.m. in London.

Carney, speaking in London after the BOE left interest rates on hold, said he based his forecasts on the government's stated desire for a "bold, comprehensive trade agreement." If things go according to that plan, the BOE sees domestically generated inflation picking up in a few years and wage growth accelerating. That would call for more than the one quarter-point rate increase the market currently sees, Carney said.
"Is there a possibility of a super, super smooth Brexit and a big give from the EU? No, of course not," Paul Mortimer Lee, an economist at BNP Paribas and a former BOE official, said in a Bloomberg Television interview. "The risks are all on the downside and firms know that. They're sat there thinking, 'Shall we increase our workforce's wages?' And they're thinking, 'No, because there is maybe bad stuff coming."'
Before it's here, it's on the Bloomberg Terminal.
LEARN MORE