FBI Chief Disputes Trump on Comey as Hearing Veers Off Course
By , , and
McCabe says Comey enjoyed 'broad support' among rank and file

Deputy Attorney General Rosenstein makes unannounced visit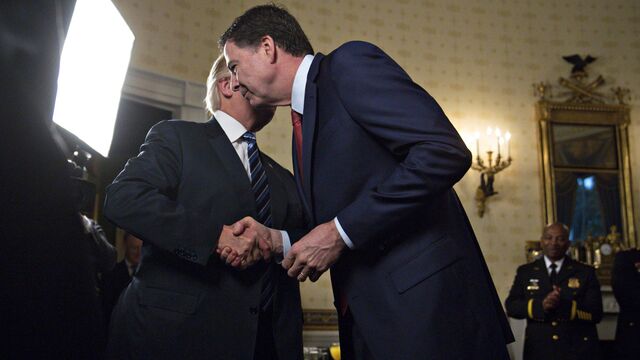 Acting FBI Director Andrew McCabe dismissed White House claims that the bureau's rank and file had lost confidence in James Comey before President Donald Trump fired him, defending his former boss and vowing to press ahead with a probe into links between Russia and Trump's presidential campaign.
"Director Comey enjoyed broad support in the FBI and still does to this day," McCabe said in testimony Thursday before the Senate Intelligence Committee.
Even as McCabe, on the job for less than 48 hours, broke ranks with Trump, an unannounced guest arrived at the panel's offices: Deputy Attorney General Rod Rosenstein, who oversees the Russia probe and wrote a memo that the White House cited as grounds to fire Comey. The committee chairman and top Democrat left the hearing room for a meeting with Rosenstein that they later said had been scheduled well in advance.
McCabe's comments and Rosenstein's meeting added to another day of drama in the aftermath of Comey's May 9 firing. While Republican Committee Chairman Richard Burr vowed that the hearing would stay on its announced topic -- an annual report from intelligence agencies on global threats to the U.S. -- even he alluded to the turmoil gripping Washington in his opening remarks.
Burr of North Carolina thanked McCabe for "filling in on such short notice," while Mark Warner of Virginia, the panel's top Democrat, told McCabe, "We don't know how long you'll be acting FBI director."
'Highest Regard'
Under repeated questioning, McCabe pushed back against White House claims about Comey's support inside the FBI and its belittlement of the bureau's Russia investigation. He added that he held his predecessor in "the absolute highest regard" and called working with Comey "the greatest privilege and honor of my professional life."
And, with Democrats questioning whether Comey was let go because of the Russia probe, McCabe promised to tell lawmakers if he comes under any political pressure that interferes with the continuing probe.
"The investigation will move forward, absolutely," McCabe said. "It is my opinion and belief that the FBI will continue to pursue this investigation vigorously and completely." He added that morale at the nation's premiere law enforcement agency was high and called its employees a "fiercely independent group."
But the day's events further undermined the administration's shifting explanations for Comey's departure. While Vice President Mike Pence and White House officials initially said Trump fired Comey based "on the clear recommendation" in the memo drafted by Rosenstein -- who stopped just short of saying Comey should be fired-- the president contradicted that argument in an interview with NBC News.
"Regardless of recommendation, I was going to fire Comey," Trump said in excerpts from the interview that began airing as the Senate hearing concluded. Of Comey, Trump said: "He's a showboat, he's grandstander, the FBI has been in turmoil."
At the White House, spokeswoman Sarah Sanders stood by assertions that FBI agents had soured on Comey and said she had provided the public "the best information that I had at the moment" when she argued earlier that Trump's decision was based on the Rosenstein memo.
Resource Request
McCabe was asked at the hearing about media reports that Comey, in his final days, had sought additional resources for the FBI's Russia probe. He said he was unaware of any such request and added that the inquiry was adequately resourced. The Justice Department has denied that Comey made any such request.
Senators also zeroed in on the May 9 letter Trump wrote to Comey, in which he made a reference to the bureau's Russia probe. Trump wrote: "While I greatly appreciate you informing me, on three separate occasions, that I am not under investigation, I nevertheless concur with the judgment of the Department of Justice that you are not able to effectively lead the Bureau."
"Did you ever hear Director Comey tell the president he was not the subject of an investigation?" Burr asked. McCabe demurred, saying he couldn't comment "on any conversations the director may have had with the president." But he later said it wouldn't be standard practice to tell someone they weren't the target of a probe, and he promised not to do so for Trump or other White House officials.
McCabe also pushed back against Sanders's characterization of the investigation this week as "one of the smallest things that they've got going on their plate."
"We consider it to be a highly significant investigation," McCabe said. Asked again by independent Senator Angus King of Maine whether he would call it "the smallest thing," McCabe replied, "I would not."
As the hearing was wrapping up, Burr and Senator Mark Warner left for their meeting with Rosenstein, spurring reporters to flock outside the office where they gathered. Burr and Warner later appeared, saying that they had requested the meeting before this week's developments to make sure their investigation into Russian interference didn't conflict with the FBI's.
"It was a request that we made prior to Director Comey's departure," Burr said. Warner, told by reporters about Trump's characterization of Comey as a grandstander, said "I'm offended at the president's comments."
Before it's here, it's on the Bloomberg Terminal.
LEARN MORE