Russia's Lavrov Visits White House After Trump Fires Comey
By , , and
Russian government releases photos of private meeting

FBI's Comey had led probe of Russian meddling in U.S. election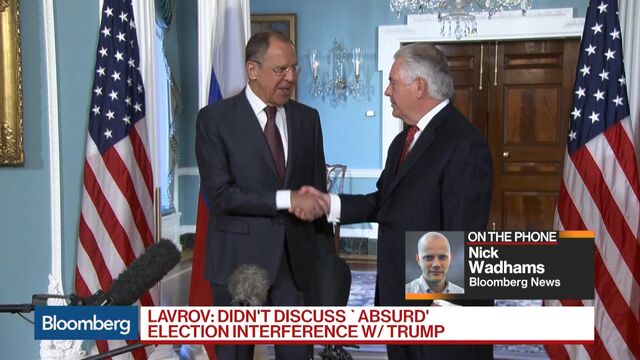 Donald Trump met with Russian Foreign Minister Sergei Lavrov at the White House on Wednesday, a day after firing the FBI director who was heading an investigation into the U.S. president's Russian connections.
The White House didn't let U.S. reporters witness the meeting, intended as a prelude to Trump's first face-to-face talks with Russian President Vladimir Putin, expected within months. But after the Russian government released photos of Trump greeting Lavrov and Russian ambassador to the U.S. Sergey Kislyak, who's been at the center of intrigue about the Trump campaign's contacts with Moscow, reporters were suddenly ushered into the Oval Office. They found Trump sitting there with former Secretary of State Henry Kissinger. The Russians had left.
"We had a very, very good meeting with Mr. Lavrov, and I thought it was very good," Trump said. In a later statement, the White House said Trump "further emphasized his desire to build a better relationship between the United States and Russia."
Trump didn't mention Kislyak, and neither did the White House statement. Trump fired his first national security adviser, Michael Flynn, for misleading Vice President Mike Pence about the extent of conversations he had with the Russian ambassador before Trump's inauguration. The conversations were intercepted by U.S. intelligence agencies. Two U.S. officials have said Flynn is one of the subjects of investigations into contacts between Trump's advisers and the Russian government during and after last year's election.
'Was He Fired?'
On Tuesday, Trump fired FBI director James Comey, whose agency was conducting one of the investigations into possible collusion between the Russian government, which U.S. intelligence agencies say attempted to manipulate the outcome of the race to favor Trump, and people connected with the Trump campaign.
Lavrov joked about Comey's firing as he entered an earlier meeting with Secretary of State Rex Tillerson.
"Was he fired? You're kidding, you're kidding," the veteran Russian diplomat sarcastically told a reporter who asked whether Comey's dismissal cast a shadow over the talks. Asked about Comey's firing at a briefing later Wednesday, Lavrov said it was an internal U.S. matter and not for him to discuss.
'This Bacchanalia'
While candidate Trump indicated he would seek warmer relations with Russia, tensions have mounted amid growing evidence of Russian interference in elections in the U.S. and Europe and Moscow's support for Bashar al-Assad's government in Syria.
Speaking to reporters after the meeting, Lavrov said allegations of Russian meddling in the U.S. election didn't arise. "Neither of us brought up this bacchanalia," Lavrov said.
As he's done in the past, Lavrov criticized President Barack Obama's administration for what he said was the poisoning of U.S.-Russia ties, and spoke more favorably about his successor.
"The Trump administration, and the president himself and the secretary of state -- and I got confirmation of that once again today -- are business people, and they want to make a deal," Lavrov said.
In their meeting, Trump told Lavrov that Russia needs to rein in Syria's Assad, according to the White House. Trump also said Russia needs to abide by agreements to end the conflict in Ukraine.
Safe Zones
Russia has taken the lead in proposing the establishment of safe zones in parts of Syria, as a step toward ending the six-year civil war there. The U.S. objects to Russian backing for Assad, and has supported some rebels fighting to oust him. But the two countries, the most powerful of the many external actors that have been drawn into the Syrian war, agree on the goal of defeating Islamic State.
"What we want to do is we want to see the killing, the horrible killing in Syria, stop as soon as possible and everybody's working toward that end," Trump said in his conversation with reporters in the Oval Office.
Lavrov said that he hoped the U.S. would "make an active contribution" to securing the safe zones, especially in southern Syria near the borders with Israel and Jordan, where he said the U.S. may "initiate" the process.
The Russian minister said that Putin and Trump, who haven't yet met in person, will see each other in July. Both are scheduled to travel to Germany for a Group of 20 leaders' meeting.
— With assistance by Katia Dmitrieva, Laura Curtis, and Jennifer Epstein
Before it's here, it's on the Bloomberg Terminal.
LEARN MORE