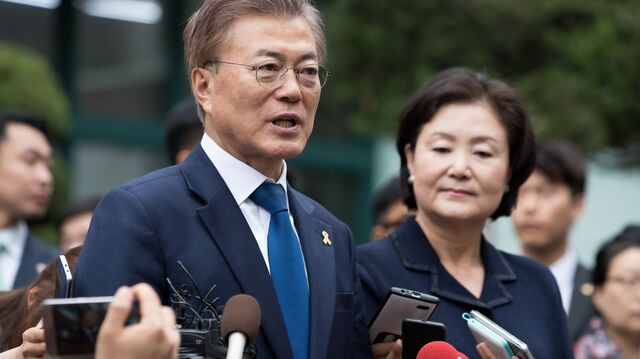 Moon Jae-in, South Korea's new president, says he's open to talks with North Korea's Kim Jong Un and has promised to rein in the family-run conglomerates that dominate the economy. Moon won a May 9 election triggered by the impeachment of Park Geun-hye. The victory by the son of North Korean refugees -- also the runner-up to Park in 2012 -- ends nine years of conservative rule and follows street protests over the ties between government and big business.
1. Will policy on North Korea shift much?
Expect a less hard line approach. Unlike his predecessor, Moon has long said he's prepared to meet Kim under the right conditions. That's a position U.S. President Donald Trump has also espoused recently. Like Trump, Moon sees the policy of the past nine years as a failure and wants China to take more action to rein in its neighbor and ally. He favors a two-track approach of sanctions and talks. Moon has fended off accusations he is too soft by touting his background as a special forces veteran in South Korea's military.
2. But aren't there also big differences with Trump?
Yes there are: Take Trump's position that all options, including military action, are on the table (which is a long running U.S. stance). Moon is firmly opposed to conflict. He has also criticized the hasty roll out by the U.S. of a missile shield known as Thaad on South Korean soil, saying he wants to review the decision. Thaad is designed to protect South Korea from North Korean attacks. Its deployment provoked an angry response from China as well as from many South Koreans.
3. What about tackling corruption at home?
There's been public anger over cozy ties between businesses known as chaebol and successive governments. Protests in Seoul late last year and this year drew millions and culminated in Park's ouster in March. The de facto head of Samsung Group is standing trial on charges that include paying tens of millions of dollars to two foundations run by a friend of Park in return for political favors, and has denied wrongdoing. Moon has vowed to change what he calls a "deep-rooted evil." He wants to abolish the "chaebol-focused growth strategy" that propelled the economy after the Korean War, blaming it for low wage growth and high unemployment.
4. Can he really take big business on?
Critics say campaign promises to reform the chaebol are nothing new and tend to get watered down once an election is over. Already, the boldest proposals currently in parliament are all but dead. Lawmakers across the political spectrum say only lighter measures are likely to pass. Still, Moon has made tackling the chaebol a centerpiece of his campaign, and many South Koreans are keen for change.
5. What about the economy?
Moon, 64, says his priority is increasing government spending to create jobs in the public sector. South Korea needs an extra budget, according to one of his key advisers, because recent economic strength could falter and trade tensions with China are likely to continue. (The deployment of Thaad has brought a chilly economic reaction from the Chinese.) Moon also wants to revive consumption and curb household debt, which reached a record 1,344.3 trillion won ($1.2 trillion) at the end of 2016, and create jobs for young people.
6. What is angering South Korea's youth?
Older voters helped put right-leaning politicians in charge of South Korea for most of the time since it embraced democracy. Youth unemployment has doubled over the past two decades. A growing number of people -- nearly two-thirds of Koreans, according to one survey -- view the generation gap as a serious problem. Many young people refer to themselves as the "sampo generation": One that has given up on relationships, marriage and having children, because their economic prospects have become so limited.
The Reference Shelf

Before it's here, it's on the Bloomberg Terminal.
LEARN MORE