technology
T-Mobile, Sprint Rise After SoftBank Says Its Eager to Start Talks
By , , and
'Quickest route to synergy' is T-Mobile: Son tells reporters

Industry giants entertaining big mergers under Trump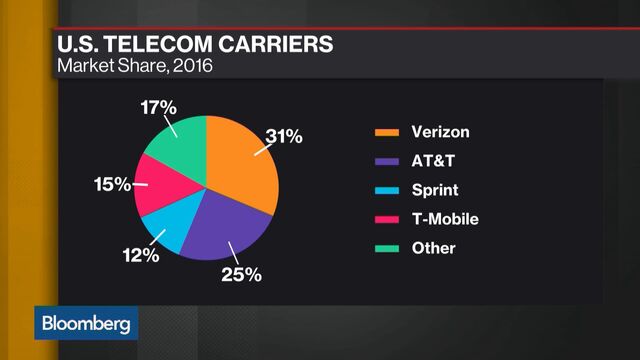 SoftBank Group Corp. Chairman Masayoshi Son's remarks that he wants to restart merger talks between his Sprint Corp. and T-Mobile US Inc. sent the shares of the U.S. wireless carriers surging, as investors bet a deal may finally happen under the Trump administration's looser regulatory climate.
Son, who became one of the world's wealthiest men by turning Tokyo-based SoftBank into a telecommunications and technology powerhouse, sees a merger with T-Mobile as critical to creating a more robust competitor in a U.S. wireless business led by Verizon Communications Inc. and AT&T Inc.

The billionaire considered buying T-Mobile before, but abandoned the effort when officials at the U.S. Federal Communications Commission and Justice Department signaled they would oppose such a deal. Now, with Donald Trump in the White House, almost everything is on the table for the nation's cable, telecommunications and media CEOs.
"Basically anything is possible. But I think the No. 1 favorite, the quickest route to synergy, is the option that we pursued from the start -- T-Mobile," Son told reporters in Tokyo Wednesday. "However, it's also up to the other side and whatever conditions they may have. Therefore, if there are other opportunities for industry consolidation that offer better conditions, of course we want to consider them with an open mind."
Representatives for Sprint didn't respond to messages seeking comment. T-Mobile declined to comment.
T-Mobile rose as much as 3.3 percent while Sprint, initially up as much 2.8 percent, was little changed at 2:30 p.m. in New York.
SoftBank owns more than 80 percent of Sprint after acquiring the majority stake in 2013, part of Son's famed plan to build a business empire that can endure through the centuries.
Sprint is showing some signs of recent success, but the company is mired in debt and hasn't turned a profit in about a decade. T-Mobile, meanwhile, is the fastest-growing wireless carrier in the U.S., using promotions, price cuts and social-media marketing to lure customers from Verizon and AT&T. 
Any deal involving T-Mobile US would need the backing of Deutsche Telekom AG, which owns about 65 percent of the U.S. carrier. T-Mobile US has become the main earnings and growth driver for the German parent in the past years, transforming from a unit Chief Executive Officer Tim Hoettges eyed to sell to one he has called his "kingmaker asset." Deutsche Telekom declined to comment on Son's comments Wednesday.
Merger talks in the wireless industry have been on hold for almost a year because of a government spectrum auction that required participants to avoid negotiating deals with each other. The gag order lifted April 27.
Cable Deal Impact
A possible deal was made easier this week following an agreement between Comcast Corp. and Charter Communications Inc. -- two of the largest cable operations in the U.S. and sources of merger speculation -- to jointly offer wireless services over Verizon's network. They also agreed not to make a sizable wireless deal without approval from the other.
"This condition will likely prompt Sprint and T-Mobile to rethink their options, as both are badly in need of greater scale to compete more effectively in a scale business," Bloomberg Intelligence analysts John Butler and Matthew Kanterman wrote in a research note Monday.
Comcast and Charter could potentially partner to buy either carrier, they added, but the operation of a jointly owned wireless network could be difficult.
Sprint and T-Mobile could also do a deal with a cable company after merging themselves, said Jonathan Chaplin, an analysts at New Street Research LLC. That would "unlock another huge reservoir of value."
"If they can't agree to terms, both companies have alternative options," Chaplin said in an interview. "I happen to think T-Mobile has many more alternative options than Sprint, but I am sure Masa would disagree."
A merger of Sprint and T-Mobile would create the second-largest U.S. wireless carrier with 99.1 million retail subscribers compared with AT&T's 91.2 million and Verizon's 113.9 million, according to Bloomberg Intelligence.
"We'd like to be very proactive in starting the negotiations going forward," Son said, commenting after SoftBank posted full-year earnings. "I would like to explore variety of possibility regarding the industry consolidation."
(
Updates with analyst's comment.
)
Before it's here, it's on the Bloomberg Terminal.
LEARN MORE