business
Pie Attack on Qantas CEO Won't Stop His Fight for Same-Sex Marriage
By
Joyce targeted during speech due to his campaign on the issue

Marriage equality legislation has failed in parliament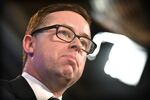 Qantas Airways Ltd.'s Alan Joyce vowed to keep fighting for marriage equality in Australia and said he wouldn't be put off by a protester who hit him in the face with a pie for supporting same-sex unions.
"I've long held the view that there is a role for companies and CEOs to speak up on economic and social issues," Joyce, the national carrier's chief executive officer, said in a statement Wednesday. "My opinion on this has not changed."
The Qantas chief was smeared with lemon meringue pie during a speech in Perth on Tuesday by a 67-year-old man who subsequently told local media he resented Joyce trying to "subvert the federal parliamentary process" on the issue of marriage equality. Police have charged the man with providing false details, but not with assault, the Australian Broadcasting Corp. reported.
Read more: Why gay Australians are flying to New Zealand to get married
Joyce was among a group of more than 30 business leaders, including the CEOs of Commonwealth Bank of Australia and Telstra Corp., who earlier this year petitioned Prime Minister Malcolm Turnbull to introduce legislation on same-sex marriage. Opinion polls show a majority of Australians support marriage equality, yet previous efforts to legalize such unions have failed in parliament.
Before it's here, it's on the Bloomberg Terminal.
LEARN MORE