business
Puerto Rico Sets May 17 for Opening Faceoff in Debt Case
By and
Commonwealth owes $74 billion, plus $49 billion pension cost

Oversight board asks court to apply local bankruptcy rules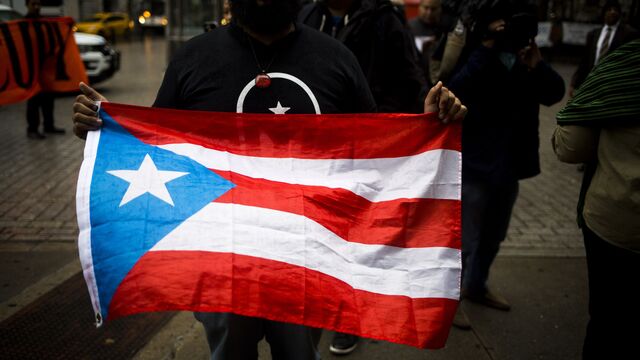 Puerto Rico and its creditors are set to meet for the first time in court on May 17 in San Juan before U.S. District Judge Laura Taylor Swain to begin restructuring the island's debt.
The hearing will be the first time the commonwealth, hedge funds, bond insurers and mutual funds will meet in court since the island's federal control board put the territory under court protection on May 3 to address $74 billion in debt and a $49 billion unfunded pension liability. A Puerto Rico agency, known as Cofina, that sold sales-tax bonds followed with a similar filing two days later.
So far, the only substantive issue Swain has been asked to decide is a request by a coalition of retiree groups for the appointment of an official committee to represent government pensioners. The court filing setting the 9:30 a.m. hearing in federal court didn't say whether that issue will be on the calendar that day, although it may be discussed.
The hearing will help set the tone for the case and may reveal whether bondholders, retirees and other creditors want to negotiate or fight. Should they choose to talk, creditors may agree to the appointment of a mediator. If they want to fight, they would probably tell the judge they plan to challenge the commonwealth's fiscal plan.
There's already a long-running dispute between general obligation bondholders and so-called Cofina bondholders, whose debt is backed by sales tax revenue. 
Swain may also indicate how she wants the case to proceed. Judges in complicated bankruptcy cases will usually set a priority on the various disputes, deciding what to resolve immediately and what to put off. All sides in the case may get the chance to preview their arguments in broad strokes. 
Retiree Committee
Separate, court-approved retiree committees are typically appointed in large restructuring cases in which pensions play an outsize role, as with the bankruptcy of Detroit. Such official panels get their legal and financial advisers paid by the debtor, in this case Puerto Rico.
The May 17 hearing involves only routine matters, but that may change should creditors and Puerto Rico begin asking the judge to consider various other issues.
For now, the board is only seeking permission to merge the commonwealth and Cofina cases, and request temporary relief from investor lawsuits. The board also wants Swain to apply local bankruptcy rules in addition to the provisions of the Puerto Rico debt-relief law, known as Promesa, that Congress passed last year. 
The board is also asking the judge to set deadlines for filing a creditor list. Objections to the board's motions are due by May 15 at 3 p.m.
Puerto Rico is seeking court intervention after years of borrowing to cover budget shortfalls as its economy shrunk over the past decade. It will be the largest restructuring in the history of $3.8 trillion municipal-bond market.
The case is Financial Oversight and Management Board of Puerto Rico, 17-cv-01578, U.S. District Court, District of Puerto Rico (San Juan).
(
Updates with request for retiree committee in third paragraph.
)
Before it's here, it's on the Bloomberg Terminal.
LEARN MORE