Next Steps in the Saudi Overhaul Plan Put More Focus on Growth
Vivian Nereim, Glen Carey and Alaa Shahine
Kingdom will spend on initiatives included in NTP: Al Tuwaijri

Saudi non-oil industries to drive economic growth this year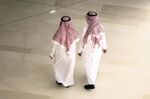 Saudi authorities will put more focus on efforts to revive economic growth and don't expect the drop in oil prices to affect plans to balance the budget by 2020, according to a senior official.
The coming steps in the National Transformation Program will see the government spending on hundreds of initiatives related to the plan, which seeks to repair public finances and bolster the non-oil economy, Mohammed Al Tuwaijri, the vice minister for economy and planning, said.
In an interview on Tuesday, the former CEO of HSBC Holdings Plc in the Middle East laid out details on economic growth, borrowing plans and the program to sell stakes in state entities. He also said that while officials are committed to the plan's objectives, it's "natural for us to basically take a U-turn here and there, or shift some of those decisions from time to time," referring to last month's reversal of a decision to cut the bonuses and some allowances of state employees.
Deputy Crown Prince Mohammed bin Salman is leading an effort to transform the Saudi economy on a scale that is unprecedented among major energy exporters, as the plunge in oil prices squeezes state coffers. The first stage saw an austerity drive that included reducing subsidies and temporarily trimming the wage bill. That has led to rare public grumbling among some citizens and, more privately, from companies reliant on government spending.
Al Tuwaijri, who also heads the finance committee of a powerful economic council chaired by Prince Mohammed, said policy makers have never lost sight of the eventual targets of the post-oil blueprint.
Stimulate Growth
"We will stimulate this economy, we will grow it down the road," he said. Asked whether the plan now includes a bigger focus on capital spending, he said "Yes. But the focus will be on National Transformation Program. Within the program there are 700-plus initiatives, and some of these initiatives require a lot of spending."
The government is also committed to large infrastructure projects, including the Riyadh Metro and the new airport in Jeddah, he said. Finance Minister Mohammed Al-Jadaan said last month that plans to start a four-year 200 billion riyal economic stimulus were also in their final stages.
Read More on the Saudi Plans to Bolster Economic Growth
The International Monetary Fund expects Saudi economic growth to slow to 0.4 percent this year, the least since 2009. The oil sector is expected to contract as the kingdom and other OPEC members cut output to boost prices, according to IMF estimates.
Al Tuwaijri played down the impact of the drop in oil prices, which dipped below $50 this month, on the plan to balance the budget.
He said the scenario shared publicly takes into account "our ability to execute a good percentage of our plans with oil stabilizing at current levels." Another is "very optimistic" and a third is "more of an Armageddon," he said.
Saudi Arabia's Al Tuwaijri Talks Bonds, Budget and Big Spending
The government is "still comfortable and committed to balance the budget" by 2020, he said.
Optimism
Saudi authorities also have a more optimistic economic outlook than the IMF. While they also see the non-oil GDP as the main driver, they expect overall growth to exceed 1 percent in 2017, according to Abdulaziz Alrasheed, the deputy minister for economic affairs.
Prince Mohammed, in a rare televised interview last week, said authorities plan to invest at least half of the cash generated from the planned stake sale of oil giant Saudi Aramco domestically to develop industries such as mining and defense. He also said that reversing the decision to cut allowances was a result of better-than-expected non-oil revenue in the first quarter, rather than public discontent.
Wealth Fund, Spending and IPO: Key Remarks by Prince Mohammed
Al Tuwaijri said the reversal won't affect public finances. But authorities "may have to think of funding part of that decision, the reversal, locally," he said. "And that is again being discussed and we know the size of that funding."
Tapping Market
The kingdom may raise about 70 billion riyals ($18.7 billion) in domestic debt this year and tap international bond markets again. It raised $9 billion from its debut sukuk sale in April. And while Al Tuwaijri said in December the target was to raise as much as $15 billion overall globally this year, he said on Tuesday the size of the second issuance will depend on pricing and demand from investors.
There is also a plan to raise billions of dollars from the sale of state assets, potentially starting this year with the Saline Water Conversion Corp., one of four power generation companies under Saudi Electricity Co., as well as grain silos and sports clubs, he said.
"These are in a very advanced stage, not only financial advisers hired, but we have appetite secured," he said. Depending on interest, the government could sell majority stakes in the companies, he said.
"The government is going to be open-minded around setting a precedent," he said.
Before it's here, it's on the Bloomberg Terminal.
LEARN MORE