Moon Vows to Seek Peace With North Korea, Take On Companies
By and
South Korea's new president open to visiting Pyongyang

'I will do whatever I can to bring peace,' Moon says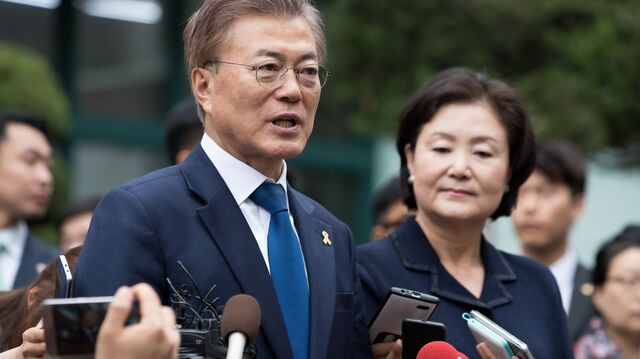 Moon Jae-in pledged to push for peace with North Korea and get tough on South Korea's biggest companies in his first remarks as president after a resounding election win.
Moon, 64, was officially sworn in on Wednesday after an easy victory in a vote called after his predecessor Park Geun-hye was ousted on corruption charges in March. The left-leaning candidate has promised a shift in direction after about a decade of conservative rule ended with South Korea's biggest street protests since the 1980s and an acceleration of North Korea's nuclear program.

Moon repeated a campaign pledge to visit North Korea under the right conditions, mirroring U.S. President Donald Trump's recent comment that he'd be open to meeting dictator Kim Jong Un. Moon also said he'd fly to the U.S., China and Japan to help broker a breakthrough.
"I will do whatever I can to bring peace to the Korean Peninsula," Moon said. Among key appointments made Wednesday, Moon chose two figures who were involved in inter-Korea events under past progressive governments to improve affairs between the nations.
Moon also pledged to be a "clean" president and end the close ties between politicians and family-run conglomerates known as chaebol. He offered to share presidential powers during his five-year term, a key criticism of Park, who is in jail while on trial for corruption charges. She has denied wrongdoing.

"I come in with empty hands and will leave with empty hands," Moon said. "Today we open a new era for the Republic of Korea."
Moon faces challenges to achieve his goals at home and abroad. Lacking a majority in the National Assembly, he'll have to work with other parties to gain traction on key economic initiatives such as chaebol reform. On North Korea, his desire for engagement is at odds with the Trump administration's openness to use force against Kim's regime, which hasn't shown any intention to stop conducting nuclear and ballistic missile tests.
For more politics coverage, subscribe to the Bloomberg Politics Balance of Power newsletter
'Clear Limit'
"There's a clear limit for him to achieve his policy goals because actually North Korea has changed substantially" in the past nine years, Choi Kang, vice president for research at the Asan Institute for Policy Studies in Seoul, told Bloomberg Television's Shery Ahn. "It's not going to cooperate with South Korea, doesn't want dialogue with South Korea."
Underscoring Moon's challenge, Sky News on Tuesday reported North Korea's U.K. ambassador Choe Il as saying the country will proceed with a further nuclear test at a time of Kim's choosing -- repeating a common threat from the country's diplomats.
Moon will also need to address potential conflicts stemming from the U.S. missile shield that was installed on South Korean soil days before the election, after saying during the campaign that it was a matter for the new president to review. China has opposed the deployment of the Terminal High Altitude Area Defense system known as Thaad.
Thaad Issue
"I'll sincerely negotiate with the U.S. and China to solve the Thaad issue," Moon said in his speech.
The White House congratulated Moon, with spokesman Sean Spicer saying the Trump administration looks forward to strengthening the alliance between the U.S. and South Korea. Japanese Prime Minister Shinzo Abe wants to meet Moon as soon as possible, his office said in a statement.
Coordination is crucial among the U.S., Japan and South Korea to stop Kim from developing more powerful nuclear weapons and missiles that threaten all three countries, according to Duyeon Kim, a visiting senior fellow at the Seoul-based Korean Peninsula Future Forum.
"The Washington-Seoul alliance may get dicey because of their fundamentally divergent approaches toward North Korea, but it will depend heavily on the two leaders' initial contact and how they manage their differences," Kim said. "It is imperative that Washington and Seoul coordinate their North Korea policy so that there is no daylight for Pyongyang to exploit."
Spy Chief
Moon nominated Suh Hoon, who once coordinated two summits with North Korea, as his spy agency chief. Suh will seek to tackle Pyongyang's nuclear threats and bring stability and peace on the peninsula, according to the presidential Blue House.
Lim Jong-seok, who was named chief of staff for the presidential office, once introduced legislation to support an industrial park jointly operated by the two Koreas. The conservative Liberty Korea Party issued a statement expressing regret over the appointment of Lim, who was imprisoned in the 1980s after his involvement with pro-North Korea university students who sent a colleague to Pyongyang in violation of national security laws.
Moon also chose Lee Nak-yon, the governor of South Jeolla province, as prime minister. Lee, a former journalist who has been a lawmaker for 14 years, will focus on job creation.
In his speech, Moon pledged to address unemployment that's been hampering an export-driven recovery. Asia's fourth-largest economy is forecast to expand this year at the slowest pace since 2012.
South Korea's Kospi index of shares retreated from a record, falling 1 percent at the close of trading Wednesday, the most in two months. The won slid 0.3 percent against the dollar.
Moon is planning to stimulate the economy with fiscal spending and create hundreds of thousands of public-sector jobs. His first order to administration staff was to convene a meeting to discuss the establishment and operation of a job-creation committee later Wednesday.
— With assistance by Hannah Dormido
Before it's here, it's on the Bloomberg Terminal.
LEARN MORE