Macron Inherits France's First Economic Tailwind in a Decade
By and
Business sentiment surveys are at highest since 2011

Strengthening investment suggests upswing is sustainable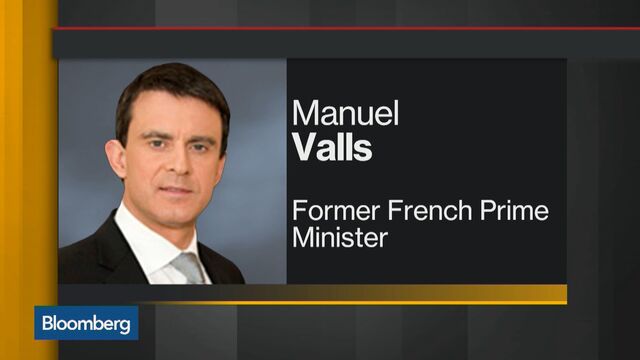 Emmanuel Macron may be the first French president in a decade to inherit an economic tailwind.
Business confidence in the euro region's second largest economy is on the rise, hitting the highest level since 2011 last month, and a measure of private-sector activity points to solid economic growth. The euro is down by about a fifth in the past three years and, despite a strengthening recovery in the currency zone, European Central Bank President Mario Draghi has indicated he won't rush to aggressively tighten monetary policy.

For 39-year-old Macron, who will hold elected office for the first time when he takes over from Francois Hollande on Sunday, that means he's in a far different position from his predecessors, both one-term presidents. 
Nicolas Sarkozy took office in 2007 just before the start of the financial crisis. The resulting disgruntlement led to his replacement by Francois Hollande in 2012. He then had to deal with the aftermath: trimming spending and raising taxes to a record level to narrow the budget deficit over a five-year period in which average economic growth was less than 1 percent a year.
"We're getting a currency tailwind, a cost of capital tailwind, a catch-up trade in jobs and consumption," said Martin Malone, global macro strategist at Mint Partners in London. "It's a feeling thing. You look at how people were feeling under the last two presidents and it wasn't that good. Now the population and business are going to be feeling that the economy is a lot more solid."
The Bank of France's manufacturing sentiment index rose to 104 in April, its highest level since May 2011. The nation's composite Purchasing Manager's Index has also jumped to a six-year high -- and is at a pace in line with Germany's. Industrial production rose 2 percent in March, Insee said in a release Wednesday.
Thanks in part to 40 billion euros ($44 billion) in tax credits put in place by Hollande, companies' profit ratio of has started improving in France after reaching a 30-year low in 2013, according Maxime Sbaihi of Bloomberg Intelligence. Staffing agency Adecco Group AG reported just this week that first-quarter revenue in France rose 8 percent, and said it's seeing a "continuation of the market improvement" that started late last year.

And corporate investment has also been rising. It grew 4 percent in 2016, accelerating from 2.7 percent the previous two years, according to Insee, the statistics office. Factory executives plan a 5 percent increase in 2017, far better than the 1.8 percent average over the last five years, Insee says.
"Investment is strengthening," said Francois Cabau, an economist at Barclays in London. "That's very reassuring in the long term. For sustainable growth, investment is what matters."
Economists in Bloomberg's monthly survey see France expanding 1.3 percent this year and 1.4 percent in 2018. While that will still lag behind the euro area, it's an improvement from the 0.8 percent average over the past five years.
With France's budget deficit just above the European Union's 3 percent limit, Macron -- benefiting from Hollande's efforts to some degree -- also faces reduced pressure to apply a fiscal brake on the economy.
At his last cabinet meeting Wednesday, outgoing President Francois Hollande vaunted his economic progress. "The president was much criticized for his policies but we will see that he did well," Stephane Le Foll, agriculture minister and cabinet spokesman, said after the meeting.

The one indicator that has yet to show signs of meaningful improvement is a measure dear to voters: unemployment. About 10 percent of France's labor force remains out of work, double the rates in Germany and the U.K. Failure to generate jobs was a factor in Hollande's poor rating with the public -- and decision not to seek a second term -- after he linked his presidency to the labor market.
"The figure to watch like a hawk is unemployment," Malone said. "If things start to pick up it could decline very sharply. That's how progress will be measured."
— With assistance by Harumi Ichikura, and Helene Fouquet
Before it's here, it's on the Bloomberg Terminal.
LEARN MORE