business
Germany Working on New North Korea Sanctions Over Nuclear Threat
By , , and
Measures to limit activities of North Korea's Berlin embassy

Sanctions to prevent North Korea from earning hard currency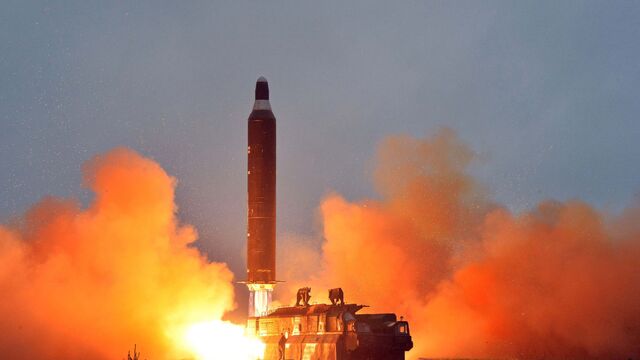 Chancellor Angela Merkel's government is working on sanctions against a hostel in the German capital run by North Korea in response to the country's nuclear threats.
The new measures, drawn up by the Chancellery and three other ministries, aims to stop North Korea from operating the hostel and congress center on its embassy's premises in eastern Berlin as a source of foreign currency, the German Foreign Ministry said.
Located right next to the North Korean embassy, the Cityhostel Berlin is popular among travelers looking for inexpensive accommodations in the city center. Rooms at the 435-bed hostel start at 17 euros ($18.50) a night. The facility's website cites its vicinity to the German parliament and the Brandenburg Gate, as well as amenities including free Wifi, rental bikes and a 24-hour front desk, as its chief selling points.
"It goes without saying that we will participate in raising the pressure on North Korea through sanctions," Martin Schaefer, a German foreign ministry spokesman, said in Berlin on Wednesday. "It is therefore important that sources of finance for the North Korean regime are shut off as quickly as possible, also in Germany, and we are doing that now."
Reining in North Korea's regime has proven to be a vexing problem for policy makers. The U.S. House last week passed legislation that would expand economic and human-rights sanctions against North Korea as President Donald Trump's administration pledges to consider all options to thwart leader Kim Jong Un's nuclear threats. Trump has also attempted to enlist China, North Korea's neighbor and chief trade partner, in the effort.
Germany's proposed sanctions would conform with a United Nations Security Council resolution from November 2016, which says that member states should keep North Korea from using property on their territories for purposes other than diplomatic or consular activities.
South Korean President Moon Jae-in, officially sworn in on Wednesday, pledged to push for peace with North Korea in his first remarks after taking office. Underscoring his challenge, Sky News on Tuesday reported North Korea's U.K. ambassador Choe Il as saying the country will proceed with a further nuclear tests at a time of Kim's choosing -- repeating a common threat from the country's diplomats.
— With assistance by Patrick Donahue, and Birgit Jennen
Before it's here, it's on the Bloomberg Terminal.
LEARN MORE