markets
Fed's Rosengren Favors Three More 2017 Hikes to Foil Overheating
By
Sees economy and unemployment on 'unsustainable' pace

Balance sheet wind-down appropriate after one more rate move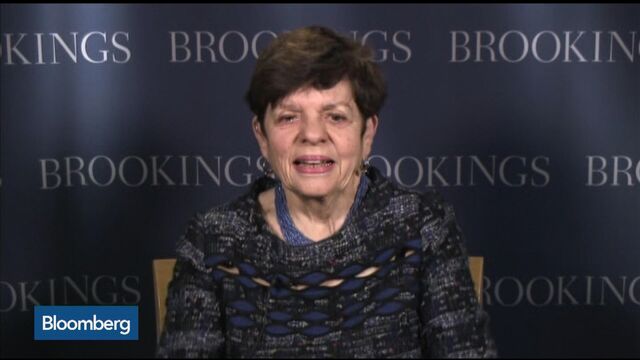 Federal Reserve Bank of Boston President Eric Rosengren urged his policy-making colleagues to raise interest rates three more times this year and consider starting to shrink the central bank's balance sheet after their next hike to avoid creating an "over-hot economy."
Rosengren said he -- along with most economists in the Blue Chip Economic Indicators survey -- expects above-potential growth over the next year, pushing unemployment even farther below its lowest sustainable level. Unemployment fell to 4.4 percent in April, already under his 4.7 percent estimate for full employment.

"This would represent an unsustainable, overshooting pace, and provides an important rationale for continuing the process of normalization of monetary policy that is currently underway," Rosengren said Wednesday in the text of his prepared remarks in South Burlington, Vermont.
"Along with a gradual reduction in the level of the balance sheet, it would still be reasonable to have three rate increases over the remainder of this year, assuming the economy evolves like my forecast envisions," he said.
Rosengren shifted to the more hawkish wing of the policy-setting Federal Open Market Committee in 2016 after years of being a forceful advocate for keeping rates low. He has voiced worry over shooting too far past estimates of full employment and over the risks posed by rising commercial real estate prices. He's next scheduled to vote again on the FOMC in 2019.

Fed officials meet next in June to decide whether to raise rates for the third time in six months, following quarter-point moves in December and March that lifted the target range for the federal funds rate to 0.75 percent to 1 percent. The FOMC left rates unchanged in May, but signaled members were not significantly concerned by weak growth in the first quarter.
Rosengren agreed with that assessment, calling a dip in consumer demand "transitory."
Consumption-Led Recovery
"My expectation is that consumption will re-emerge in the second quarter and we will continue to have a consumption-led recovery," he said.
He dismissed concerns that tepid loan growth was a sign of underlying weakness in the economy. He said it more likely reflects increased bond issuance and non-bank lending as substitutes for bank lending.
Rosengren also noted that global risks appeared to have waned this year, reflected in higher stock prices in the U.S., Europe and emerging markets, as well as in rising forecasts for global growth.
He repeated his view that the Fed should reduce its $4.5 trillion portfolio of bonds at a pace that is slow enough "so that the reduction in the balance sheet is not disruptive, and so that it can occur largely in the background."
Noting that one more hike would push the fed funds rate above 1 percent, he said "that seems an appropriate point to consider beginning a very gradual normalization of the Federal Reserve's balance sheet."
Before it's here, it's on the Bloomberg Terminal.
LEARN MORE