business
Barclays Chairman Explains Why He Didn't Fire His Second CEO
By
Staley says he's not vindictive after pursuing whistle-blower

One investor said to have reduced stake due to incident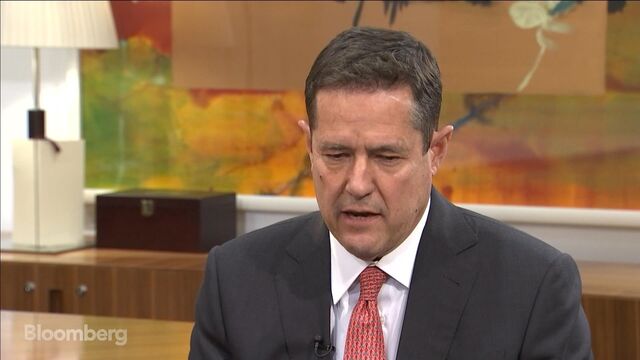 Barclays Plc Chief Executive Officer Jes Staley apologized to shareholders for trying to unmask a whistle-blower, while the bank's chairman said Staley has "learned his lesson" and the incident isn't a fireable offense.
Staley, 60, reiterated at the bank's annual general meeting in London Wednesday that he made a mistake in becoming personally involved with a compliance issue, while saying he was limited in what he could disclose given an ongoing regulatory probe. He was re-elected to the board with 84 percent of shareholders' votes, with 14 percent abstaining and 2 percent voting against him.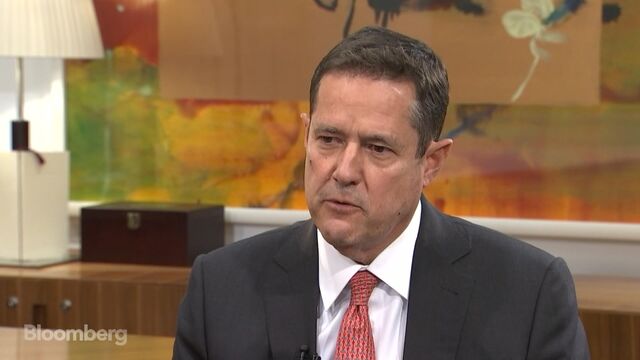 Chairman John McFarlane said it wouldn't have been "just" to fire Staley over the issue, and cited his inexperience in a CEO role as a factor in the board's thinking. Staley, the former head of JPMorgan Chase & Co.'s investment bank, became Barclays's CEO in December 2015.
"The punishment for going through a red light is not to lose your license," McFarlane said. However, "we will address his compensation" appropriately, he said.
Barclays publicly reprimanded the CEO last month after discovering he'd continued to try to identify a whistle-blower after he was told it was inappropriate. Institutional Shareholder Services Inc., a proxy adviser, said last month that investors should abstain from a vote on Staley's re-election to the bank's board while regulators investigate his behavior.
"You know me -- if I believed a chief executive should go, he would go, but I do not believe that is what should happen," McFarlane said. A few months after starting at Barclays in 2015, McFarlane fired Staley's predecessor Antony Jenkins and took over as CEO himself for a period.
The CEO has said he has the full support of the board and shareholders have been "quite positive" about him staying on as chief of the London-based firm. Staley may have to forfeit his entire 1.3 million-pound ($1.7 million) 2016 bonus over the incident.

An executive at one large U.K. investment fund said it has sold some of its stake in Barclays because of the incident. The potential for more developments in the matter make Barclays a riskier investment proposition, said the fund manager, who requested anonymity. The investor is waiting for the outcome of the Financial Conduct Authority's investigation before deciding what to do with the rest of its stake, and said the breach in corporate governance was serious enough to justify the potential firing of the CEO.
Serious Discontent
"For now it seems that he's safe, but there has obviously been some serious discontent registered," Andrew Gebelin, senior director of research at proxy adviser Glass Lewis & Co., said in an interview on Bloomberg Television. While shareholders back Staley's strategy, "their concerns are really more about his judgment and whether he breached some rather serious governance norms in the whistle-blowing affair."
Staley has said he was trying to protect one of his top investment bankers from what he felt were unfair accusations made in an anonymous letter. That banker was Tim Main, a former colleague of Staley's at JPMorgan, people familiar with the matter have said. Main joined as chairman of Barclays's global financial institutions group last June.
"I don't think I'm vindictive, no," Staley said in an interview on Bloomberg Television when asked whether the incident indicated he was vengeful in character. "I care deeply about the bank and I care deeply about the people who work at the bank."
Staley had misunderstood whether he was cleared to pursue the issue, McFarlane said at the AGM. The board acted within days of receiving a report on the incident, holding a three-hour meeting on a Sunday to decide Staley's fate, the chairman said.
While it can be appropriate to try to identify a whistle-blower if the information provided is untrue and malicious, it should be done by the bank's compliance department, he said. "All he wanted to do was phone them up and ask them to stop sending the letters," McFarlane said.
Outside Tipster
Barclays believes with "high confidence" that the anonymous letter came from outside the bank in the U.S., not from an employee, McFarlane said at the shareholder meeting. While the bank is "incredibly supportive" of its whistle-blower program, most tips aren't found to be valid, he said.
"We have a very robust whistle-blowing program and we are going to do everything we can to maintain the scale and depth of that program," the CEO said. "All signs are that there's been no change" in the eagerness of employees to use the anonymous-complaint system, he said.
Read More: How Staley's whistle-blowing scandal unfolded
The Bank of England's FCA and Prudential Regulation Authority will take several months to probe the incident, and the consequences could range from a verbal warning to Staley losing his status as an approved person and therefore his ability to run the bank. The events are also under scrutiny by the Department of Financial Services in New York and the U.S. Department of Justice, according to people with knowledge of the matter.
"Executives should be held accountable," Staley said. "I respect the regulatory framework here and let's just see how this all plays out."
At the shareholder meeting the CEO also defended the bank's first-quarter performance after the shares fell the most in six months on a surprise drop in trading revenue, a business Staley has made a key part of his strategy for the firm's future. The bank's execution on its strategy is "going well," he said.
The stock has declined about 6 percent this year, making it the only bank among the 25 biggest in Western Europe to drop in 2017. The shares rose 2.3 percent to 209.95 pence in London on Wednesday.
Staley made completing a "cultural transformation" at Barclays the centerpiece of his tenure after numerous high-profile misconduct charges wiped out more than 20 billion pounds of earnings over six years.
— With assistance by Sarah Jones
(
Updates with CEO interview comments from 14th paragraph.
)
Before it's here, it's on the Bloomberg Terminal.
LEARN MORE