What a New President Might Mean for Korea's Investors
Bloomberg News
New president to be elected after ouster of Park in March

Aberdeen sees value in record-high stocks amid 'discount'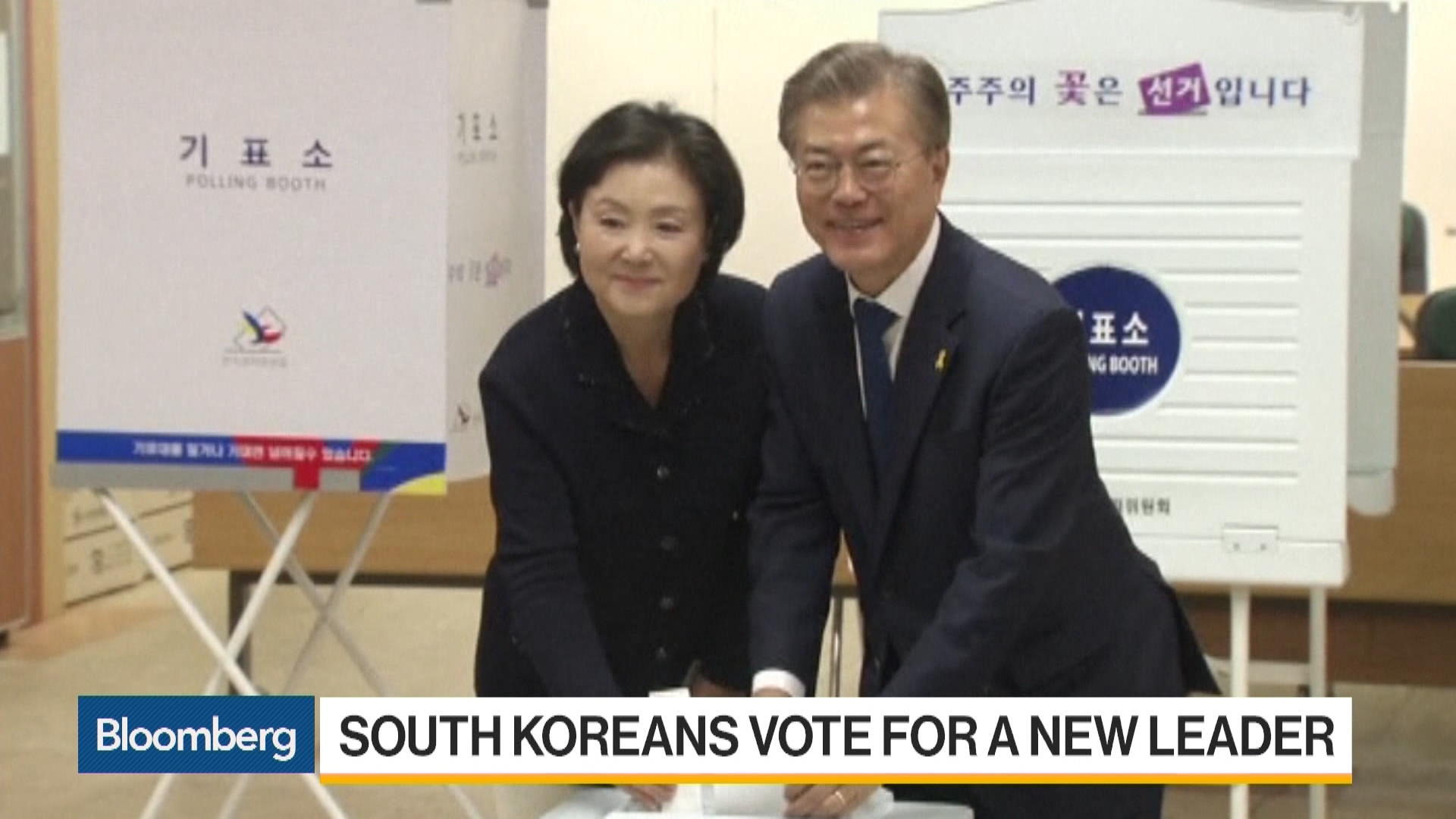 As South Koreans head to the polls to choose a new president, investors are looking forward to the leadership vacuum being filled as concerns over geopolitics and corporate reform linger.
The victor -- who will ascend to the top job two months after President Park Geun-hye was ousted amid a corruption probe -- inherits a divergent asset landscape, with South Korean stocks at a record while trading in the currency, bonds and credit risk suggests traders are exercising some caution. Tensions between the U.S. and North Korea remain high and issues with South Korea's chaebols system are deep-rooted, which has analysts and investors predicting a muted market reaction to the vote results, due early Wednesday in Seoul.
It wouldn't be the first time traders greeted a Korean election with indifference. The Kospi equity index saw modest gains following the last three presidential votes:

The last time a presidential ballot triggered significant market moves was Kim Dae-jung's election in 1997, which came in the midst of the Asian financial crisis.
This election too, is occurring amid an environment of upheaval in South Korea, with the market -- particularly equities -- proving resilient to the uptick in tensions between Donald Trump's administration and nuclear-armed North Korea, as well as the string of political and corporate scandals that have rocked South Korea.
Read more about the chaebols -- family-run conglomerates that activist investors say lack transparency when it comes to their corporate structures.
For Hugh Young, managing director at Aberdeen Asset Management in Singapore, these issues have created a "Korean discount" and the country's equities still hold value despite the Kospi gauge's rise to an all-time high:
"The major concern overhanging Korea's market is not only the political tensions, but it's also been the structure of business within Korea, the chaebol or conglomerate structure that hasn't been the most shareholder friendly."
Young says Samsung Electronics Co. still "offers decent value." 
Shares in the world's biggest smartphone maker have climbed to a record in Seoul, even after the company's vice chairman and de-facto chief Jay Y. Lee was embroiled in an influence-peddling scandal. He is on trial and remains in detention.
While it's still the second-best performer among Asian currencies in 2017, the won has lost some of its luster over the past month as Trump's rhetoric toward North Korea intensified and the nation unsuccessfully tested a missile. In the absence of a leader, South Korea has been caught in the middle of this tussle.
The front runner is Moon Jae-in, the son of North Korean refugees, who is up against former software tycoon Ahn Cheol-soo. Victory for either man may initially buoy Korean stocks and the currency but the gains will be shallow, says Celeste Tay, a senior sovereign analyst at Loomis, Sayles & Co. in Singapore:
Expectations for a sustained growth boost from fiscal stimulus might be too high because the new president will need time to assemble his cabinet and to formulate and implement policy, Tay said. 
A Moon presidency may result in more favorable relations between China and South Korea that would see some retaliatory measures imposed by China over the hosting of a U.S. anti-missile shield lifted. 
An Ahn victory would see a continuation of the shield deployment, which is a negative risk for South Korean economy, she said.
China is opposed to South Korea hosting the U.S.' Thaad defense system -- read why here.
Benchmark Korean bond yields are close to a 15-month high reached in March after months of rising geopolitical concern. The country's debt curve is likely to steepen on the election given Moon and Ahn's positions on fiscal spending, according to Societe Generale SA strategists Frances Cheung and Amit Agrawal:
Moon's proposal to increase growth in public spending to 7 percent a year, from 3 percent, will result in a fiscal deficit of 1.6 percent in 2022 -- which is not a big burden, the analysts said.
South Korea's interest-rate market is neutral in the short term but is pricing odds of around 30 percent on a hike by the central bank in the next six months. SocGen is calling for no change to key borrowing costs this year.
National Australia Bank Ltd. is zeroing in on Moon's left-leaning credentials -- should he win it would bring to an end nine years of conservative rule in South Korea. Julian Wee, the bank's senior markets strategist for Asia, says a Moon presidency would likely result in more engagement between the two Koreas: 
If Moon proves more receptive to scaling back the Thaad deployment, it could "set the stage for a revival of the Six-Party Talks and a move towards something resembling the Joint Comprehensive Plan of Action, that was agreed between Iran and the P5+1 group of world powers," Wee said.
"While such an outcome will surely take many months, early moves towards a North-South rapprochement could be picked up by markets and lead to a reduction in risk premiums for South Korean assets and more broadly -- but also less significantly -- for the rest of Asia."
For now, South Korean bond risk remains elevated, with the cost of insuring against a government default over five years edging higher in May.

The new president will have a lot to contend with, and bonds are likely to continue to underperform as inflation accelerates and the Bank of Korea tilts hawkish, says Brown Brothers Harriman & Co.'s global strategy team, led by Marc Chandler:
"Relations with North Korea will be the major focus for the next government," the team said in a note.  
"Moon has signaled he will take a less confrontational approach with Pyongyang. Many Koreans saw North-South relations worsen despite Park's hardline approach, and so a softer touch may be needed."
"How the next president deals with the chaebol conglomerates will also be closely watched."
— With assistance by Emma O'Brien, Lilian Karunungan, Kyunghee Park, Hannah Dormido, and Adrian Leung
Before it's here, it's on the Bloomberg Terminal.
LEARN MORE