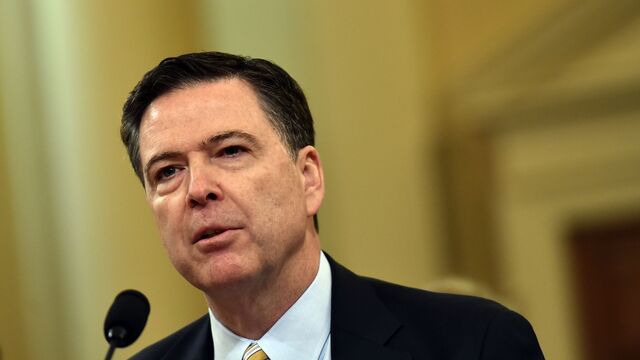 By now, few American elected leaders dispute that elements of the Russian state meddled in the 2016 U.S. presidential election -- though President Donald Trump continues to say it "could have been a lot of different groups." What remains unknown is whether anybody from Trump's winning campaign assisted in that meddling. Trump dismisses talk of collusion as "a total hoax," and thus far investigators haven't presented any evidence to dispute that. But official inquiries continue, and by firing FBI Director James Comey, Trump fueled the suspicions of those who believe he's looking to upend the investigation.
1. What did Russia do?
U.S. intelligence agencies concluded that Russian President Vladimir Putin personally ordered a campaign to undermine "public faith in the U.S. democratic process" and the candidacy of Trump's opponent, Hillary Clinton, and that along the way, Putin and his government "developed a clear preference" for Trump.
Read more: The Trump-Putin Bond That May or May Not Be Real
2. What's still not known?
What if anything Trump or his team did to solicit, welcome or participate in Russia's effort, not counting Trump's July 2016 invitation for Russia to hack Clinton's email account, which he said was a joke. There also are unanswered questions about a 35-page "dossier" of unverified allegations compiled by a former British spy at the behest of Trump campaign opponents. It alleges that Russia has been "cultivating, supporting and assisting" Trump for at least five years. Trump's team has dismissed the dossier as entirely scurrilous.
3. How did this all begin?

In April 2016, Democratic Party leaders called in a cybersecurity firm to look at suspicious software on their computers. The firm said it found digital footprints of hackers tied to the Russian government. The Democratic National Committee went public with the news and the suspicion of Russian involvement in June, just after Clinton clinched the party's nomination for president, and just after WikiLeaks editor Julian Assange said his group had "upcoming leaks in relation to Hillary Clinton."
4. What were those leaks?
WikiLeaks released almost 20,000 emails from inside the Democratic National Committee that showed, among other things, how DNC staffers had favored Clinton during her primary campaign against Bernie Sanders -- prompting Debbie Wasserman Schultz to resign as DNC head. Later in the campaign, WikiLeaks released tens of thousands of emails from the Gmail account of John Podesta, Clinton's campaign chairman.
5. And WikiLeaks got those emails from Russia?
That's the allegation. The report by U.S. intelligence agencies says Russia's General Staff Main Intelligence Directorate, or GRU, gave the material to WikiLeaks through an intermediary. Some of the emails also were released through the"persona" of a purported Romanian hacker, Guccifer 2.0, and a website, DCLeaks.com, both of which promoted the hacked information to certain journalists. Assange has said the source of the hacked emails "is not the Russian government and it is not a state party," though that doesn't mean that an intermediary couldn't have done so.
6. Which Trump aides are under scrutiny?
Potentially any who had contact with Russian representatives or intermediaries during the presidential campaign. That list includes Trump's eldest son, Donald Jr., who met in June 2016 with a Russian lawyer who offered to provide potentially damaging information on Clinton. Also present at the meeting was Paul Manafort, Trump's then-campaign chairman, who consulted in the past for the pro-Russian former president of Ukraine, and Jared Kushner, Trump's son-in-law and key White House assistant, who, after Trump's victory, discussed the idea of creating a secret line of communication between the incoming Trump White House and the Russian government. Others under scrutiny include Carter Page, a U.S. energy consultant once listed by Trump as a foreign policy adviser, whose July 2016 visit to Moscow drew the FBI's interest; Roger Stone, a longtime Republican operative, who dropped hints during the campaign that he had advance knowledge of the release of hacked campaign material that hurt Clinton; and Michael Flynn, the former U.S. Army lieutenant general who was Trump's first national security adviser.
7. Is Trump himself being investigated?
Looks like he is now. In his letter firing Comey on May 9, Trump made a point of expressing his thanks for "you informing me, on three separate occasions, that I am not under investigation." Comey confirmed in testimony before the Senate on June 8 that he assured Trump three times that he wasn't personally the target of a counterintelligence case. But in firing Comey, Trump appears to have opened himself up to allegations of obstruction of justice, now being investigated by a special counsel.
Read more: Why 'Obstruction of Justice' Is Echoing in D.C.
8. Why did Trump fire Comey?
At first, the White House said Trump acted on the recommendation of Attorney General Jeff Sessions and his deputy, Rod Rosenstein. Then Trump said he would have fired Comey regardless, and he volunteered that, in deciding to dismiss Comey, he considered "this Russia thing," which he called a "made-up story." The New York Times reported that months before being fired, Comey wrote a memo describing how Trump had personally asked him to shut down the investigation of Flynn after the national security adviser was fired. (The White House called that "not a truthful or accurate portrayal of the conversation.") Trump's dismissal of Comey in the midst of the Russia probe is at the heart of allegations that Trump might have obstructed justice.
9. Why so much focus on Flynn?
As a former military officer and one of Trump's earliest appointees, Flynn carried particular legal and political responsibilities into the contacts he had with foreign governments, including Russia's, both during and after the campaign.
10. What did he do?
In a phone call in December 2016 -- when Trump was president-elect, but Barack Obama was still president -- Flynn and Sergey Kislyak, Russia's ambassador to the U.S., discussed new sanctions imposed by Obama to punish Russia for interfering in the election. Flynn later assured the Trump team that the sanctions hadn't come up during the call, and Vice President Mike Pence repeated that falsehood. Flynn was let go because of an "eroding level of trust," said Trump's spokesman, Sean Spicer. Sally Yates, who was the holdover acting attorney general from the Obama presidency, testified in Congress that Flynn "compromised" himself -- made himself vulnerable to being blackmailed -- by telling that lie, since Russia could have threatened to expose him on it.
11. Did Flynn collude with Russians during the election?
Even his accusers haven't gone quite that far. But Yates raised eyebrows by saying that the Justice Department had issues not just with Flynn's prevaricating but also his "underlying conduct." She declined to elaborate, saying details are classified.
12. Who's running the criminal investigation?
Robert Mueller, a former FBI director, was called back into service as special counsel to oversee the probe. He was selected by Rosenstein, the deputy attorney general, who cited the "unique circumstances" of the case. It was Rosenstein's call because Sessions, his boss, recused himself following revelations that he, too, had met Kislyak in 2016, on two occasions. That mattered because, during his Senate confirmation hearing, Sessions had said, under oath, that "I did not have communications with the Russians." (Sessions said the meetings with Kislyak were part of his work as a member of the Senate Armed Services Committee.)
Read more: What Is and Isn't Special About a Special Counsel
13. Who in Congress is investigating?

The Senate Intelligence Committee got off to the most bipartisan start and has subpoenaed documents from Flynn. The House Intelligence Committee fought over whether its Republican chairman, Devin Nunes -- who had served on Trump's presidential transition team -- was leading a fair inquiry or carrying water for the White House. Nunes has since recused himself temporarily and for the most part. Many Democrats, and even some Republicans, are calling for creation of an independent commission outside Congress to take over the investigation. But congressional leaders are showing no inclination to go that route.
14. What does Trump want investigated?

He's said "the real subject" that should interest reporters is "all of the illegal leaks of classified and other information" that have emerged from the Russia inquiry. He's alleged that Obama "had my 'wires tapped' in Trump Tower just before" the November 2016 election -- Spicer later said that was shorthand for surveillance more generally -- and he's asked that Congress include that topic in its Russia investigations. An Obama spokesman said it's "unequivocally false" that Obama or any other White House official "ever ordered surveillance on any U.S. citizen."
15. Does Trump acknowledge Russian meddling in the election?
He dismissed such reports during the campaign, theorizing that Democrats could just as easily have been hacked by "somebody sitting on their bed that weighs 400 pounds." Reince Priebus, his chief of staff, said on Jan. 8 that Trump had accepted the findings of U.S. intelligence agencies and is "not denying that entities in Russia were behind" the hackings. But since then Trump has called the concern about Russian involvement "fake news put out by the media," a "ruse" and a "scam." In a face-to-face meeting with Putin in July, Trump raised "the concerns of the American people regarding Russian interference in the 2016 election," reported U.S. Secretary of State Rex Tillerson.
Read more: Fake News, Trump and the Pressure on Facebook
16. Is foreign interference in an election unusual?
The cyber element might just be a new twist on an old story. The U.S. intelligence report says Russia, and the Soviet Union before it, "has a history of conducting covert influence campaigns focused on U.S. presidential elections" with an aim "to disparage candidates perceived as hostile to the Kremlin." Putin's Russia has been accused of meddling in European elections taking place this year, including in France, where the successful presidential campaign of Emmanuel Macron was hacked.
The Reference Shelf

Before it's here, it's on the Bloomberg Terminal.
LEARN MORE