Turnbull Ends Age of Austerity in Dash to Middle Ground
By
Australia's government splurges on roads, rail, education

Former banker introduces new levy on banks, raises health tax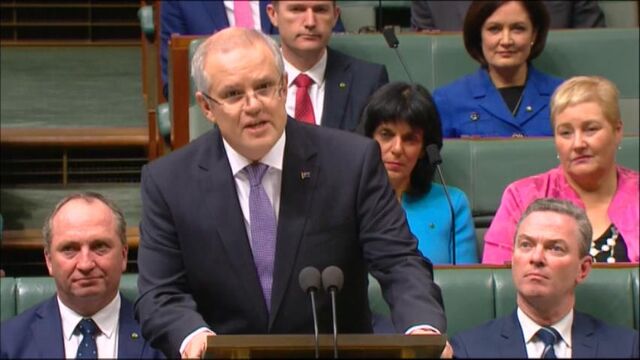 What a difference three years make.
In 2014, as his government prepared to hand down its first budget, then Prime Minister Tony Abbott claimed Australia faced a "debt and deficit disaster" and demanded everyone do "his or her bit" to bring it under control.
The cuts to health and education that followed were widely reviled for unfairly targeting the working class, as Treasurer Joe Hockey proudly declared the "age of entitlement is over." Just over a year later both were gone as the government's slumping ratings triggered a leadership fight in the Liberal Party that saw Malcolm Turnbull take the helm.
The former investment banker, whose own ratings have stumbled during his 20 months in office, seized Tuesday's budget to reset the agenda with a decisive drive to the political center. Borrowing from U.S. President Donald Trump's populist playbook, Turnbull ditched the mantra of austerity and splurged on road and rail projects, education and health in a bid to neutralize the main Labor opposition.
Yet he also raised taxes, tapping resentment against the banking sector to announce a new levy that will raise A$6.2 billion ($4.6 billion) over four years from the five biggest banks. And a 0.5 percentage point increase to a levy funding healthcare will raise A$8.2 billion to help pay for disability care.
"This is a credible budget," Turnbull said in an Australian Broadcasting Corp. radio interview on Wednesday. "This delivers for our kids and grandkids."
"This is the first chance for Turnbull to deliver a budget with clear air and put his own stamp on Australia's economic management," said Andrew Hughes, a political analyst at the Australian National University in Canberra. "His government isn't too far away from the opposition in the polls so if he gets a boost from this, he'll go a long way toward entrenching himself as the leader."
Treasurer Scott Morrison used the budget speech on Tuesday to tell Australians "there is clearly the potential for better days ahead." He acknowledged the hardship of ordinary workers facing tepid wage growth, and announced a raft of measures to improve housing affordability as home prices continue to surge in east coast cities. Among them was a crackdown on foreigners who buy up property and leave it empty -- a source of anger for those priced out of the red hot property market and paying rising rents.
It was a budget that could have been delivered by a Labor government -- aimed at defusing many lines of opposition attacks. With his Liberal-National coalition's ratings trailing Labor, Turnbull was under pressure to sell a strong economic narrative before rumblings over his leadership from discontented lawmakers in his backbench grew any louder.
"There's no doubt that was the government's political objective -- to make it look like a Labor budget, because we have been leading the policy debate for some years now," Shadow Finance Minister Jim Chalmers said in a Bloomberg Television interview on Wednesday.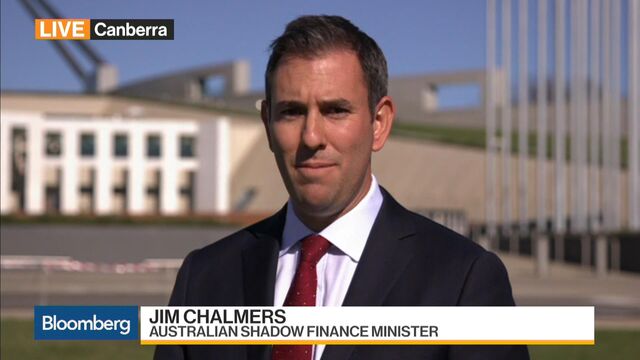 The government has been guilty of "four years of missteps, miscalculations, division and dysfunction and incompetence" since coming to power, he said.
Read more: Budget winners and losers
Turnbull's bullish new stance and focus on nation-building through infrastructure spending comes after he narrowly scraped back into office in July's election with a one-seat majority in the lower house.
While it's his second budget as prime minister, it's the first with his own stamp, with a A$75 billion infrastructure spend and an A$18.6 billion increase for schools over a decade. He also cut A$13 billion of stalled Abbott-era budget saving measures.
With the next election not due till 2019, he has time to shore up his leadership as long as the bleeding stops in the opinion polls. A Newspoll published April 24 showed his Liberal-National coalition was within striking distance of Labor, trailing by 4 percentage points.
Turnbull is "playing a long game to grind down the opposition," the Australian National University's Hughes said. "By delivering a solid foundation for his economic vision through a heavy focus on nation building he's shoring up his leadership and paving the way to completely cut ties with the Abbott era."
Before it's here, it's on the Bloomberg Terminal.
LEARN MORE