Trump Weighing Up to 5,000 More U.S. Troops for Afghanistan, Official Says
By and
U.S., allies seeking ways to bolster fight against Taliban

Expanded troop levels to be topic of NATO consultations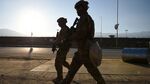 President Donald Trump's top military advisers are recommending deploying 3,000 to 5,000 more U.S. troops to Afghanistan to improve security that has been deteriorating since the U.S. and its NATO allies officially concluded their combat mission in 2014, a White House official said.
The president hasn't yet decided on expanding the U.S. presence in the nation's longest war, according to the official, who asked not to be identified discussing internal deliberations. But the White House aims to have a decision before a May 25 summit at which the North Atlantic Treaty Organization will discuss its role in Afghanistan.
The consensus recommendation for more troops emerged from a meeting last week of Trump's top military and foreign policy advisers including Defense Secretary Jim Mattis, National Security Adviser H.R. McMaster, Secretary of State Rex Tillerson, and General Joseph Dunford, chairman of the Joint Chiefs, according to another administration official. A formal presentation hasn't yet been made to the president.
Afghan forces, backed by about 8,400 American troops, have continued to lose ground to Taliban militants and a small but growing presence of Islamic State terrorists. The U.S. focus has been to prevent Afghanistan from being used as a safe haven for terrorists and to defeat al-Qaeda and its associates, as well as ISIS-Khorasan Province, which is the Islamic State affiliate in Afghanistan.
Welcome Decision
"We would welcome any decision by the United States to support Afghan forces in the ongoing battle against terrorism, which threatens us all," Afghanistan's U.S. ambassador, Hamdullah Mohib, said in a statement. "Afghanistan did not invite these terrorist groups in; our country is but the stage on which nearly two dozen of them have gathered to try and destroy the peaceful world order. They cannot be allowed to win."
Trump campaigned on a promise to both wage a more robust fight against extremists and avoid deeper U.S. military involvement across the globe. He called Afghanistan a "mess" and said in a CNN interview in October that he would "leave troops there begrudgingly." The U.S. has found it difficult to disengage. Military officials sought approval for more troops from former President Barack Obama. He ultimately agreed to send 30,000 more personnel into the fight before beginning a drawdown.
The military's recommendation to Trump to increase troop levels was reported earlier by the Washington Post.
Questions From Congress
Trump is likely to face questions in Congress from members of both parties. Democratic Representative Adam Schiff questioned on Twitter how 3,000 to 5,000 extra troops will force the Taliban into negotiations when the larger surge under Obama failed to do so. Republican Senator Rand Paul, a longtime opponent of U.S. military intervention, called trying to create a nation out of Afghanistan an "impossible goal."
The NATO meeting this month will be crucial to the next steps by the Trump administration. It is being hosted by Secretary General Jens Stoltenberg following a request by the U.S., a NATO official said. Allied leaders will consider their own contributions so that Afghan security forces have sufficient support, the official said.
Since the Afghan military officially became responsible for security in 2014, conflict in the country has escalated. Islamic State established a presence in the country's east and has claimed credit for terrorist attacks in the capital Kabul. The U.S. dropped the largest non-nuclear bomb in its arsenal on Islamic State positions April 13 in an effort to deny the group freedom of movement in a system of tunnels and caves.
Resurgent Taliban
The larger threat is the resurgent Taliban, which has expanded its territorial reach, controlling about 9 percent of Afghanistan's districts, with an additional 26 percent at risk of falling.
Complicating matters, Russia may be providing support to Taliban forces, a move that prompted Mattis to say the U.S. may have to confront Moscow over "violations of international law." Russian officials and the Taliban deny the accusations but have said Russia supports the Taliban's demand for foreign troops to withdraw from the country.
Almost sixteen years after the U.S. led an invasion there following the Sept. 11 terrorist attacks, Afghanistan remains in the grip of a war with "shockingly high" death rates among security forces and a record number of casualties among civilians, according to the U.S. government watchdog monitoring the country's reconstruction efforts.
Civilian casualties rose to 11,418 last year, the highest since the United Nations began keeping records in 2009. In the first six weeks of this year, 807 Afghan soldiers were killed, John Sopko, the U.S. special inspector general for Afghanistan reconstruction, said in his latest quarterly report to Congress.
— With assistance by Kambiz Foroohar, and Jonathan Stearns
Before it's here, it's on the Bloomberg Terminal.
LEARN MORE