markets
Five Things You Need to Know to Start Your Day
Get caught up on what's moving markets in Asia.
By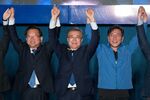 Want to receive this post in your inbox every morning? Sign up here.
Trump fires Comey, left-leaning candidate wins South Korean election, and Chinese inflation headlines data are due out Wednesday. Here are some of the things people in markets are talking about.
Tuesday Night Massacre
U.S. President Donald Trump fired FBI Director James Comey, the White House said in a statement late Tuesday afternoon. The White House said Trump informed Comey that he was terminated and removed from office. Comey, who has led an investigation into Russia's meddling during the 2016 election and possible links to Trump aides and associates, is only the second FBI chief to have been fired.
Moon Landing
Left-leaning candidate Moon Jae-in collected a plurality of votes to win the South Korean presidential election. Any honeymoon period for the victor may have to wait, however, in light of the ever-present threat from North Korea, which pledged to conduct its sixth nuclear test. Moon has advocated the use of a softer touch towards Kim Jong Un's regime and also campaigned against family-run conglomerates, which helped fuel the rally in domestic stocks in the run-up to the election. The South Korean won weakened by 0.7 percent against the U.S. dollar on Tuesday.
Data Deluge
Chinese consumer price inflation, set to be published at 10:30 a.m. Tokyo time, is expected to rise to an annual pace of 1.1 percent, up two tenths of a percentage point from March. In an April survey, economists lowered their forecasts for average inflation this year to 2 from 2.2 percent the prior month. Waning base effects from past appreciation in commodities have weighed on producer price growth and cast doubt on the durability of the global reflation trade. Chinese trade data, released Sunday evening, showed that external demand continues to serve as a tailwind to growth although exports rose by less than economists had forecast. Also, more South Korea news: its April jobs report is due out at 8 a.m. The consensus estimate is for the unemployment rate to tick down to 3.6 percent. Japan's leading and coincident economic indexes, slated for release at 2 p.m., are expected to have risen to 105.5 and decline to 114.6 in March, respectively.
Stocks Mixed
The S&P 500 index took a step back on Tuesday while the Nasdaq Composite index managed to set a new all-time high. While the CBOE Volatility index edged higher after hitting multi-decade lows Monday, the cost of hedging remains very subdued. The U.S. dollar rose and commodities slumped amid commentary from Federal Reserve officials affirming their commitment to further rate hikes and the start of balance sheet normalization this year. West Texas Intermediate futures gave back the prior day's gains amid a planned $84 billion in capital spending by U.S. shale drillers, a move which would ultimately offset a large portion of major crude producers' agreed-upon production cuts.
Futures Up
Nikkei 225 and S&P/ASX 200 equity futures are both pointing to a higher open as of 5:30 a.m. Tokyo time. The Shanghai Composite Index managed to snap its five-session losing streak Tuesday, though investors are on alert for signs of contagion in other emerging markets stemming from Beijing's crackdown on financial leverage.
What we've been reading 
This is what caught our eye over the last 24 hours.
Before it's here, it's on the Bloomberg Terminal.
LEARN MORE