Corbyn Pledges to Raise U.K. Corporation Tax to Fund Schools
By
Labour would raise rate to 21% next year; 26% in 2020

May's Conservatives plan to lower rate to 17% by 2020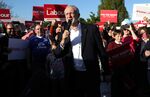 U.K. Labour Party leader Jeremy Corbyn on Wednesday will outline plans to raise corporation tax by more than a third over the next three years and plow the proceeds into schools and universities as he seeks to shore up support before the June 8 general election.
Trailing badly in the polls to Prime Minister Theresa May's Conservatives, Corbyn will announce a series of pledges on education at a campaign event in Leeds, northern England. Promises will include raising school budgets, reducing class sizes and restoring grants for university students, according to an emailed party statement.
To fund the pledges, a Labour government would raise corporation tax to 21 percent from 19 percent next April, to 24 percent a year later, and 26 percent the following year. By contrast, May's Tories cut that tax rate to 19 percent this year from 20 percent last year, and Chancellor of the Exchequer Philip Hammond has promised to bring it down to 17 percent by 2020.
"We will reverse the Conservatives' tax giveaways to big business and put money back where it belongs, in our schools, our colleges and our communities," Corbyn said.
Labour said that even with its planned tax rise, Britain would boast the lowest corporation tax rate in the Group of Seven industrialized economies.
Before it's here, it's on the Bloomberg Terminal.
LEARN MORE