markets
China Stocks Adored Abroad as Local Investors See Losses Mount
By
International investors remain bullish amid deleveraging focus

MSCI China correlation with Shanghai Composite approaches zero
Overseas investors are sticking with China's stocks and bonds even as the country's crackdown on leverage wipes almost $500 billion from the domestic market.
While the Shanghai Composite Index is close to an October low, the MSCI China Index -- composed almost entirely of Hong Kong and U.S. listings -- is holding on to this year's 18 percent gain. The disconnect also applies to fixed income, with international funds owning the most sovereign debt on record and the extra cost that investors demand to hold Chinese companies' dollar bonds over Treasuries near a decade-low.
Mainland markets have struggled under the government's campaign to trim risk in the financial sector, making stocks the least linked to the offshore index since 2006. With history showing sentiment can flip quarter to quarter, international traders are riding on a bet that solid corporate and economic data will continue to support the divergence.
"These investors don't believe that any of this will lead to a crisis," said Caroline Yu Maurer, the Hong Kong-based head of Greater China equities at BNP Paribas Investment Partners. "For stocks, people are buying earnings growth rather than macro stories. The market is quite resilient as long as that holds."

For a gauge that is rarely this expensive relative to the rest of the world, improving earnings are emerging as a key line of defense against worsening sentiment. While profit estimates are being upgraded at the fastest pace since 2010, they're failing to keep pace with the index's rally, which has pushed valuations toward the highest levels since 2015. The gauge gained another 0.4 percent on Wednesday, while the Shanghai Composite slumped 0.9 percent to its lowest level since October.
Analysts now see earnings for the MSCI China Index rising 17 percent on average in 2017, following two consecutive years of contraction. Those estimates are too high for NN Investment Partners's Maarten-Jan Bakkum, who trimmed his allocation to emerging-market assets in the past weeks, saying China's tightening campaign will harm its economic growth.
"A rebound in earnings has given them confidence, but I do wonder whether international investors are being too easy on China risks," said Bakkum, a senior strategist at NN Investment Partners in The Hague. "The economy just can't continue to do so well."
To learn more about China's financial crackdown, read this Quicktake
China's economy accelerated in the past two quarters, giving authorities room to tighten regulation with the aim to clean up the country's financial system, an effort which has won praise from some of the world's biggest investors. Forecasts signal growth has peaked, with the economy set to expand at a slower pace in all of the next five quarters.
That hasn't deterred overseas investors. Funds boosted their holdings of China's sovereign bonds for the second month in April to a record 423.8 billion yuan ($61.4 billion), even as the benchmark government yield surged 18 basis points. For Chinese issuers' dollar bonds, the average spread over similar-maturity Treasury yields has narrowed to 182 basis points, near the lowest in more than a decade, according to Bank of America Merrill Lynch indexes.
While the prospects of slower economic growth in China have already spilled over to commodity prices, the country's currency has barely budged. After a yuan selloff coincided with a 7.1 percent decline for the MSCI China Index in the fourth quarter, the currency is now enjoying the calmest period since before its 2015 devaluation roiled markets around the world.
"Keeping the currency stable when there are concerns in the local market is always the top issue," Simon Derrick, chief currency strategist at Bank of New York Mellon Corp., told Manus Cranny and Anna Edwards on Bloomberg Television. "And it always works."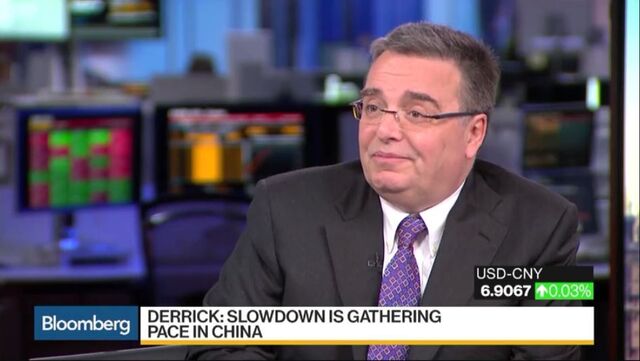 — With assistance by Robin Ganguly, and Lianting Tu
Before it's here, it's on the Bloomberg Terminal.
LEARN MORE