Billionaire Icahn Loses $179 Million on Hertz Double Down
By
Investor's shares worth a fraction of 2014 high as stock drops

Analyst expects Icahn to stay in, buy more shares at low level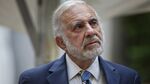 When billionaire Carl Icahn bought into Hertz Global Holdings Inc. in summer 2014, he said he thought the shares were undervalued. With prices down almost 90 percent in the years since, he might be wishing he could take that one back.
Icahn's 29.3 million shares in the ailing rental-car company are now worth about $375 million, according to Bloomberg calculations. That's down from a high of about $1.3 billion at the end of 2014, when he held half as many shares. The value of the new stock he bought in November has dropped by $179 million in just six months.
That leaves Icahn with a couple of tough choices. He can either start selling and absorb a big loss or he can wait it out -- even adding shares at their depressed price -- in hopes that Chief Executive Officer Kathryn Marinello can fix the struggling company. She says she's trying -- initiating the difficult task of upgrading Hertz's sedan-heavy fleet during her first quarter at the helm -- but it's hard to quantify how long the losses will last with Hertz giving no earnings guidance for the year.
"He could buy more stock but at some point there has to be a sign of stabilization and a clear path to a turnaround," Joel Levington, an analyst with Bloomberg Intelligence, said in a phone interview. "The market was hoping for a credible plan and management didn't reveal one. Investors don't like a black box."
Turnaround Bet
It appears Icahn -- the company's largest shareholder at 35 percent -- is betting on a turnaround because Hertz was already in trouble when the billionaire investor added more shares last fall. On Nov. 7, the company missed its third quarter earnings guidance by a wide margin and slashed its forecast for 2017. The following day, Icahn started to buy more stock, purchasing over several days about 16 million shares at an average price of $23.78 and more than doubling his stake.
He then presided over the ouster of former CEO John Tague and helped hire Marinello to turn the company around. That turnaround hasn't yet materialized though, with the share price falling 14 percent Tuesday to $12.80, the lowest close since March 2009.
Icahn did not respond to a request for comment Tuesday.



Icahn may choose to buy more shares at low prices and ride them up to make up for what he has lost so far.
What Price?
"People would see Icahn wanting to step up, but at what price?" Barclays analyst Brian Johnson said in an interview. "Why buy it at $12 when he could buy it at $5?"
As he waits for a turnaround, Icahn could be in for a long ride. Marinello's strategy is to sell unpopular cars from the company's fleet and replace them with nicer, newer vehicles it can rent at higher prices. But it's selling the old cars into a weak used-car market, and the losses keep mounting. That suggests more pain to come, and no one will feel it more than Icahn.
Short interest as a percent of Hertz's equity float has spiked this quarter to a more than five-year high.

"We wish we could say that 1Q17 was truly a 'kitchen sink' quarter, but we just can't say that with any confidence," Morgan Stanley analyst Adam Jonas wrote in a research report. "Some metrics suggest we haven't yet seen the worst."
Before it's here, it's on the Bloomberg Terminal.
LEARN MORE