A $210 Billion Rally Woos Top Fund as Nikkei Flirts With 20,000
By , , and
AMP's Naeimi moves funds to Japan stocks from emerging markets

Nikkei 225 surged 8.5% from mid-April as global concerns ease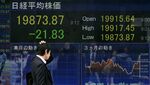 Nader Naeimi can't ignore it any longer after Japanese stocks added more than $210 billion in value in less than a month, sending the Nikkei 225 Stock Average within touching distance of 20,000.
The head of a dynamic investment fund at AMP Capital Investors Ltd. has been pulling money from emerging markets to invest more in Tokyo shares. His logic is simple: the market is undervalued after lagging behind peers for much of 2017, the yen is set to fall, and the concerns that held the Nikkei 225 back earlier this year have receded.
The Nikkei 225 has gained 8.5 percent from a low on April 14, one of the best performances among 96 primary equity indexes tracked by Bloomberg. The broad-based rally, which sent every industry group higher, has come as tensions eased around North Korea, jobs data bolstered faith in the U.S. economy, and Emmanuel Macron won France's presidential election.
"You have all the ingredients right now for a few months of Japanese share market outperformance," Naeimi said in a phone interview from Sydney, where his firm oversees about $120 billion. "You have earnings growth, you have a share market which is underowned and likely to catch up, and at the same time you have monetary policy which is still easy."

Citigroup Inc. is in Naeimi's camp. The brokerage raised the upper end of its Nikkei 225 forecast range for May by 3.8 percent to 20,500 on May 8, as it watches Japan Inc.'s results in the busiest week of earnings season.
The proportion of companies that posted higher sales than analysts estimated has risen above 50 percent for the first time since the January-March quarter of 2015, chief Japan equity strategist Naoki Iizuka wrote in the report, partly attributing it to strength in the global economy. Iizuka also cited Macron's victory and the yen's weakening during the Golden Week holiday period last week as reasons for lifting his outlook. His report was prescient: the Nikkei 225 jumped 2.3 percent the day it was published.
Investor Flows
Martin Malone, global macro policy strategist at Mint Partners in London, says the rally is up there with some of the best during Prime Minister Shinzo Abe's time in power since late 2012. He points to changes in investor flows: the Bank of Japan is speeding up purchases of exchange-traded funds, he notes, while foreigners, which had been bailing from Tokyo equities, are buying again.
Overseas investors bought 755.6 billion yen ($6.6 billion) of Japanese shares in the four weeks through April 28, according to Japan Exchange Group Inc. data. Until then, they'd sold 1.2 trillion yen in 2017. The BOJ has purchased an average of 542 billion yen per month in Japan stock ETFs so far this year, compared with an average of 383 billion yen in 2016.

Still Cheap
"The sense of concern is winding down," said Kenji Ueno, portfolio manager at Sompo Japan Nipponkoa Asset Management Co., which oversees $23.6 billion. "The current levels for Japanese stocks don't indicate an excessive amount of expectations from investors. Valuations aren't too high."
Even after its surge, the Nikkei 225 traded at 17.3 times estimated earnings at its last close, which is below its five-year average. The S&P 500 Index in the U.S. was valued at 18.5 times projected profit.
The Nikkei 225 added 0.3 percent on Wednesday to 19,900.09, about 0.5 percent from the key 20,000 mark. The equity gauge hasn't topped that level since early December 2015. The rally since mid-April has been led by electronics exporters, after the yen fell more than 4 percent to about 113 per dollar. 
For Hiroyasu Iida, head of the investment research center at Aizawa Securities Co. in Tokyo, the strong chance that the Federal Reserve will raise interest rates in June means the Japanese currency will continue to weaken, which spells good things for the country's equities.
"The U.S. economy is doing well, and a June rate increase is seen as almost certain," Iida said. "Considering that the yen was trading at 117 per dollar at the start of the year, Japanese stock indexes still have room to rise."
Not So Optimistic
Naoki Fujiwara, chief fund manager of Shinkin Asset Management Co., isn't quite as optimistic. He says he's watching Japanese companies' earnings forecasts and U.S. data on retail sales and consumer prices, both due this week.
"We need to see what the earnings outlook is, and we need to see what's happening in the U.S. economy," he said. "It won't be surprising for the Nikkei to hit 20,000, but we probably need one more good reason for that level to stick."
But Naeimi, whose Dynamic Markets Fund has beaten 80 percent of peers over the past five years, says he's confident his money will be better off in Tokyo for the next few months.
"In the second quarter, we're likely to see a strong U.S. dollar, a weaker yen and much better Japanese share performance," he said.
— With assistance by Tom Redmond, and Nao Sano
Quotes from this Article
Before it's here, it's on the Bloomberg Terminal.
LEARN MORE