Sinclair Gobbles Up Tribune in First Big Media Deal of Trump Era
By and
Acquisition includes local TV stations in New York, Chicago

21st Century Fox, Nexstar had been said to plan offers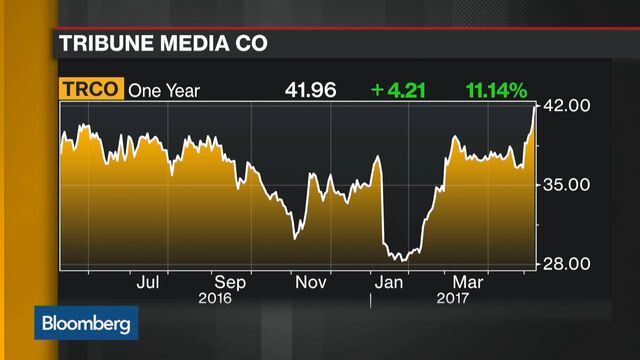 Sinclair Broadcast Group Inc.'s $3.9 billion deal to acquire Tribune Media Co. marks the first in what's expected to be a frenzy of media and telecom dealmaking under the looser regulatory climate of the Trump administration.
The deal, unthinkable in the Obama era, was made possible by a rule change under Ajit Pai, the newly installed chief of the U.S. Federal Communications Commission. The new broadcasting behemoth will have greater bargaining power over pay-TV distributors like Comcast Corp. and major broadcast networks like 21st Century Fox Inc., as well as the size to face down online competitors vying for a piece of the local advertising pie.
"This has to portend well for future M&A in the space," said Daniel Kurnos, an analyst at Benchmark Co. "We expect major consolidation over the next six to 18 months."
Other companies regulated by the FCC are likely to follow in Sinclair's footsteps. Nexstar could make a bid for Tegna Inc., Bloomberg reported earlier this month. Wireless providers such as Sprint Corp. and T-Mobile US Inc. are the subject of heated merger speculation, and Comcast Corp. and Charter Communications Inc. have been floated as possible industry dealmakers.
The acquisition is particularly troublesome to Fox. By acquiring Tribune's stations, Sinclair will control of 28 percent of the nation's Fox affiliate stations, giving it a much stronger hand during negotiations for fees the local channels pay to air the broadcaster's programming. Fox, with funding from Blackstone Group LP, had been planning an offer for Tribune but in the end didn't submit a bid, Bloomberg reported last week.

Sinclair owns 54 local Fox affiliates across the country, from Pittsburgh's WPGH to Oklahoma City's KOKH. Gaining Tribune's Fox-affiliate stations, including Seattle's KCPQ and Denver's KDVR, would give extend Sinclair's lead as the largest owner of local Fox stations across the U.S.
The expansion by Sinclair, which produces some national content for its local affiliates to use in newscasts, has led to speculation that the company could create a conservative-leaning alternative to Fox News if its relationship sours with the broadcaster. At this time Fox is unlikely pull its affiliations from the combined Sinclair-Tribune, a person familiar with the matter said Monday.
In a sign of more industry-friendly treatment in Washington, the FCC last month restored a rule that allows TV station groups to count just half of their coverage area for Ultra High Frequency stations to comply with a 39 percent nationwide cap set by Congress. The move, which reversed a ruling by the Obama FCC, is one of several broadcasting-friendly measures Sinclair is pushing for under FCC Chairman Ajit Pai.
Sinclair has 173 stations in 81 markets, including affiliations with Fox, ABC, CBS and NBC, and reaches 24 percent of U.S. TV homes with the UHF discount reinstated. Tribune has 42 stations reaching 26 percent. Combined, the companies cover 42 percent of the country, with overlapping stations in 14 markets. Without the discount, that coverage would have been about two-thirds of the country.
"The Trump FCC has been gaming the rules so that Sinclair's holdings look smaller, but even then the company still exceeds the national ownership caps," Craig Aaron, president of the policy group Free Press that opposes media consolidation, said in an emailed news release.

The issue dates to when UHF stations -- broadcasting on channels 14 and higher -- used signals that didn't reach as far as stations assigned lower-numbered channels. That disappeared with the switch to digital TV in 2009.
Pai has criticized the Obama FCC for revoking the UHF discount because it effectively tightened ownership limits without considering whether to raise the national cap. Free Press's Aaron said Sinclair has been using "every trick in the book" to evade and undermine rules designed to ensure a diversity of local voices. Neil Grace, an FCC spokesman, declined to comment on the deal Monday.
Sinclair Chairman David Smith said the company may divest assets or swap some stations with other owners in order to win regulatory approval. The deal is expected to close in the fourth quarter, he said on a conference call Monday.
Tribune Assets
Sinclair, already the largest owner of local TV stations in the country, is paying $43.50 a share for Tribune to add even more in big media markets like New York, Chicago and Miami. News of the deal sent the shares up as high as $43.04 a share.
"Bigger is better," said Barry Lucas, an analyst at Gabelli & Co., who has buy ratings on Sinclair and Tribune. "There are enormous benefits to owning spectrum in most of the largest markets in the country. Sinclair can take advantage of it."
Aside from big-city stations, Sinclair also gets the cable network WGN America and digital-multicast network Antenna TV.
On the conference call, Smith said he's open to selling Tribune's 30 percent minority stake in the cable channel Food Network to Scripps Networks Interactive, which owns the rest. Sinclair would also sell Tribune's minority stakes in CareerBuilder to pay debt, he said.
Tribune, for its part, has tried to attract viewers and advertisers to its flagship WGN America with original programs like "Salem" and "Outsiders" -- and it's worked. But higher programming costs have squeezed Tribune's profit margin, and cable operators have slimmed down their bundles of channels, leaving networks like WGN battling for a slot.
Sinclair President Chris Ripley said WGN will shift its strategy away from high-cost original series and air more re-runs.
In December, Tribune sold its Gracenote audio-recognition software business to Nielsen Co. for $560 million.
— With assistance by Paul Barbagallo, Todd Shields, and Anousha Sakoui
Before it's here, it's on the Bloomberg Terminal.
LEARN MORE