It's All About May as Premier Brands U.K. Election Her Own
By and
Prime minister presents Conservatives as 'Theresa May's Team'

Campaign could help her get lawmakers to back her Brexit deal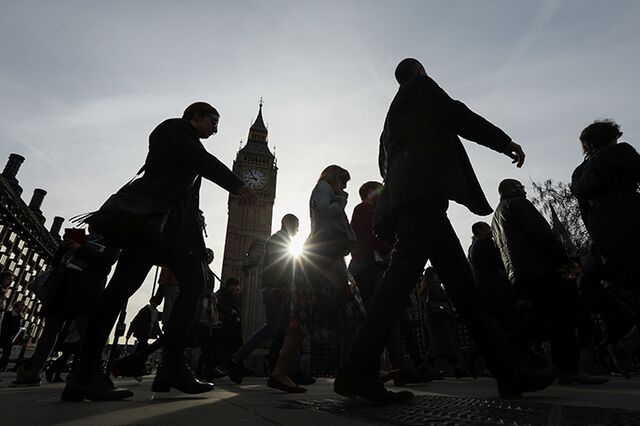 "THERESA MAY'S TEAM," screamed the banner at a London campaign event. In much smaller letters underneath was the name of her party, the Conservatives.
The emphasis on her personal brand not only makes electoral sense -- the prime minister is far more popular than Labour leader Jeremy Corbyn going into the June 8 elections. But it will make lawmakers beholden to her when it comes to a vote on a Brexit deal.
May called the snap vote just weeks after Tory rank and file showed a rebellious streak and highlighted her weakness by forcing her to reverse a central budget policy -- a tax rise for the self-employed. With this election, her aim is to win both a larger majority and a better-behaved one.
"For all new members of Parliament, what will be more important than their pre-existing attitudes is the fact that they're 'Theresa May's Team,"' said Philip Cowley, author of "The Rebels," a study of parliamentary discipline. "That will make them more compliant."
Her speeches are littered with references to herself, but few mentions of the party she took over after David Cameron failed to convince voters to stay in the European Union. A news release announcing her party's plan to cap energy bills gives a flavor of the shift: It uses the word "Conservative" three times, to seven appearances of "Theresa May."
A Lioness

"One of the things that you pick up on the doorstep is that there is enormous respect for the prime minister as a leader," David Lidington, the minister responsible for getting government business through Parliament, said in an interview after May gave a speech Monday in Harrow, northwest London.
He added, "you get this certainly from staunch Conservative supporters, but you get this from people who in the past have voted for other parties too. The campaign reflects that reality."
The answers to the latest election survey give an inkling as to why May's campaigning has taken a presidential turn. A sample of 1,000 adults were asked what type of animal each leader would be: May was a lioness. Jeremy Corbyn a dog. This poll for ITV's "Good Morning Britain" said that one in five voters who plan to vote Labour still think May makes a better prime minister.
While the Tories lead Labour by a 22-point margin, according to an ICM poll on Monday, her lead over him is even greater.
Back in 2002, May had famously warned fellow party members that some people called them "the nasty party." Now, in launching her campaign, the Conservative brand she once viewed as so toxic has been relegated.
Stark Choice
Launching his own election campaign in Manchester on Tuesday, Corbyn instead is counting on people voting for the party above all things. "When Labour wins, the British people win," he'll say, according to speech extracts released in advance.
"There's no reason why we shouldn't highlight the difference between her and the frankly shambolic Jeremy Corbyn," said Kwasi Kwarteng, who's defending the safe Tory seat of Spelthorne, south of London. "That's a very stark choice and when that choice is presented to people, Theresa May does very well. I wouldn't want to repeat what people are saying about Corbyn on the doorstep."
May's speeches are deliberately personal -- Tuesday she is sitting down with her husband for a BBC interview about her private life -- and also focused on a single issue: her desire for a "mandate" to negotiate Brexit.
A day after Emmanuel Macron won the French presidential election, May pointed to the victory of the 39-year-old who once described Brexit as a "crime" as yet another reason she needs an "equally strong mandate."
Still, May's presidential-style campaigning doesn't extend to exposing herself to the risk of television debates against Corbyn. Debates were only introduced to British politics in the 2010 election under her predecessor, who thought they would allow him to shine next to Gordon Brown, and instead found himself outshone by the Liberal Democrat Nick Clegg.
In 2015, Cameron only agreed to a single debate. May this time said she wouldn't do any -- a refusal that reflects her confidence she's so far ahead in the election that she doesn't need to take any chances. 
Before it's here, it's on the Bloomberg Terminal.
LEARN MORE