Fed's Mester Warns Against Falling Behind With Rate-Hike Pace
By
Central bank should continue with 'gradual' rate increases

Sees positive signs of rising wages and business investment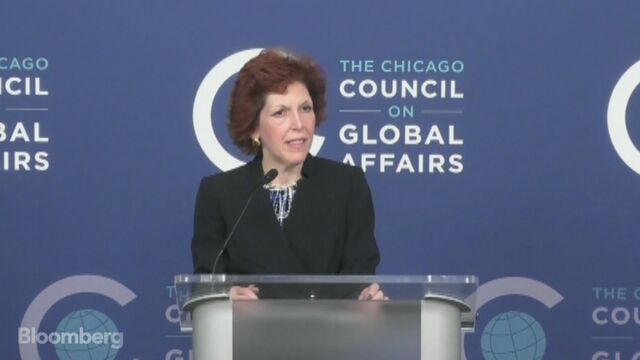 Federal Reserve Bank of Cleveland President Loretta Mester said the central bank should continue on its gradual path of raising interest rates to prevent the risk of overheating the U.S. economy.
"It's important for the FOMC to remain very vigilant against falling behind as we continue to make progress on our goals," Mester said in a speech Monday in Chicago, referring to the policy-making Federal Open Market Committee.
"If we delay too long in taking the next normalization step and then find ourselves in a situation where the labor market becomes unsustainably tight, price pressures become excessive and we have to move rates up steeply, we could risk a recession," she said.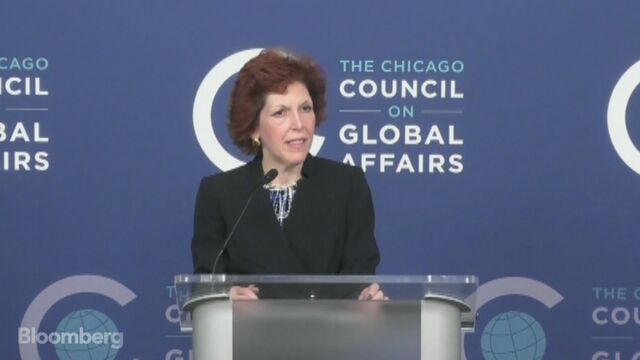 After raising rates in March, Fed officials left interest rates unchanged at a meeting last week in Washington, but signaled they're still on track to hike two more times this year. In doing so, they brushed aside a first-quarter slowdown in the economy they described as "transitory." U.S. Labor Department data on Friday affirmed that view, showing employers created a greater-than-expected 211,000 new jobs in April as unemployment fell to 4.4 percent, the lowest since 2007.
Mester was equally dismissive of data showing the economy expanded at an annual pace of 0.7 percent in the first three months of the year and that consumer spending was lower than expected.
"The softness in the first quarter hasn't changed my medium-run outlook, and I expect a rebound in consumer spending over the rest of the year," she said.
Mester said she has seen encouraging signs of businesses in her district amid both raising wages and increasing investments.
Mester repeated that she would like to see the Fed change its policy this year that keeps its $4.5 trillion balance sheet at a steady level. Fed officials have been debating when and how to begin shrinking the balance sheet.
Speaking with reporters after the speech, Mester spelled out why she preferred not to delay policy tightening.
"I don't subscribe to this, 'Let's just wait and see what happens and then raise interest rates.' That's not a good way of going about it. I'm very comfortable with this upward path," she said. "The risk of moving too late poses some risk to the economy. That's why I continue to say where I am on policy, which is this gradual upward path."
Before it's here, it's on the Bloomberg Terminal.
LEARN MORE