pursuits
Biggest Congo Bank Plans Home-Market Drive Before Regional Entry
By
Rawbank seeks to extend footprint to all 26 provinces in Congo

Lender will eventually seek stock-market listing, CEO says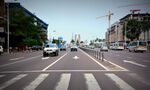 Rawbank Sarl, the Democratic Republic of Congo's biggest lender, plans to extend its branch network into all 26 provinces from 12 over the next three years before expanding regionally and eventually listing its shares.
"Our first priority is to cover the Congo and then look to expand into the neighboring countries with a listing on a stock market," Chief Executive Officer Thiery Taeymans said in an interview in the capital, Kinshasa. It is considering bordering Republic of Congo as its first potential destination, he said.
While Rawbank has branches in about 26 towns, it still has no presence in vast parts of the country, the second-largest by area in Africa and fourth-biggest by population. Founded in 2002 by Taeymans and the Rawji family, whose Groupe Rawji began operations in Congo in 1910, the lender is the only bank in the country with more than $1 billion in assets.
Decades of dictatorship and two civil wars that officially ended in 2003, have hampered the creation of capital markets. Congo does not have a stock exchange and trading is limited to the sale Treasury bill sales.
"If not Congo, we will list elsewhere, but I would like to create a stock exchange here in Congo," Taeymans said. "This was part of my plan when we set up the bank" he said. If Congo is not ready, the lender would consider listing in one of the regional markets, once it has operations there, said Taeymans.
With a population of 77 million people, of whom as few as 17 percent had a bank account in 2014, according to the World Bank, Congo has attracted some regional lender. Kenya's Equity Group Holdings Ltd. acquired Congo's seventh-biggest bank in 2015. Togo's Ecobank Transnational Inc. and Lagos-based FBN Holdings Plc's First Bank of Nigeria have both opened in Congo in the past decade.
Banking Woes
That interest might be waning as economic growth in Africa's biggest copper producer slows and Congo's banking industry struggles to sustain fragile consumer trust since hyperinflation during the 1990s and the collapse of several lenders wiped out many people's savings. Over the past 18 months, regulators have placed at least two lenders and one microfinance institution under administration.  
One of those lenders, Banque International Pour l'Afrique au Congo, known as BIAC, in November sought to be placed into liquidation after a search for an investor to recapitalize the country's third-biggest bank failed. Commercial Bank of Africa Ltd., which is controlled by Kenyan President Uhuru Kenyatta's family, in June expressed an interest in buying the bank.
Rawbank's main priority is maintaining liquidity and the confidence of its depositors, the CEO said. The lender increased its assets by 31 percent in 2016, while shareholders increased their equity to the equivalent of 21 percent of Rawbank's total loan book, more than double the 10 percent lower limit set by the central bank, Taeymans said.
"We want to maintain trust," he said. "So we make sure our shareholders continue to increase their equity so we are always higher than the ratio required by the central bank."
Before it's here, it's on the Bloomberg Terminal.
LEARN MORE