markets
Insider-Trading Suit Complicates Ackman-Valeant Breakup
By and
Ex-Allergan shareholders allege they were duped by investor

Drugmaker to shoulder most of settlement if one is reached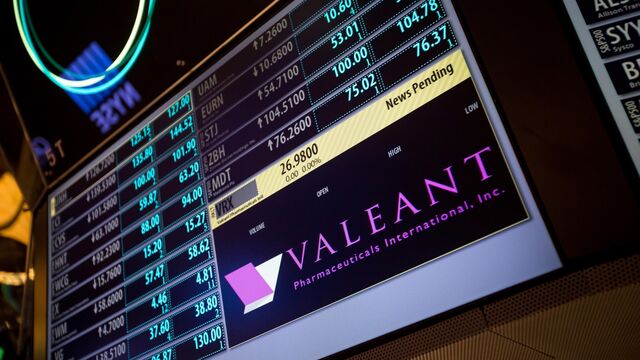 When Bill Ackman unceremoniously dumped his Valeant stock in March, it looked like he was done with the formerly high-flying drugmaker.
Now, a common foe may turn the sudden breakup into a drawn-out, messy divorce. Ackman and Valeant Pharmaceuticals International Inc. are co-defendants in a $2 billion lawsuit brought in December 2014 by former investors in Botox-maker Allergan Inc. The plaintiffs allege they were conned by Ackman when they sold him their Allergan shares in 2014, not knowing that the billionaire was teaming up with Valeant in a hostile takeover bid that would send Allergan's stock soaring.


For Valeant, which carries about $30 billion in debt, a legal judgment that could total hundreds of millions of dollars would dent the company's already shaky finances. Ackman, meanwhile, could face further tarnishing of his reputation. The 50-year-old head of Pershing Square Capital Management has already apologized to his investors after losing $4 billion on his Valeant bet, calling it a "huge mistake."
One way to make the case go away -- and quickly -- is for Ackman and Valeant to reach a settlement with the former shareholders, who allege that both parties knew their deal would trigger a bidding war for Allergan. Should the case progress, the defendants face the unappealing option of eventually going to trial.
"As you get closer and closer to trial, I suspect the settlement value of the case goes up somewhat," said Lawrence Hamermesh, a professor at Widener University's Delaware Law School. Ackman's wealth and fame might make him "not an appealing figure to a jury," he said.

The case is moving forward. In March, a federal judge in Santa Ana, California, denied a request from Ackman and Valeant to dismiss the suit and allowed it to proceed as a class action. That gives the shareholders added leverage to either secure a settlement or bring their allegations to trial.
Read more: Ackman must face Allergan shareholders as class action
The defendants may be emboldened by the fact that the U.S. Securities and Exchange Commission hasn't filed any case against Ackman for securities violations. That leaves the shareholders to prove what the SEC hasn't pursued. The SEC declined to comment.
"If it were really egregious, you'd have to wonder why they didn't devote some of their budget to an enforcement case," Hamermesh said of the SEC. Still, he said, "It's not at all uncommon to have a private case when there's no public-enforcement case."
Ackman might be tempted to settle before November, when a deal with Valeant that would restrict his potential losses is set to expire. The drugmaker said in a February filing that it had agreed to pay 60 percent of any settlement so long as both the company and the activist investor agree to the terms. Valeant declined to comment on the lawsuit, as did a spokesman for Pershing Square.
Pershing Square has set aside $75 million for the case, according to its annual report. If that's intended to cover about 40 percent of a settlement, it suggests the defendants believe they can settle for less than $200 million. That might not cut it with the shareholders.
"I wouldn't settle for 10 cents on the dollar," said Reed Kathrein, a lawyer with Hagens Berman Sobol Shapiro LLP who represents investors in securities-fraud lawsuits. Kathrein isn't involved in the case.
Bitter Pill
Because the plaintiffs' claim that Ackman's insider trades cost them $2 billion, a settlement totaling about $500 million would be more plausible, according to Kathrein.
That wouldn't be easy to swallow for Valeant, which will release its first-quarter earnings on Tuesday. The drugmaker's fortunes have been declining, and its cash position was $542 million at the end of 2016, down from $928 million four years earlier. The stock has fallen by more than 90 percent over the past 18 months following scandals related to Valeant jacking up the price of old drugs and its relationship with a mail-order pharmacy that allegedly boosted the company's sales. The company is also the subject of federal investigations and shareholder lawsuits unrelated to Allergan.
With it high debt load and no legal reserves as of the end of 2016, Valeant doesn't have much room to maneuver.
"Just like the government investigations, it's a bit of a black hole, it is something that should give one pause when looking at the stock," said David Amsellem, a Piper Jaffray analyst.
Ackman and Valeant have turned to a federal appeals court to overturn the designation as a class action, saying the shareholders' claims are unprecedented. In their March 28 petition, they said the suit, should it be successful, would "revolutionize" insider-trading law and the regulation of tender offers.
Lawyers with Bernstein Litowitz Berger & Grossmann LLP who represent the Allergan shareholders declined to comment.
Takeover Attempt
The case stems from a period in early 2014 when Pershing Square was quietly accumulating a 9.7 percent stake in Allergan. On April 21, Valeant and Pershing Square disclosed that they were partnering on a $42.4 billion bid to merge Valeant with Allergan. The next day, Allergan shares rose to $163.65, up from $125.54 on Feb. 25, when Ackman began his buying spree.
Allergan resisted the bid, calling the price "grossly inadequate" and saying it had concerns about Valeant's business model. In June 2014, Valeant filed a $54 billion tender offer, saying Allergan was refusing to act in the interest of its shareholders. 
The takeover battle ended in November of that year when Actavis Plc stepped in as a so-called white knight to buy Allergan for $219 a share, topping Valeant's bid of about $180 a share. According to the plaintiffs, Ackman walked away with a $2.2 billion profit on his Allergan shares, while Valeant netted around $400 million.
Tender Offer
Ackman, famous for his public battle with Herbalife Ltd., was able to generate such outsized profits only by "taking advantage of insider information provided by Valeant and acquiring a very significant stake in Allergan ahead of the broader market," according to one plaintiff who said in the lawsuit that he sold his shares before Valeant announced its takeover bid.
A similar lawsuit was filed by Allergan, which dropped the case in 2015 after its takeover by Actavis. The shareholder suit hinges on an obscure part of the law. To win, shareholders must prove that Ackman and Valeant were taking "substantial steps" toward a tender offer -- rather than a merger -- before the investor amassed his stake, said Stavros Gadinis, a law professor at the University of California, Berkeley. The law under which the shareholders are suing specifically pertains to trading on material nonpublic information in the context of a tender offer.
The defendants argue that a Feb. 25, 2014, relationship agreement between Valeant and Pershing Square made clear that neither party had taken any steps toward a tender offer. Ackman's lawyer, Mark Holscher, said at a Feb. 14 court hearing in Santa Ana, California, that what the plaintiffs believe is their "smoking gun" on a tender offer is actually a document that shows otherwise.
The case is In re: Allergan Inc. Proxy Violation Securities Litigation, 14-cv-02004, U.S. District Court, Central District of California (Santa Ana).
— With assistance by Tony Robinson
Before it's here, it's on the Bloomberg Terminal.
LEARN MORE