business
Nigeria Says Boko Haram Freed 82 More Abducted Chibok Girls
By
Official says hostages were exchanged for Boko Haram prisoners

Buhari committed to ensuring the return of remaining captives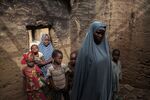 Nigeria said 82 more girls were freed by the Boko Haram Islamist militant group out of the hundreds abducted from a school dormitory more than three years ago in exchange for some of its jailed leaders.
"After lengthy negotiations, our security agencies have taken back these girls in exchange for some Boko Haram suspects held by the authorities," Garba Shehu, a spokesman for President Muhammadu Buhari, said in a statement posted on the presidency Twitter account late Saturday. No details were provided on the identities of the militants swapped for the student hostages.
The girls were flown into Abuja, the capital, on Sunday from the northeastern city of Maiduguri, and were met on arrival by family members and government officials, said Femi Adesina, a presidency spokesman. A meeting with the president is scheduled for later in the day.

At least 276 girls were seized by the militants from their school dormitories in the northeastern town of Chibok on April 14, 2014. The group freed 21 of the girls in October. Nigeria remains committed to "ensuring the safe return of of the Chibok girls and other Boko Haram captives," Shehu said.
The mass abduction caused an international outcry and led to the #BringBackOurGirls social-media campaign championed by former U.S. First Lady Michelle Obama. Boko Haram has carried out a violent campaign since 2009 to impose its version of Islamic rule in Africa's most populous country. Its attacks have left tens of thousands of people dead and spilled into Niger, Chad, and Cameroon.
Nigeria is almost evenly split between a mainly Muslim north and a predominantly Christian south.
Negotiations for the girls' release were made more complicated by the splintering of the Islamist group into two factions, with each holding captives, Vice President Yemi Osinbajo said last month.  
The government of Switzerland, the International Committee of the Red Cross and other non-governmental organizations played important roles in helping secure freedom for the girls, according to the presidency.
Before it's here, it's on the Bloomberg Terminal.
LEARN MORE