Macron Vows to Heal France's Divisions After Victory Over Le Pen
By , , , and
President-elect pledges 'no more reason to vote for extremes'

Leaders from Trump to Trudeau and Merkel congratulate Macron
Emmanuel Macron pledged to heal France's rifts after his victory over Marine Le Pen in the presidential election, saying that he'll work to address the concerns that were exposed during one of the most divisive campaigns of recent history.
The president-elect made his comments in a speech to supporters at campaign headquarters in Paris less than an hour after Le Pen conceded the election. Macron received 66 percent of expressed votes, the French Interior Ministry said. The far-right Le Pen had 34 percent.

"I know that there is anger, worry and doubts that many of you have expressed," said Macron, 39, pledging to "fight with all my energy against the deepening divisions" in French society. Addressing a rally outside the Louvre museum later, he added: "I will do everything in the next five years so that they have no more reason to vote for extremes."

Macron's commanding victory over the National Front candidate on a platform of free-market policies strengthens the European Union and deals a blow to the populist wave that has roiled western democracies for the past year. An independent centrist who has never before run for office, he is set to become the youngest-ever elected French head of state.
"Macron is a new face and that's exactly what France and Europe need: a fresh start," said Andre Sapir, a senior scholar at the Bruegel think tank in Brussels. "Macron gives Europe huge hope."
Macron is likely to be inaugurated next Sunday, his campaign manager Richard Ferrand said on Europe1 radio. He shook off questions about Macron's potential pick for prime minister.
The euro reversed early gains and was down 0.3 percent to $1.0965 at 9:52 a.m. in Paris, as investors weighed the task ahead. The French stock market's CAC40 Index opened down 0.7 percent trimming a sharp rally over the past week as his victory became more likely.
A pro-European globalist, Macron's challenge will be to end years of high unemployment and sluggish growth, deal with the terrorist threat that has traumatized the country and, ultimately, restore faith in the political establishment.
France Votes: Follow Today's Results and News Here
Leaders were quick to hail Macron's achievement, with U.K. Prime Minister Theresa May among the first to offer her congratulations. German Chancellor Angela Merkel praised his pro-European campaign in a brief call. President Donald Trump took to Twitter to congratulate Macron on his "big win."
The outcome will help restore some of the EU's self-confidence after it was battered by Britain's decision to leave the bloc last year. A committed free-trader, Macron will help act as a counterweight to the protectionist wing of Trump's White House, along with Merkel, Canada's Justin Trudeau and Xi Jinping of China. France is mainland Europe's second-largest economy and leading military power.
The election result is at once a blow to Russian President Vladimir Putin, who met with Le Pen at the Kremlin in March, and a rebuff to Trump, who said in April that Le Pen was the "strongest" candidate on borders, even if neither leader officially endorsed her.
"This is of huge significance for French politics," Bruno Cautres, a political scientist at the Sciences Po institute in Paris, said by phone. "The voters' demand for political renewal has swept everything aside, politicians of the establishment have been eliminated one after the other, and the winner is someone who has never been elected before."
Uncharted Territory
Capturing the presidency is a remarkable achievement for Macron, who built his En Marche! movement in just the past year. A former investment banker and one-time economy minister in the outgoing government of Socialist President Francois Hollande, he only resigned his post in August to run for the presidency. He is the first postwar head of state to be elected from outside the traditional party structure.

Yet his victory also propels France into uncharted political territory. His lack of an established base may curtail his ability to fulfill campaign pledges to pursue closer ties to France's European neighbors and launch far-reaching reform of the economy. Macron has pledged to strengthen the euro, cut taxes on business and kick start competitiveness by allowing more company flexibility and by inviting top scientists to relocate to France.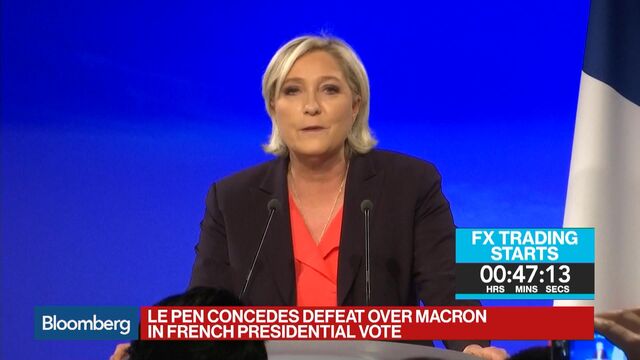 Macron's first significant announcement will be his prime minister, who will lead a caretaker government until parliamentary elections in June. They will be crucial for a president whose En Marche! movement has no experience contesting legislative elections.
While Macron's premier will get to select a cabinet right away, the newly elected parliament will have the power to bring it down and impose its own choice unless En Marche! becomes the largest bloc. With at least five political formations contesting all 577 seats, a hung parliament could emerge. In her concession speech, Le Pen claimed the mantle of leader of the opposition, saying that the legislative elections were looming and "I'll be at the head of this fight."
"Macron's biggest challenge now is to win the battle for parliament," Dominique Reynie, politics professor at Sciences Po, said in an interview. "In the French system, if he doesn't have a majority he'd have only limited power, he'd become a constitutional monarch. If he has his own majority, he'd have all the powers which the Fifth Republic grants the president."
Two new online polls suggested Macron's party would come out ahead in next month's parliamentary elections.

And while Macron prevented France from succumbing to the populist wave that led to Trump's victory in November and Britain's referendum decision to quit the EU, he'll be leading a country in which about 40 percent of the population voted in the April 23 first round for candidates opposed to the international liberal trading order. About 25 percent of the electorate abstained in the runoff.
Read about Macron's challenges: QuickTake Q&A
The election brings to an end a tumultuous campaign. Surprises littered the way to Sunday's runoff. The incumbent decided not to seek re-election, a first for a sitting president, while former head of state Nicolas Sarkozy and former Prime Minister Manuel Valls suffered humiliating defeats in their parties' primaries.
Favorites came and went, above all former Prime Minister Francois Fillon, who led the polls until a newspaper revealed in January that he'd hired family members for what may have been no-show jobs. Then there was the unforeseen rise of a far-left candidate, Jean-Luc Melenchon, who took almost 20 percent of the vote in the first round two weeks back.
The final twist -- the Macron team's announcement late Friday that it had been hacked by an unknown party -- will likely reverberate into the presidency. While details are still scant, suspicion has fallen on Russia after the CIA found the Kremlin interfered in the U.S. election, a charge rejected by Trump as "ridiculous." Unlike Macron, Le Pen has called for sanctions on Russia to be lifted and coverage of her on Russia sites and media has been positive.
Putin now faces a united front in Merkel and Macron, who has previously complained that Russian state news agencies have tried to disrupt his campaign with fake news reports. France is one one of five permanent members of the United Nations Security Council.
Macron will meet Trump and Merkel at a NATO leaders' meeting in Brussels, followed by a Group of Seven summit in Sicily later this month.
"Macron's achievement is that he played the aces he was handed very well," said Rainbow Murray, a reader in politics at Queen Mary, University of London. While his win is clear good news for Europe, "populism definitely hasn't gone away. It didn't triumph here but it came second and it is doing better all the time."
— With assistance by Fabio Benedetti Valentini, and Blaise Robinson
Before it's here, it's on the Bloomberg Terminal.
LEARN MORE