politics
France and Europe Enter Last Chance Saloon After Macron Victory
By
Reform challenge may be as tough as Thatcher's in the 1980s

Failure to revive economy could see Le Pen winning in 2022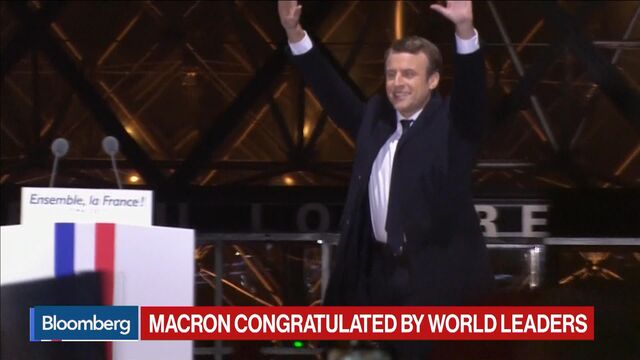 Emmanuel Macron's election as president of France has won his country and the European Union a chance to turn back the populist tide sweeping the West. It may also be their last.
The former investment banker and economy minister successfully repackaged himself as an outsider who promised "a new kind of politics,'' and his victory over Marine Le Pen by a projected 65 percent to 35 percent was more decisive than some pollsters had predicted. Still, that was significantly narrower than the last time a National Front candidate made it to the runoff for president, highlighting the scale of the task now facing Macron.

As European governments in Germany and elsewhere rushed to welcome one of their own taking charge of the euro region's second-largest economy, Le Pen claimed a new role for the her party as the country's main opposition. Conceding defeat, she pointed to "a re-composition of political life." That would be hard to deny. For many French men and women, the taboo against voting for a radical, far-right candidate has been broken. 
"This is our last possibility to prevent the election of Le Pen,'' said Pascal Thopart, 46, an IT specialist at a medical services company in Amiens, 90 miles northwest of Paris. He was attending a local rally for Macron's En Marche! movement shortly before the final vote. "If not, I fear that in five years we will have Le Pen as president anyhow.''
Fragile Landscape
The two-round election also showed the growing fragility of the French political center, as voters fled the traditional parties of left and right for both extremes. The hard-left, euroskeptic candidate Jean-Luc Melenchon won almost as many votes as Le Pen in the first round.
Future radical candidates have a strong base on which to build, should Macron fail to deliver the kind of change needed to address the concerns of an increasingly polarized and unhappy nation.
That means bringing down France's stubbornly high 10 percent unemployment rate -- it's 24 percent among the under 25s -- and at least showing progress toward the creation of a new, more globally competitive business model for France by the time he faces re-election in 2022.
Macron appears to recognize what's at stake, both for France and the wider continent and plans to spread the message.
"Many in Europe were shaken at the prospect that a victory of the FN (National Front) would mean the end of the EU," Macron said in an interview with Le Parisien last week. "I'll tell them that Europe must change to avoid that outcome. Because if not, in five years, it is the FN that will win."
Threat Remains
Investors had seen the possibility of a Le Pen presidency committed to taking France out of the euro and EU as a severe risk capable of cratering European and global financial markets. That threat has now receded, but eliminating it will be far more difficult as the National Front gains ground.

The 30 percentage-point winning margin for Macron based on projections by France's main pollsters released after voting ended was less than half the 64 point deficit Le Pen's father, Jean-Marie, suffered in the 2002 presidential runoff against Jacques Chirac.
It reflects the failure of France to create jobs and foster growth, and those economic travails have also been a significant contributor to the EU's troubles.
Macron's ability to push through changes that eluded former presidents Chirac, Nicolas Sarkozy and Francois Hollande could determine whether Germany will do more to stimulate the EU economy and put the euro on a more stable footing, said Charles Wyplosz, professor of international economics at the Graduate Institute of International and Development Studies in Geneva.
Schroeder or Thatcher?
The first hurdle for the new 39-year-old president to overcome will be to secure a parliament willing to back his reform program in legislative elections next month. If he does, "that's when the scary part begins,'' said Wyplosz.
Among other changes, Macron is proposing to bring down corporate tax rates to the European average of 25 percent, from 33 percent; reduce the public sector workforce by 120,000 posts; make it easier to fire and cheaper to hire workers; loosen collective wage bargaining rules; and level out the nation's social security net and pension system so that more are covered and privileged groups receive less.
Macron is facing a far tougher challenge than former German Chancellor Gerhard Schroeder's in the early 2000s, when he introduced the so-called Hartz reforms that transformed Germany from the sick man of Europe into its powerhouse. Unlike in Germany, Macron would be introducing these changes against -- rather than with -- the country's ideologically driven labor unions, according to Wyplosz.
Instead, he likened the task to that of former U.K. Prime Minister Margaret Thatcher in the early 1980s. She had to first defeat what she referred to as "the enemy within," taking on Arthur Scargill's National Union of Mineworkers before moving on to implement her agenda of economic reform. The scars from that fight remain 30 years later.
"I deeply believe there will be a Scargill moment early on in Macron's presidency,'' said Wyplosz, who predicted large-scale strikes and street protests in France. If Macron is forced to back down, "his presidency will be over," he said.
Factory Flashpoint
To many economists, Macron's proposals make sense. France has an unusually rigid labor market and large state. The government's share of the economy is, at 57 percent of gross domestic product, larger than in any other developed nation other than Finland.

Yet many of those who voted for Macron on Sunday did so while fiercely opposed to his program, which they see as excessively "neo-liberal."
"We don't agree with Macron at all,'' said Thierry Levasseur, 53, a civil servant working at the town hall in Amiens as he distributed union pamphlets calling for a united front against Le Pen. Macron, he said, "is the candidate of the globalists and banks and the policies he is proposing will lead directly to a Le Pen victory in five years.''
Amiens, Macron's home town, became a focal point of the election campaign after Le Pen ambushed him during a visit to a soon-to-be closed Whirlpool Corp. factory. Workers were still burning tires and protesting the closure just before Sunday's runoff. Production is to be moved to Poland.
Asked if there was anything Macron could do as president to solve his problems and win his support, Whirpool employee Frederic Voiturier shook his head. Manning the picket line at 48 years of age, he did not believe he would be able to find another job, with or without retraining.
The only solution for France, he said, was to level up social benefits and labor costs across the EU, so companies no longer have an incentive to seek out a cheaper work force abroad. Le Pen proposed to close borders to keep Polish goods and workers out, and French companies in, but for now at least Voiturier is against that kind of protectionism.
Outside Forces
Even if Macron proves able to stimulate large-scale job creation in France, the rise of the National Front is not solely driven by economics. There are issues of cultural stress from immigration, which Macron has not proposed to reduce, and terrorist attacks he will have limited ability to control.
A new study by Oxford Economics, a U.K.-based economic advisory firm, found that support for populist parties around the world has been growing for 35 years and that in no country did a strong movement develop on the back of economic factors alone.
In France, Le Pen did best among young voters in the first round vote. In the center of Amiens, a group of friends in their early 20s looked on sceptically as the small, well-heeled and mainly older group of En Marche! supporters processed through the main pedestrian shopping street last week, carrying their blue and gold EU balloons.
"Look at them: you can see Emmanuel Macron's supporters are all retirees,'' said Batiste, a 22-year-old engineer, who declined to give his family name. He rolled his eyes over critics of Le Pen who worry she's a throwback to 20th century wartime nationalism. "I'm voting for Marine. It's not because of any of her 40 different positions on things, but to leave Europe.''
— With assistance by Mark Deen
Before it's here, it's on the Bloomberg Terminal.
LEARN MORE