markets
Taiwan-born Navy Officer Admits Lying, Mishandling U.S. Secrets
THE ASSOCIATED PRESS (BEN FINLEY)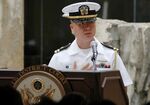 Norfolk, Va. (AP) -- NORFOLK, Va. (AP) — In a story May 4 about a plea deal for Navy Lt. Cmdr. Edward C. Lin in military court, The Associated Press reported erroneously that Lin became a U.S. citizen in 2008. He became a citizen in 1998 and enlisted in the Navy the following year, according to his attorney, Larry Youngner.
A corrected version of the story is below:
Taiwan-born Navy officer admits lying, mishandling secrets
A Taiwan-born Navy officer accused of espionage struck a deal with the U.S. government and agreed Thursday to plead guilty to several charges, but not espionage involving China or Taiwan
Associated Press
NORFOLK, Va. (AP) — The U.S. Navy abandoned efforts to convict a Taiwan-born Navy officer of spying for China or Taiwan, striking a plea deal on Thursday instead that portrays him as arrogant and willing to reveal military secrets to impress women.
The agreement was a marked retreat from last year's accusations that Lt. Cmdr. Edward C. Lin gave or attempted to give classified information to representatives of a foreign government.
But it still appears to end the impressive military career of a man who came to America at 14. Lin joined the staff of an assistant secretary of the Navy in Washington, and later was assigned to a unit in Hawaii that flies spy planes.
Lin, 40, now faces dismissal from the Navy and up to 36 years in prison at his sentencing, scheduled for early June.
During the daylong court-martial in Norfolk, Lin admitted that he failed to disclose friendships with people in Taiwan's military and connected to its government. He also conceded that he shared defense information with women he said he was trying to impress.
One of them is Janice Chen, an American registered in the U.S. as a foreign agent of Taiwan's government, specifically the country's Democratic Progressive Party.
Lin said he and Chen often discussed news articles she emailed him about military affairs. He admitted that he shared classified information about the Navy's Pacific Fleet.
He also divulged secrets to a woman named "Katherine Wu," whom he believed worked as a contractor for Taiwan's Ministry of Foreign Affairs. She actually was an undercover FBI agent.
"I was trying to let her know that the military profession in the United States is an honorable and noble one," Lin told Cmdr. Robert Monahan, the military judge. Lin said the military is less prestigious in Taiwan.
Lin also had friends with other connections, including a woman living in China whom he met online, and a Chinese massage therapist who moved to Hawaii.
Lin said he gave the massage therapist a "large sum of money" at one point, although he didn't say why.
Lin also admitted to lying to superiors about flying to Taiwan and planning to visit China. But he said he did it only to avoid the bureaucracy that a U.S. military official must endure when traveling to a foreign country.
"Sir, I was arrogant," he told the judge.
A 2008 Navy press release about a speech Lin gave in December 2008 to new citizens in Hawaii said he was 14 when he and his family left Taiwan. His attorney, Larry Youngner, said Lin became a U.S. citizen in 1998 and enlisted in the Navy the following year.
"I always dreamt about coming to America, the 'promised land,'" Lin was quoted as saying when speaking at the 2008 ceremony for other immigrants. "I grew up believing that all the roads in America lead to Disneyland."
Before it's here, it's on the Bloomberg Terminal.
LEARN MORE